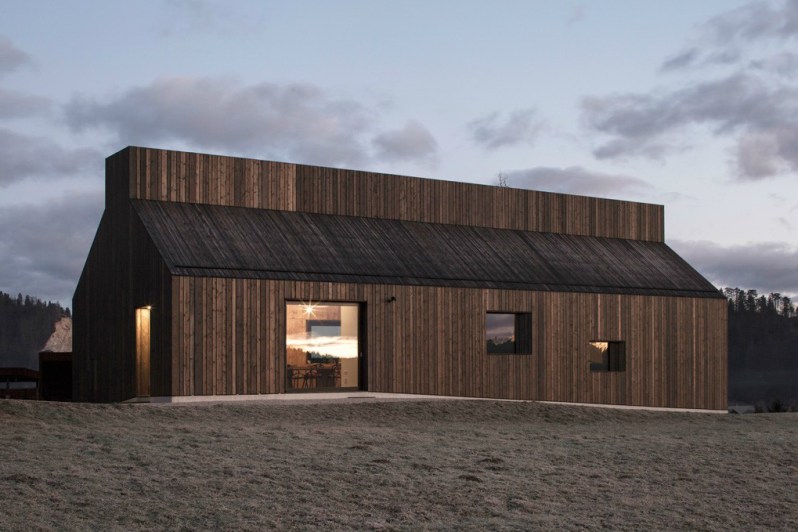 Modern architecture isn't always welcomed in tiny, historic towns. Citizens of these many hundreds of year old villages are used to their quaint homes and beautiful chapels and often see contemporary designs as intrusive monstrosities that detract from the overall historic look and feel of their beloved hometowns.
Since building a modern home in a historic village guarantees it will stand out amongst the rest, more often than not, neighbors are not going to be happy. Thus, when the team at Dekleva Gregorič Architects began designing a new home for their client, the firm took note of the 16th-century Slovenian architecture surrounding them and created Chimney House, a home shaped like the chapel that is just steps away.
Located in the small town of Logatec, Slovenia, Chimney House is both contemporary and traditional. Architects Dekleva and Gregorič looked to the surrounding homes and nearby chapel for inspirations. Many of the town's homes are built around a central chimney which provides heat and a gathering place for families. Using the central chimney as the starting point, Chimney House was designed with a traditional pitched roof, but with a contemporary twist; a square form rises from the center mimicking the chimney's rise from the roofs, just like the nearby historic homes. This form runs the length of the home and contains one long skylight.
Outside, the home combines minimalist touches with the traditional oiled larch board cladding typically used on barns in the area. Windows are scattered throughout, looking like random square holes punched into the sides of the home.
Stepping inside is like stepping into the chapel down the road. The open-plan dining room and kitchen look up to the pitched ceiling and the skylight that runs the length of the home. This skylight casts light down onto the central chimney that anchors the home and becomes the central gathering place for the family.
Throughout the home, simple furnishings and materials were used. The pitched ceiling is concrete while the walls and floors are oiled oak. Furnishings are minimal, keeping the focus on the all-black kitchen island and central chimney, which also acts as a wood stove.
Inside and out, Chimney House beautifully blends the past and the present allowing it to stand out while also paying homage to the town's historic architecture.
For a look at other Euro-Village architecture, check out Trolltind House in Norway.
Editors' Recommendations