In historic San Ángel, a quaint neighborhood of Mexico City, sits a home that perfectly combines past traditions with contemporary style. The creation of Pérez Palacios Arquitectos Asociados, Casa Jardín 58 was built with one thing in mind: preserve as much of the garden space as possible. This resulted in a sprawling, one-level home that is contemporary on the inside while remaining true to its Mexican roots on the outside.
From the exterior, Casa Jardín 58 resembles the historic adobe structures the region is known for. Straight lines, large doorways with heavy wood doors, and stained concrete the color of sand are traditional exterior elements that hide an ultra-contemporary home within.
Inside, steel support beams allow for a wide open space that opens up even more thanks to sliding glass walls. The driving force behind the design of Casa Jardín 58 was to make the garden (or jardín) the star.
This was achieved thanks to those sliding glass walls (the workhouse of modern minimalism if there ever was one), which turn the family room into a pass-through with green spaces on either side. The home wraps itself around these outdoor areas, with most rooms looking into the gardens. Along with the family room, the master suite and a guest bedroom open up to the outside, thanks to even more sliding glass walls.
Throughout the home, sleek masculine style reigns. While the majority of the spaces have bright white walls, the kitchen is a deep, dark brown with a polished concrete floor as the foundation. It's a space any guy would be happy to cook in. The family room features a custom-built fireplace that coordinates with that same dark kitchen cabinetry. When the walls of the family room are opened, the room connects to another family room, only this one is outdoors. This space includes a seating area, dining table, and outdoor kitchen complete with brick pizza oven. The transparent roof above the outdoor room allows natural light to keep the space bright while still offering protection from rain.
In addition to the architecture, the gardens are also landscaped in a modern style. Living walls of greenery provide privacy while concrete-lined beds feature simple foliage and trees.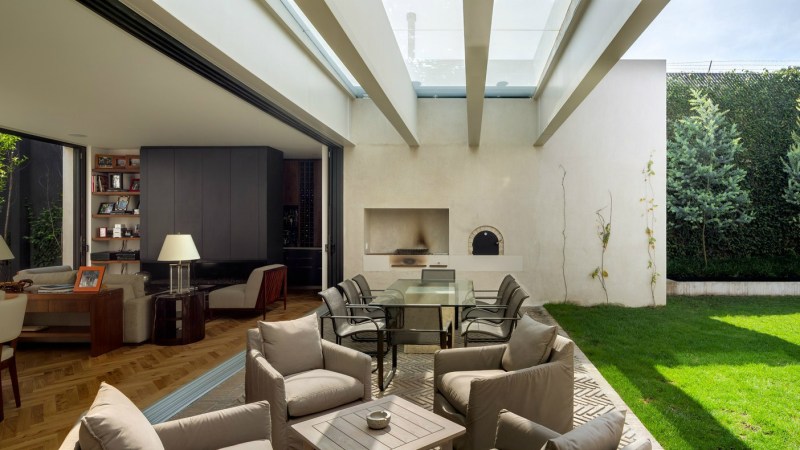 In one garden, a unique herringbone pattern in the ground, created from grass and concrete, turns the space into an art installation, complete with accent lighting illuminating the trees. This herringbone pattern became a way to develop continuity throughout the home. Along with being used in the garden, the pattern can be found in the outdoor patio and walkways as well as in the wooden floors of the interior of the home.
Wrapped in an adobe-like exterior, the inside of Casa Jardin 58 is a stylish space that perfectly blends the indoors with the outdoors. For another look at a space that blends old and new, check out Kapel, a contemporary office space inside of a historic church.
Editors' Recommendations