If you've ever lost an entire weekend binge-watching How It's Made (and haven't we all?), here's a roundup of seriously cool products that let you get a glimpse inside the inner workings while adding some style to your home.
Louis Ghost Chair
Okay, while there technically aren't any "inner workings" for this chair, it's an iconic piece that needs to be number one on a list of cool transparent products. Created by darling of the design world Phillipe Starck in 2002, the Louis Ghost Chair stands out because it is made from one single piece of polycarbonate plastic — something no other see-through chair can claim. Take that timeless shape paired with the futuristic material and it's no wonder this chair is already considered one of the most important pieces of the 21st century.
Thurso Freestanding Shower
You may be wondering, what's so special about a glass-enclosed shower? After all, the hot trend in bathroom design is to ditch those boring curtains for sleek glass walls. But the Thurso Shower stands out because it stands out. This freestanding unit gives you a 360-degree view of the entire shower, including the piping that leads to the dual shower heads (a rainwater overhead and a handheld). The clear glass walls are held in place with industrial-style metal pipes that match the exposed waterworks, combining elegance and grittiness for a one-of-a-kind shower.
Atmos Transparente Desktop Clock
We all know the Swiss are king when it comes to watchmaking. So it's only natural that Swiss manufacturer Jaeger-LeCoultre would be the place to snag a desktop clock that can only be described as sexy. The Atmos Transparente is a new spin on the company's classic Atmos. The all-glass box houses 217 components of the perpetual movement beauty. Finished with an Art Deco-inspired face, this complex clock is not only intriguing to look at with all of its exposed mechanisms, it's an ageless design that will forever be in style.
Teckell Glass Foosball Table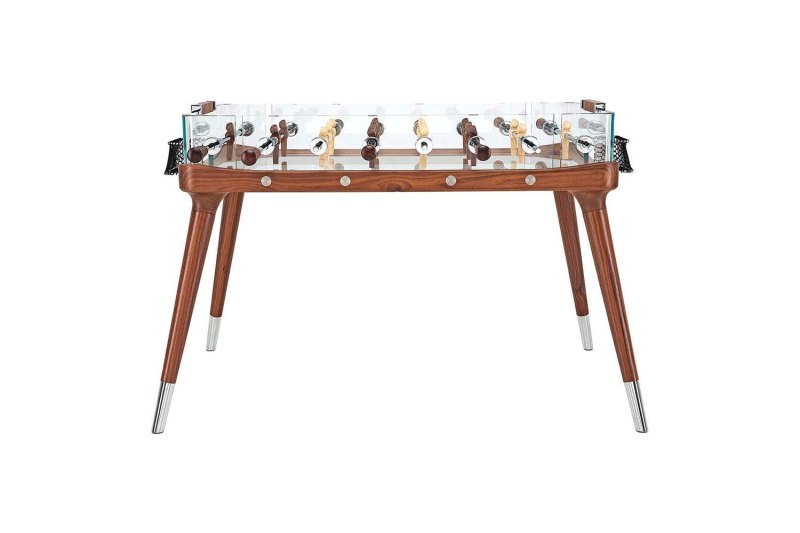 Anything made in Italy is guaranteed to stand out for high-end style and high-quality manufacturing. Teckell's products are no exception. The brand's glass-top foosball tables have all of the swagger and timeless beauty of an Alfa Romeo. Mid-century modern-inspired solid Canaletto wood legs support a glass, crystal, and stainless steel playing field. It's a work of art that's almost too pretty to use. Almost.
Gearbox Records Automatic MKII
Every game room needs some tunes, so why not splurge on a transparent turntable to match that glass foosball table? Gearbox Records' Automatic MKII turntable has inner workings that are in a transparent case, letting you see all of the features that make this plug-and-play model stand out from the competition. The small footprint, sleek electronics, and high-quality sound make it perfect for vinyl lovers of all levels. As an added bonus, this bad boy can automatically add any track to your Spotify playlist — a futuristic feature that matches its futuristic look.
Transparent Sound Transparent Speaker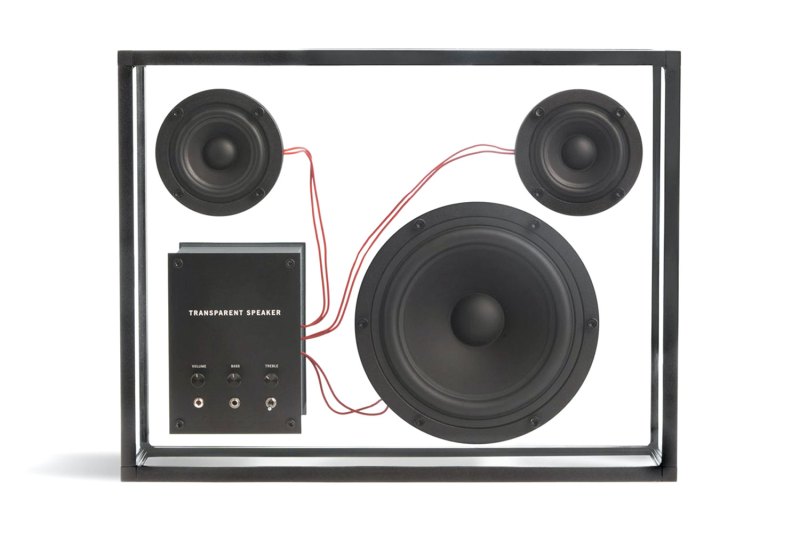 If you have a see-through turntable, you might as well get the matching speakers. Transparent Sound has built a whole company around the concept of transparent audio products. The flagship product is the Transparent Speaker. Beautiful in its simplicity, the transparent speaker has a black aluminum frame and glass walls. Minimal wiring stands out in bright red and the three black speakers are bold against the clear walls of the unit. A basic control panel lets users make some adjustments, but Transparent Sound boasts that its speaker will always be true to the recording so even novice listeners will experience great sound.
Editors' Recommendations