Gone are the days of thinking of our pets as "just pets." Our beloved furbabies are now dining on raw food diets, wearing the latest fashion, and enjoying worldwide Insta fame with their own social media accounts. So it's fitting that we ensure our dogs get the most stylish shelters to relax in while they enjoy their lives of luxury. 
From a zen retreat to a minimalist mansion, your pup is as swaggerific as you are, so doesn't he deserve his own stylish bachelor pad? Check out the best dog houses to gift to your good boy this winter.
We love minimalism. Simple, light-filled spaces that let us relax and connect with nature. Your pup deserves those same relaxing vibes and that's just what the Deauville House delivers. Featuring an asymmetrical angular roof with a skylight that allows for light and ventilation, the Deauville House is finished in a stylish combo of powder-coated steel and raw wood. This house is sturdy enough to be used outside and small enough to fit inside (without throwing off the minimalist look you worked so hard to put together).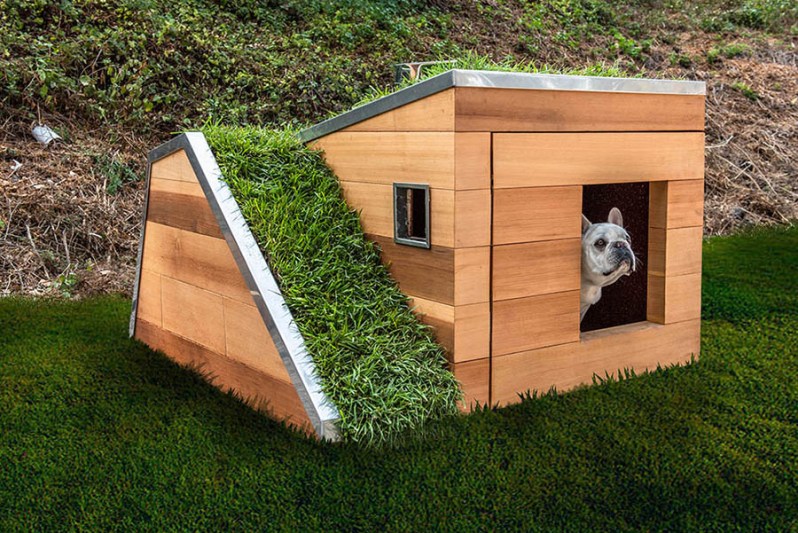 There's nothing better than unwinding with a drink and soaking up the sun on a rooftop garden. With its green roof and motion activated drinking fountain, Doggy Dreamhouse lets Fido indulge in said luxuries. Along with being loads of fun, Doggy Dreamhouse is also sustainable. The green roof has its own irrigation and drainage system and inside there is a solar-powered fan ensuring the space stays cool and comfortable even on the hottest days.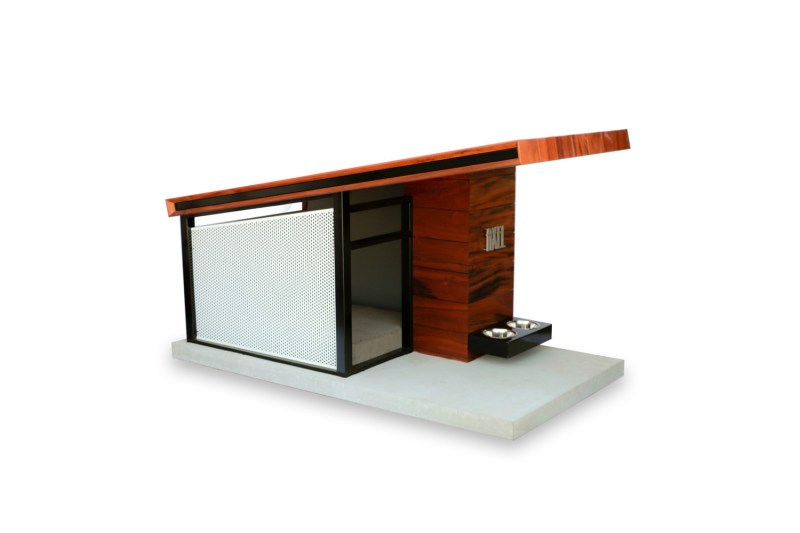 High-end design is for the dogs… literally. No more boring square box with a simple roof for our pets. They desire houses as stylish as our own, and MDK9 Dog Haus is just that: an uber stylish shelter for all the good boys (and girls). With materials like Brazilian teak wood, powder-coated steel, concrete, a visually stunning sloped roofline, and a space filled with natural light, this could be the description of a contemporary home for humans. But it's not. It's a dog house. Taken to a whole new level.
Is there anywhere in the world dogs love more than the beach? Water to swim in, seagulls to chase, frisbees to catch, and warm sand to roll all around in. It's heaven. You can keep those happy beach vibes going with the Dog Tower 9. Inspired by the South Beach lifeguard towers, Dog Tower 9 is part dog house, part side table, and all style. The cool retro vibe of the tower is enhanced by the hairpin legs and exotic wood veneer. This indoor dog shelter doubles as a side table with space for humans to place a lamp, a few books, or a drink.
Sculptural like origami, yet with a contemporary twist, Oshu House is a shining example of the rising popularity of modern Japanese architecture. The white powder-coated steel structure's unique shape is punctured by triangular holes, allowing light to slowly filter through in the morning with the rising of the sun, and slowly dim the interior at night. It's a zen-ful retreat, perfect for the centered dog looking to balance his chi.
Chances are, if you're reading this page, you're a dog lover. And that means you're interested in seeing dogs in the wild. So, celebrate the year of the dog in 2018 with these best wild canine-spotting tours.
Editors' Recommendations