In our media-saturated society, the TV has become the focal point of the living room. And with good reason — most of us enjoy spending long evenings at home, directly in front of the television, Netflix and chilling.
How you place your television is very important to keeping things aesthetically cohesive. A proper entertainment center indicates you've made an effort to not only research and buy a big-ass TV, but that you have the artistic ability to find a complimentary media stand.
As the name implies, an entertainment center is also a great place to hide techno-clutter. If you have a lot of Blue-Ray discs,  internet modems, cable boxes, and speakers, you're going to need somewhere to store all of this stuff without making your home  look like a garage sale. Whether you're in a studio apartment and have little to no space to work with, or have a knack for design and decor, functionality is key when setting up your living area.
We've compiled a diverse list of media stands that will tailor to just about any layout. If you want to hang your television, by all means, go ahead. Just find the damned studs first.
Call us crazy if you like, but we can't help loving the American Psycho vibe of this wall-mount media stand. And we're not just talking about the imposing dimensions or the high-gloss paint. (Which, we might add, is coated Microban Antibacterial Protection, perfect for … er, easy cleanup?) The functionality of this piece will please the most finicky consumer with its tempered glass shelves, telescopic door slides and embedded LED lights. This arresting, room-anchoring media stand comes in black as well as white, or get it in one of several natural wood veneers for a slightly warmer vibe.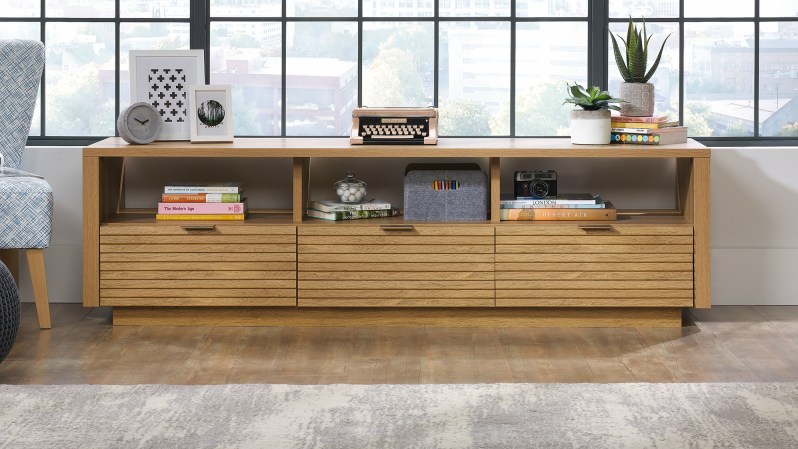 With easy-glide drawers and open storage shelves, the chic Credenza would make a stylishly and practical addition to any home. The pale oak finish is complemented by brass handles and the structure is built to support up to a 70-inch TV.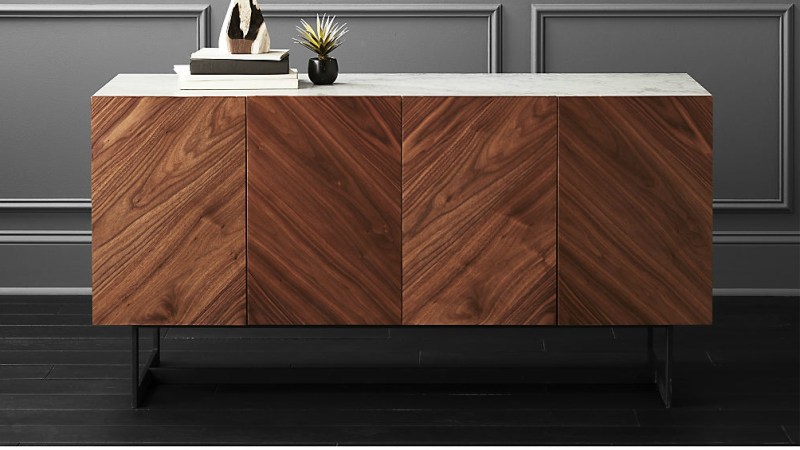 If you're looking for something more minimalist, consider the Suspend Media Console from CB2. The stand is crafted with a combination of marble, wood, and metal, making for a look that is equal parts elegant and masculine. Aesthetics aside, this bad boy can hold up to 70 pounds and includes easy-access storage.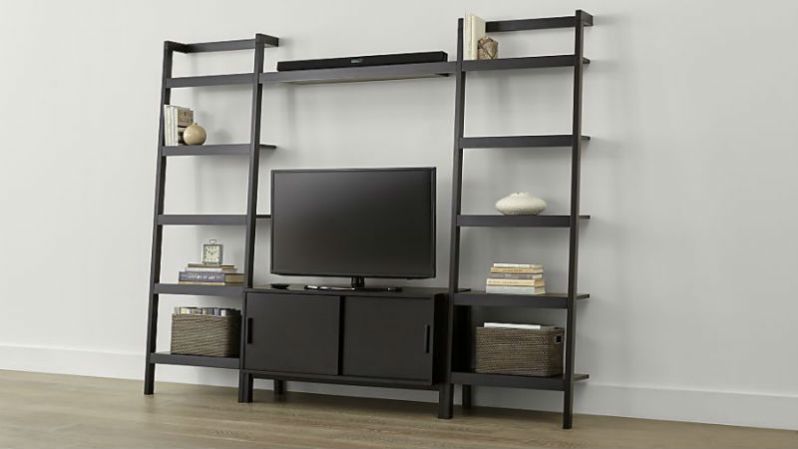 The space-saving Sawyer Media Stand will bring a clean, creative aesthetic to your living area. With two leaning bookcases on each side, the stand has plenty of room for storing media components, books, certificates, photos — you name it. The open stand also features a sliding-door cabinet (for hiding all the ugly junk) and a large cord-management section for keeping your wires in check.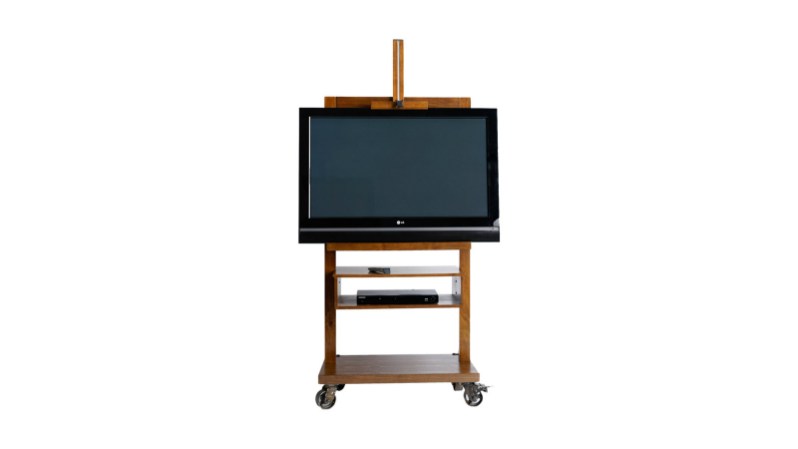 This easel-style TV stand sports a trim profile, a warm wooden finish, and just enough shelving to keep your media accessories tidy. We especially dig the wheels mounted on the base, very handy for sliding into your bedroom when the roommate is sleeping. (Don't worry–they come with brake locks to keep it stationary.) Hell, why not roll it into the kitchen during meal prep time? The adjustable height runs upward of 60 inches, making it easy to see over the countertops.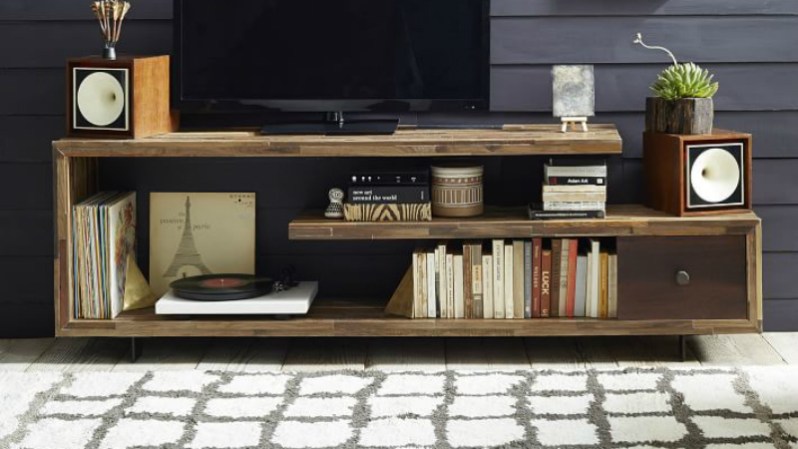 The Staggered Wood Console from West Elm is a modernist's dream, featuring a unique open design that provides excellent storage for books, DVDs, and various tchotchkes. The walnut top is secured by a sturdy iron base, so all your valuables are guaranteed to stay in place.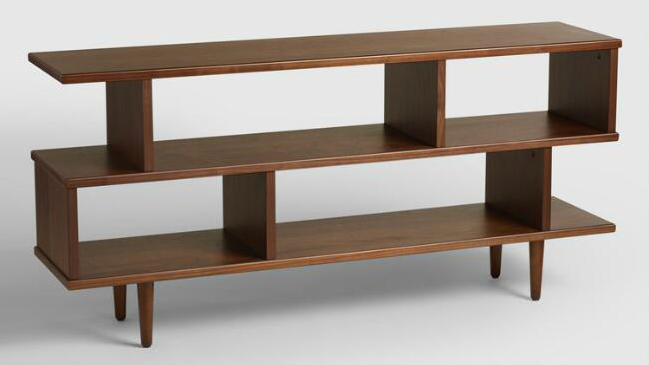 Versatile, budget-friendly and adaptable to a variety of decor styles, this media stand is built from poplar with a rich walnut veneer. And at just 60″ width, it's perfectly suited to shoebox-sized spaces and studio apartments. Floor glides are included, allowing you to drag it around every time the mood to rearrange strikes without risking your rental deposit.
We are totally here for the revival of mid-century modern design. Along with being solid, stylish, and au courant as hell, this 80″ piece from West Elm is crafted with the very loftiest environmental ethics. For one thing, it's built from sustainably sourced eucalyptus in a Fair Trade-certified facility, which means your purchase helps support ecosystems and economies worldwide. The honey-colored finish is water-based and GREENGUARD Gold Certified, protecting your home environment from nasty chemical emissions. But this one wins from a purely looks-based perspective, too–we dig the mid-rise profile, beveled edges, tapered legs, and sliding doors that keep storage neat as a pin.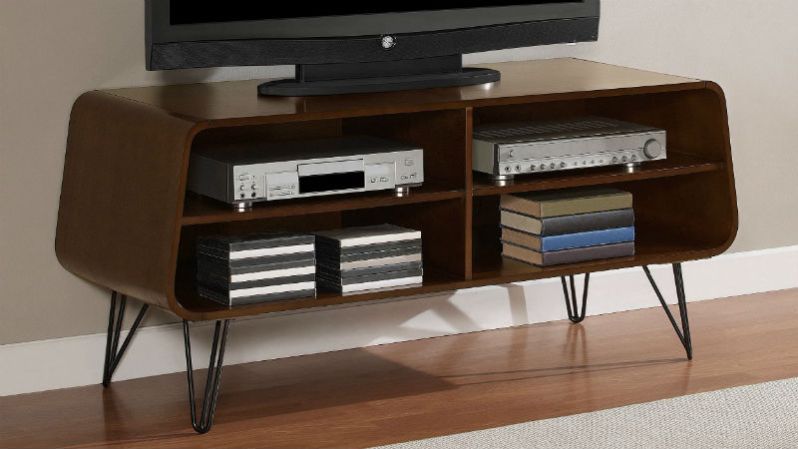 This quirky media center is perfect for the homeowner who wants something totally unique for their living room. The retro design features four open compartments packaged up in a smooth walnut veneer, which is bound to give your place a classy, mid-century modern vibe.
Looking for something simple that caters to space-saving situations? Give Home Lift Concepts a try. The Elton TV stand can easily hold a large television, but it also pairs well with that TV you heroically hung on the wall. Plus, there's room for a soundbar, cable box, and all movies.
The ultimate in Zen furnishing, this media console makes us feel calmer just looking at it. The kinetic textures within the live-edge base balance on a razor's edge with the empty space it divides. Anchored against a brushed cement background, it seems to be floating in space. What it lacks in nooks and shelves it makes up for in breadth — 102 inches across gives you plenty of space to store your TV as well as your books on minimalism, your palo santo shrine, and a few of your girlfriend's assorted crystals.
Once you get your living room square away, it's time to start thinking about your outdoor space. Or maybe your guest room needs an update.
Article originally published by Bryan Holt on February 15, 2017. Last updated by Chelsea Batton on August 8, 2018.
Editors' Recommendations