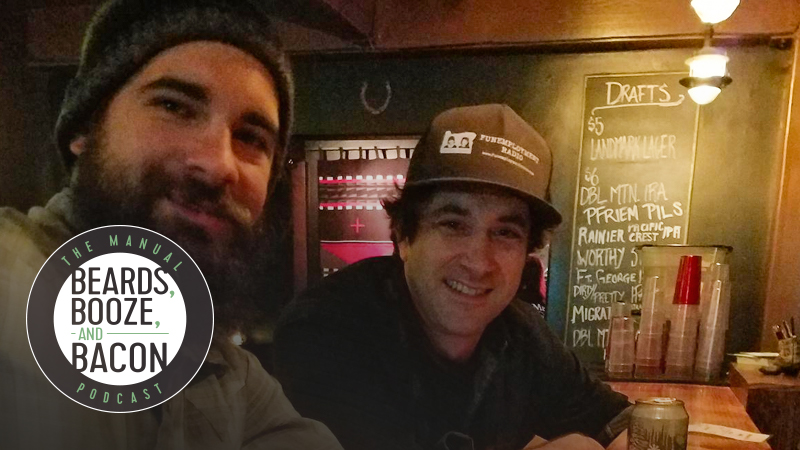 The Portland Podcast Festival was founded in 2017 by Jason Lamb (Minority Retort), Sarah X. Dylan (Funemployment Radio), and Greg Nibler (also of Funemployment Radio). If that name sounds familiar, that's because it's the very same Greg who hosts of Beards, Booze, and Bacon (and Trends with Benefits andBetween the Streams, if you're fans of The Manual's tech-focused brother site, Digital Trends). The idea of the fest was to bring together the city's podcast community to celebrate some of the best shows, hilarious chats, and real discussion you can find anywhere on this planet.
The Beards, Booze, and Bacon crew took the stage at Landmark Saloon on Friday, November 9 for a deep dive into the bar staple we all know and love: boilermakers. You can find boilermakers on menus across the country from the dive-iest of dive bars to high-end cocktail bars. But how did this simple pairing come to be named a boilermaker? Is there a right way to drink it? What kind of shot do you take with your beer? What do Sam, Jake, Greg, and Nicole sound like when they've enjoyed multiple boilermakers in front of a live audience? All these questions are answered in this episode:
If you have a question for The Manual podcast crew, give us a shout at podcast@themanual.com — we're always around! Be sure to follow us on Facebook and Twitter and keep an eye out for podcast polls so you can join the discussion. And check out the Portland Podcast Festival on Facebook to stay up-to-date on the 2019 run.
Further Reading
Editors' Recommendations