Fall is here and with it cooler weather and shorter days. But that doesn't mean the outdoor fun has to come to an end. With a few simple changes, you'll be able to enjoy your patio until the first snowfall and perhaps even beyond.
Staying Warm
Staying warm is the key to being able to make the most of your backyard when the colder air comes, and there's no better way to stay warm than with a fire pit. If you're the handy type, you can build your own with our step by step guide. For those of us with less ambition, there are countless free-standing fire pits on the market.
We particularly like the fire pits from Woodland Direct. They have a huge variety of wood burning pits available from globes to drums branded with your favorite college team. For style and durability, check out their Manta Ray Fire Pit, the perfect size for gathering with a group of friends to roast some brats over the open flame. For even less hassle, get yourself a few Light 'n Go bonfire logs for the easiest Swedish Log bonfire you'll ever encounter. All it takes is one match and these self-contained fires will burn steadily for hours on end.
While your pergola blocked the hot summer rays, come cooler clime, you'll need a different kind of protection. Try using the support beams of your pergola to put up some outdoor bamboo shades. The natural material can stand up to harsh weather and the woven texture lets the sun through in the afternoon while blocking chilly winds at night.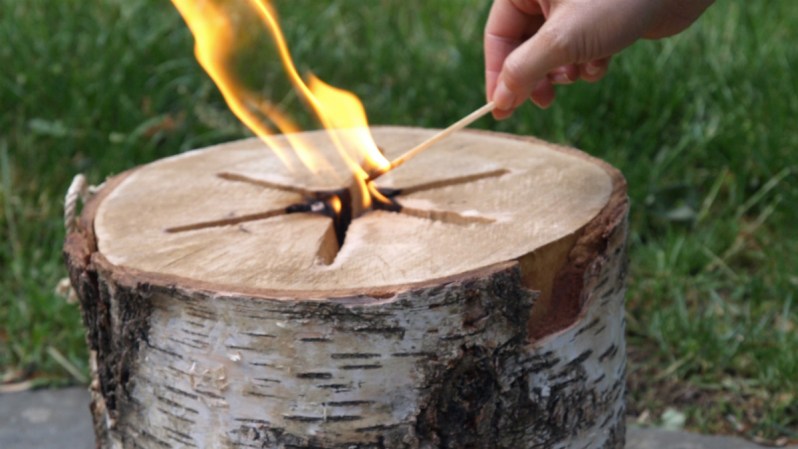 Don't have a pergola? Don't worry. Mid-century modern breeze blocks are back in style and they're an easy way to create a stylish privacy wall.
OutDeco offers a wide variety of patterns, from organic to geometric, to fit any style. Create a single panel screen or an entire wall. OutDeco's step-by-step guide and modular system make it easy to put together a unique backyard privacy wall that can help cut down on wind while creating an interesting focal point.
Proper Lighting
One of the worst parts about this time of year is that the days are getting noticeably shorter. It's hard to be excited about hanging out in the backyard when the sun sets at 6 p.m. However, with proper lighting, you can create a cozy atmosphere and hang out late into the night. These cracked log lamps by Duncan Meerding are a seriously awesome way to light up the perimeter of your yard — much better than those cheap solar lights that never work and look just as bad.
Stringing lights on your pergola (or newly built breeze block wall) will add just the right amount of ambiance to your patio. Check out the Ambience Pro Outdoor String Lights from Brightech. Both stylish and functional, these waterproof lights come in 24′ or 48′ strands and they are dimmable, letting you control the amount of light you need.
Cozy Seating
It may seem like a minor detail, but patio furniture is seasonal. What was perfect on a hot summer night may not be able to stand up to harsher fall weather. If you are looking to get the most out of your backyard, upgrading to all-weather seating is a wise investment. Check out this sleek Adirondack set by Polywood, which you can also find at One King's Lane. This made-to-order collection is well worth the price; it is made from high-density polyurethane, which will stand up to the harshest of climates.
For an extra place to rest your drink, throw in the Drum Table from Bend. The galvanized powder-coated wire can stand up to any climate, and the black finish coordinates perfectly with the black seating, making this a great side table for your outdoor living room.
Want to use the patio furniture you already have? Treat your outdoor seating right and it will last for years to come. Cold and rain will ruin untreated wood, metal, and rattan over time. Wood or rattan pieces should be oiled to help protect against splintering. Metal can be coated with a rust protection spray like Krylon's Rust Tough. Taking the right precautions against the elements ensures you won't have to store away your furniture and can keep on enjoying your backyard all autumn long.
Don't Forget the Flannel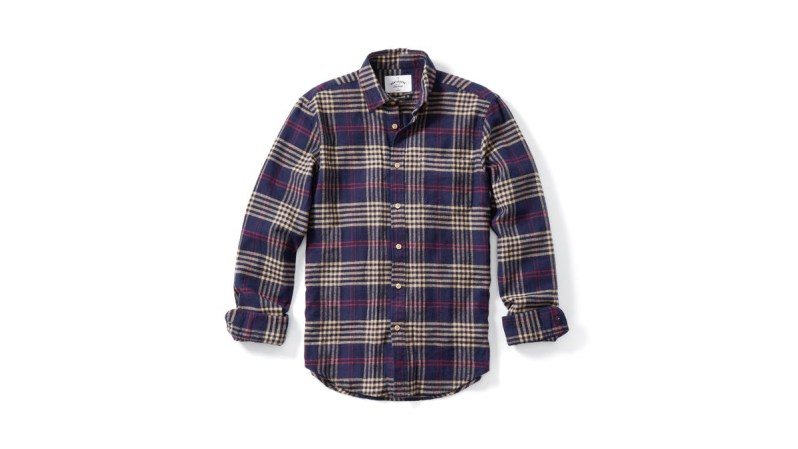 This one is a no-brainer. There's no better way to stay warm and stylish on chilly fall nights than with a great flannel shirt. You may be surprised to learn that some of the best flannel actually comes from Portugal. We love the look and feel of the shirts from Portuguese Flannel, especially their Tomar. It's perfect for when you want to be comfortable and warm while enjoying a fall-flavored whiskey around the fire with your friends.