What's the first thing you do when you get home? Before you crack open a beer, and before you turn on Real Housewives of Tehran (or whatever), you probably empty your pockets of your keys, wallet, loose change, switchblade, and anything else you keep in there.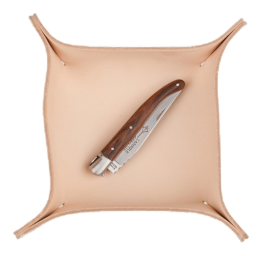 Instead of unceremoniously dumping your pocket miscellany on the first surface you come across, you might place them in a leather tray from Archival Clothing. Such a handsome-looking vessel can help you cultivate a stylish, masculine space while keeping your belongings in a safe and convenient spot. The trays are available in black, brown, and natural (pictured).
Archival has been crafting fine leather goods in Eugene, Oregon since 2009. They make a wide range of products, including bags, shirts, hats, and wallets. They're dedicated to creating damn fine, all-American goods that last a lifetime.
Some of Archival's products are borne of a collaboration with supremely talented Minnesotan leather maker Nicholas Hollows. "Archival was drawn to Hollows' simple yet elegant designs, which highlight his fine leather craftsmanship," says Lesli Larson, Archival's Creative Director. "Like Archival Clothing, Hollows' work is handmade, with a focus on the visibility of the leatherworking process."
Related: Eight Leather Jackets to Get Right Now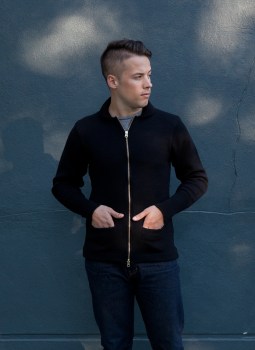 The leather for the trays is sourced from Horween Leather Company in Chicago, which has been operating since 1905. The natural leather ages over time, and earns distinguished marks over years of daily use. The tray dimensions are 7" x 7" x 2", and each tray is fastened together with all-brass hardware.
"The leather trays mark the fifth collaboration between Archival Clothing and Nick Hollows," says Larson, "the first being the Flap Wallet." To see more excellent products from Archival, check out their website. Some of our favorite items include the waxed twill rucksack ($280), the zip cardigan (on sale for $175), and the tool roll ($56).