Perhaps one of the best things about the United States is our national parks system. It maintains and protects some of the nation's most beautiful and badass areas (one is literally called The Badlands after all). We're actively encouraged to muck about in these breathtaking, pristine, diverse ecological nooks and crannies, earning valuable skills, learning about ourselves, and gaining a greater appreciation for nature. It's an amazing deal. But for some, it hasn't been possible to venture into the parks. Toad&Co is changing that. They have teamed up with the National Park Foundation and Wilderness Inquiry to help adults with disabilities experience our national parks.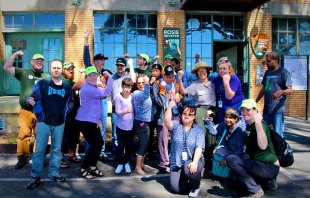 The activewear company Toad&Co, originally known as Horny Toad (we all thank them for moving on from this name), has incredible clothes, sure, most even made from organic cotton. But what really sets this company apart is its commitment to doing good. Started in 1991 in a Telluride garage with just one person making fleece hats, Toad&Co has grown into a major company, consistently voted one of the best places to work. In 2015, employees worked over 1,200 volunteer hours, they beautify the cities they live in, clean up rivers, work with the Boys and Girls Club, and serve in soup kitchens. They even weeded the Santa Barbara Botanical Garden. These are some helpful people.
Toad&Co has a history of improving the lives of those with disabilities. In 1997, they created the Planet Access Company (PAC) to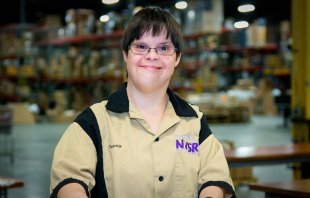 provide job training and skills to adults with disabilities who might otherwise not have a great opportunity to work. Since 2001, Toad&Co's entire inventory is picked, packed, and shipped by members of the PAC team. That same year they started Search for Adventure, which sends employees from PAC on trips into the great outdoors. "Employing adults with disabilities and connecting them to the outdoors is one of the most important things we do at Toad&Co and has been part of our mission since the beginning," says Gordon Seabury, Toad&Co's founder. "People with disabilities have the right to experience that same life-changing effect that the outdoors has had on me."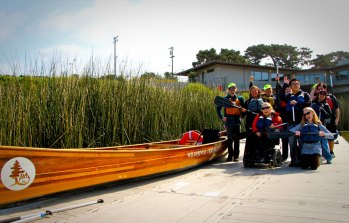 national parks" width="310" height="198" />So, it was a natural fit to help the National Park Service celebrate its centennial by ensuring all Americans can appreciate the wilderness we have. A generous grant given by Toad&Co allows 1,000 adults with disabilities to experience ten national parks this year. How's it work? Wilderness Inquiry, a fantastic educational organization that helps people from all walks of life get out on the water, is using its Canoemobile, a fleet of 24-foot Voyageur canoes, to hit the waterways of our national parks with adults with disabilities. Stops include the likes of Golden Gate National Recreational Area, Indiana Dunes National Lakeshore, and Big Thicket National Preserve. Toad&Co hopes this will be just the beginning of the participants' relationship with the great outdoors. Participants are encouraged to apply for a lifetime pass that grants access to over 2,000 recreational spots around the US and with the launch of Find Your Park, it's never been easier for people to find parks and activities that speak to them.
The program started in April and will run through November of this year and you can follow the Canoemobile's progress on the map. Anyone interested in participating can find the link here. Now get out there in your Toad&Co activewear and Find Your Park.