I want to start this piece off by saying two things: First, a very hearty Thank You to the Columbia Sportswear Company and Firelight Camps. Second, an apology to you, the reader. Why? Because I got to go to adult camp last weekend and, most likely, you didn't.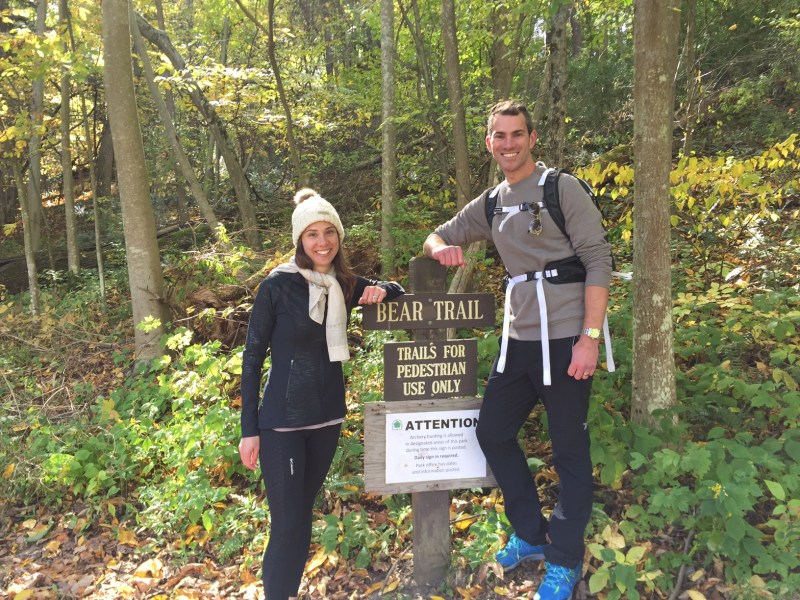 To rub it in, the weekend was entirely sponsored by Columbia (and facilitated by the lovely folks at PMK•BNC), complete with a plethora of amazing gear Columbia provided to me and my wife to test out and enjoy as we canoed across lovely lakes, hiked through Ithaca's iconic gorges, and enjoyed a sumptuous "glamping" experience replete with local wine tastings, bocce and beer, a "tent" erected over an elevated platform and housing a king sized bed, and a campfire that crackled (amidst an array of outdoor couches and Adirondack chairs) for twenty four hours a day.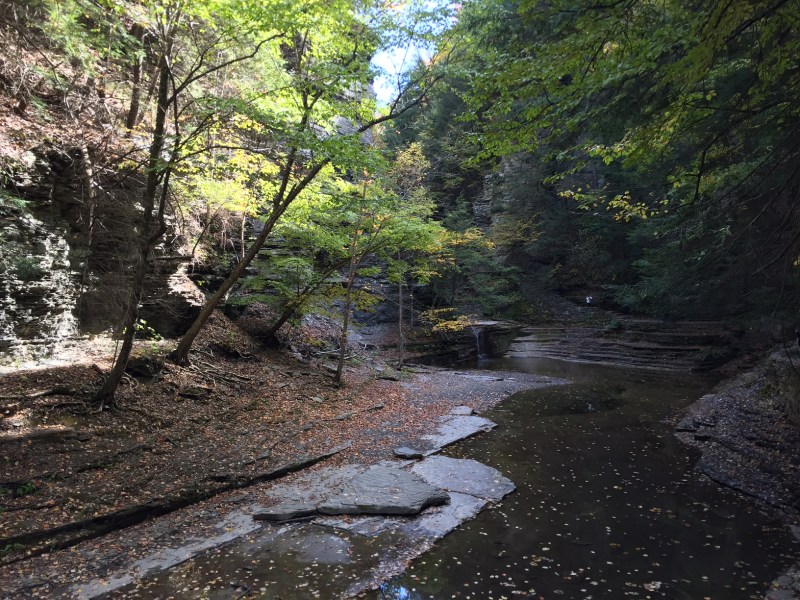 So yeah… I'm sorry, but this is how we spent the weekend. Why do I rub this in your face? Because you too can go to Firelight Camps in Ithaca and enjoy an amazing glamping experience, and you can do it using great gear from Columbia! (You just have to um… pay for it, is the thing.) Watch out for another article I'll soon be writing that will be all about some of Columbia's newest gear, including their Titanium line, which features genuinely cutting edge technology, including the company's proprietary OutDry™ fabrics (they repel water and breathe, FYI) and Omni-Heat™ reflective lining (you like being warm, right?). For now, I'm here to tell you all about the Camp Columbia (hashtag #CampColumbia for you social media mavens) weekend. Because… it was amazing.
The weekend started out with a rendezvous on a Manhattan street corner. There we met up with about a dozen other folks, mainly writers and editors who hailed from lifestyle magazines, fashion rags, and outdoor sportswear companies (one in particular). Our "counselors" — also known as "Brand Communication Account Specialists" — herded us onto a party bus for the rather long drive to Ithaca. That drive was shortened by beer, snacks, and a viewing of The Parent Trap (the 1998 Lindsay Lohan version which, I must admit, was about four years after my time. There, I'm dated) and many episodes of Portlandia.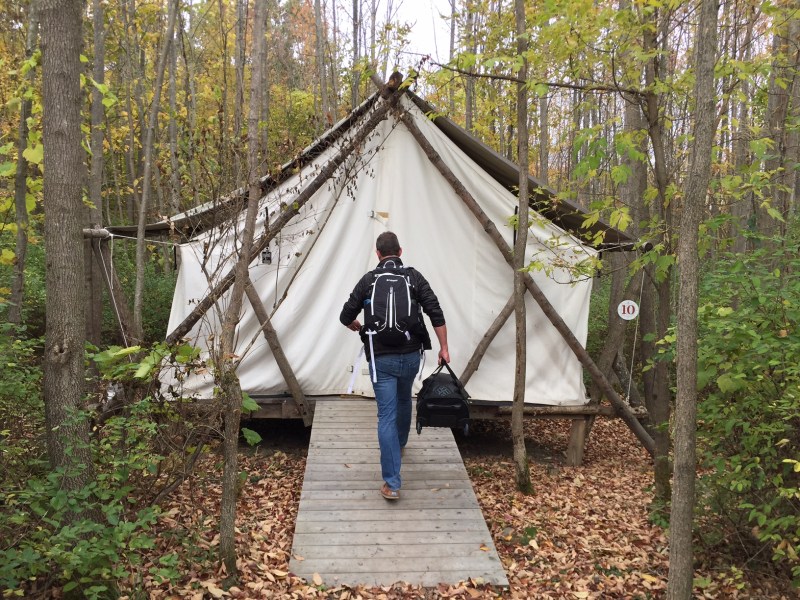 We arrived at Firelight Camps after dark. This afforded a lovely view of the twin campfires set up near the welcome tent. The countless embers dancing up into the spangled night sky confirmed that indeed this camp practices what it preaches. As in… there was firelight. After briefly settling into our "tent," which was really more of a cabin with canvas walls surrounding chairs, a huge bed, a place to hang clothes, and capped off with a deck, a heater, and several lanterns, my wife and I rejoined the group and we made our way to John Thomas Steakhouse, which was about a six minute walk away. The meal consisted of appetizers aplenty, wine and cocktails (and beer and then more wine) and massive steaks cooked to perfection. It was here that the group all began to get to know one another. One thing we all seemed to have in common? A fondness for clothing from Columbia, at least judging by the prevailing sartorial selections.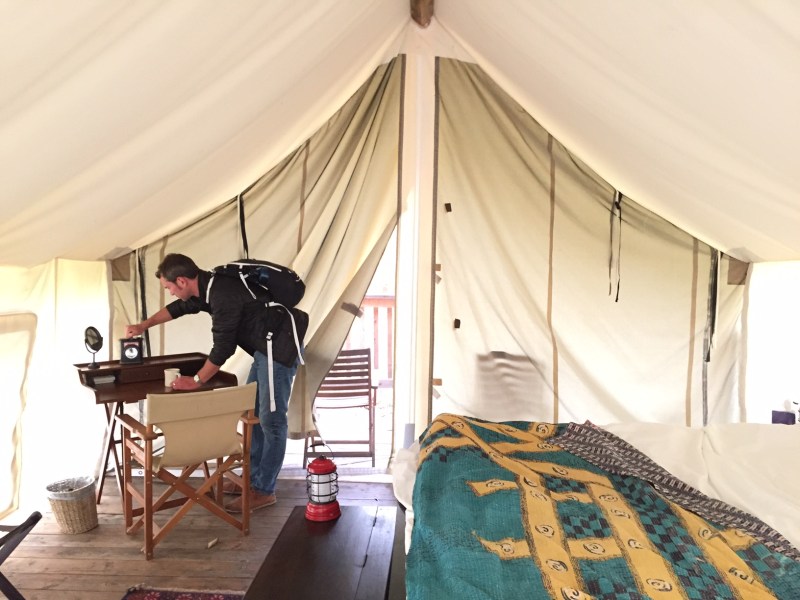 The evening ended after a long, lovely dinner with a bit of chat around the campfire. We all turned in by midnight, enjoying the propane heaters in our tents that helped to fight back the thirty degree temperatures. (The layers of linens and quilts didn't hurt either.)
On Saturday morning, I rose to enjoy several cups of coffee, some thick, hearty bread with butter, and a clumsily peeled hard boiled egg. Ever tried peeling a hard boiled egg with fingers numbed by cold? It's surprisingly annoying. Anyway. Then it was time to enjoy a presentation by Andy and Dorothy of Columbia's marketing team. These are people who spend more time on the trail, the slopes, or the river than in the office. When they talk to you about this or that new method of waterproofing the seams of a ski jacket, they're not just throwing around terms, they're simply teaching you about the gear you should be using. Columbia's active wear is not designed to look good in the gym or as you walk your dog on a downtown street, though indeed a lot of their garments look great. Nay, nay indeed, I say, which is weird, because who says "nay" anyway? Aside from colonial era reenactors or the Dutch, I suppose.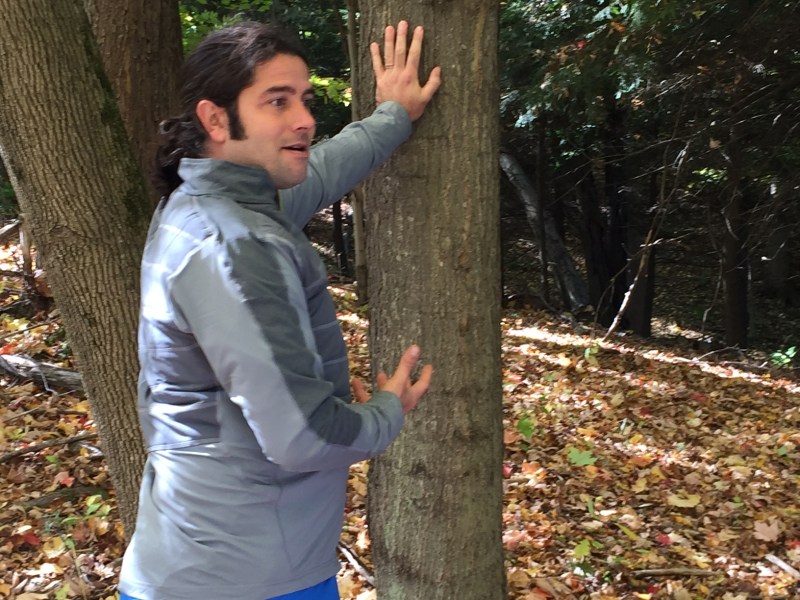 But I digress. I know this stuff is top quality because I had water splash into my kayak and over a pair of Columbia hiking pants for two hours and my legs never got wet. I know because I put on a Columbia jacket over a t-shirt and was no longer cold in near frigid temperatures. And I know because my feet felt great after a weekend spent hiking in a pair of Columbia's Conspiracy Trail Shoes.
After the presentation, the gang was met by two local woodland experts who took us on a foraging hike that revealed the better part of a dozen wild edibles, all of which were tasty, a few of which were delicious. Wood sorrel? Queen Anne's Lace? You would pay for these at Whole Foods, and they're just growing in the goddamn woods, man. The hike took us down through one of the Ithaca region's many stunning gorges, past tricking waterfalls, deep, limpid pools of fresh water, and beneath a canopy shaded red, orange, umber, and yellow by the autumn's gentle approach.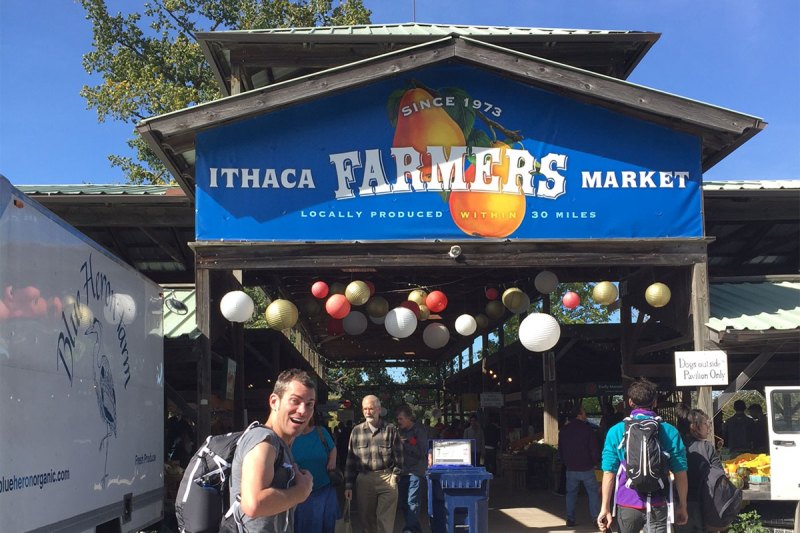 At the bottom of the hike, our bus met us to bring the group to the famed Ithaca Farmer's Market. With far too many gourmet lunch options at hand, I went with the advice of a local and tried the Khmer Angkor Cambodia Food stall. Yes, I overdid it with the hot sauce as usual, but sweet Jesus was that some good chicken and potatoes.
After the market, the Camp Columbia gang headed for Cayuga Lake for some kayaking. In our tandem boat, my wife and I made good time, but consistently veered about fifteen degrees to the left. Finally accepting reality as it was, we adopted a pattern of "two strokes left, one stroke right," and from then on our sleek red craft cut a straight swath through the water. The water grew increasingly choppy as the wind decided to kick up into our faces for the return journey, by the way. Stupid wind. Good thing trusty Columbia gear kept us dry.
Back at Firelight Camp, it was time for beer and bocce. As it turns out, I'm still no good at bocce. (Pretty good at beer, though.) While we battled another couple for supremacy over the bocce court, local food and wine expert (and camp co-founder) Emma Frisch prepared a meal using (mostly) local ingredients to be paired with local wine. Makes sense, given her expertise, ey? Dinner that night was served in a tent and accompanied by information about the lentils, kale, and chicken upon which we dined and about the wines we drank, all of which were produced right there in the Finger Lakes region, an area quickly developing a fine reputation among oenophiles.
The rest of the night was spent 'round the fire, talking of adventures past and future, getting to know new friends better, and… well… drinking.
In the morning, many of the gang rose slowly. But no one missed the bus, and that's a good thing because our first stop was at Ithaca Falls. This, people, is a goddamn gorgeous site, and I'm not just trying to score cheap points off the whole "Ithaca is gorges" thing. If you visit Ithaca, you must go see this waterfall, or else communism wins.
The bus then continued on to the brewery and tap room of the Ithaca Beer Company, where most of us said yes to cheeseburgers and fries, and no to beer. After one more pit stop in downtown Scranton, PA (a more interesting place for a stop than at a highway service station, I have to admit) we got back to Manhattan on Sunday evening. Adult summer camp was over and the return to real life was at hand. In case you were wondering, glamping is more fun than real life. Sigh. At least I can always go back… and ideally with brand sponsorship again.
Editors' Recommendations