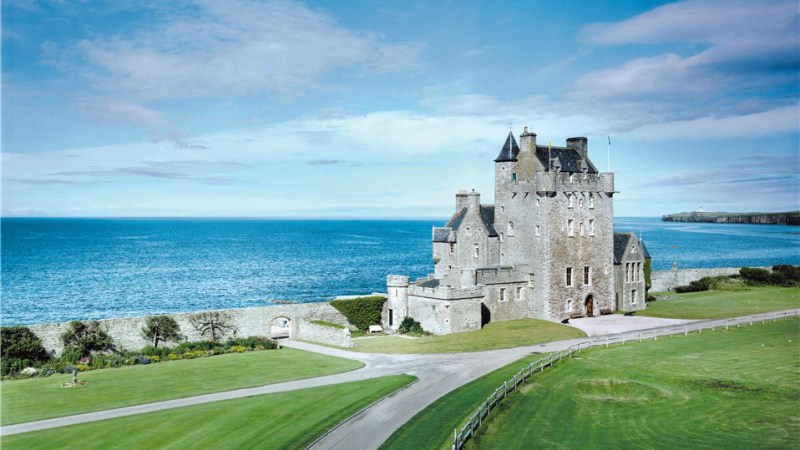 There seem to be an awful lot of castles for sale lately, but none up to this point have had 32 bedrooms, 31 bathrooms, a pub, six cottages,  Europe's largest "treehouse," 30 acres of land, and a lease of shooting and fishing rights over the nearly 3,000 adjoining acres of land on the far northern tip of Scotland.
Ackergill Tower was first constructed in 1475 and existed in that original state until the mid-19th century when Scottish Architect David Bryce expanded and extended the building into roughly what it appears to be today. However, it wasn't until the 1980s and 2000s that Ackergill Tower was finally fully restored to its full luxurious old-world grandeur with its many halls, bedrooms, and public spaces.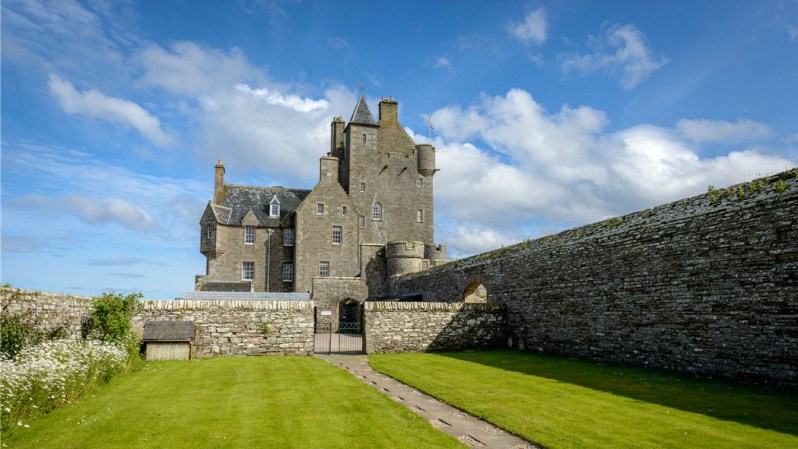 Thirty acres of lush Scottish landscape surround the tower.
Since it's directly on the North Sea, the estate boasts stunning ocean views.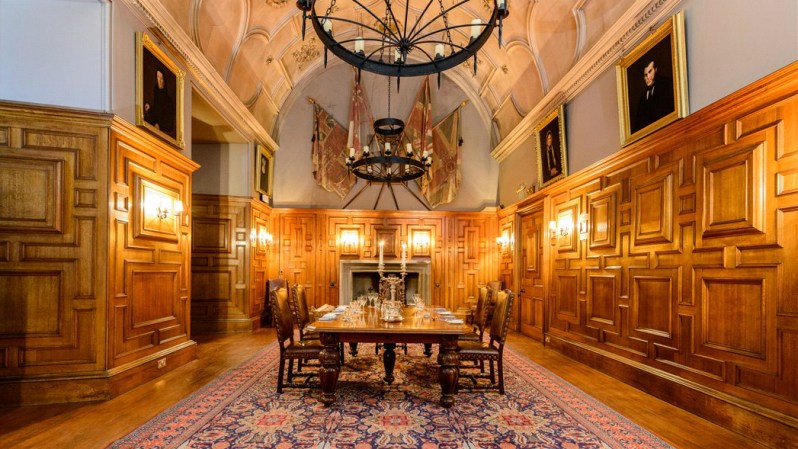 The great hall may be the epitome of what a great hall should look like.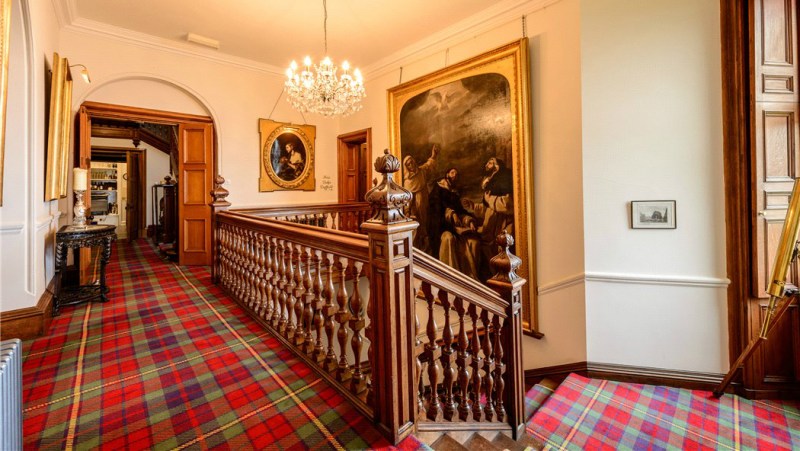 You know you're in Scotland when the carpets are tartan.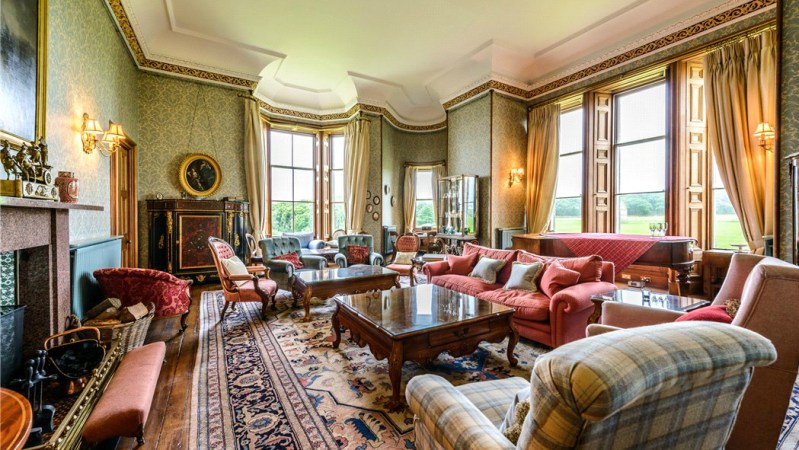 Shades of green, tan, and brown make up the color scheme for this relaxing castle salon.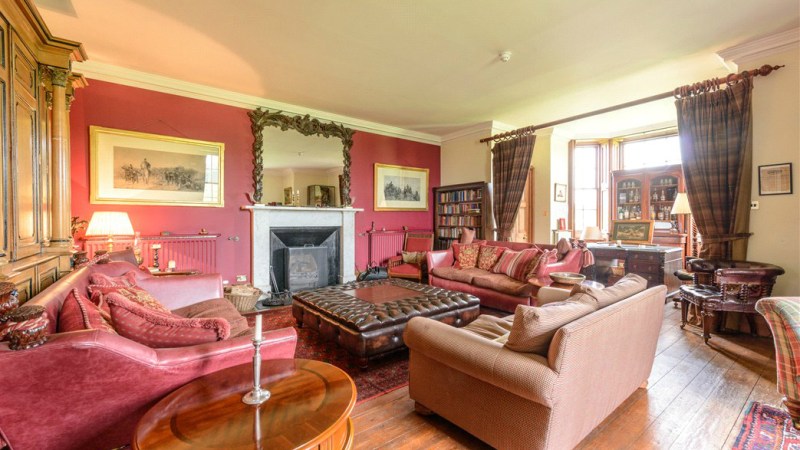 Rich red walls and warm leather furniture complete this gathering space.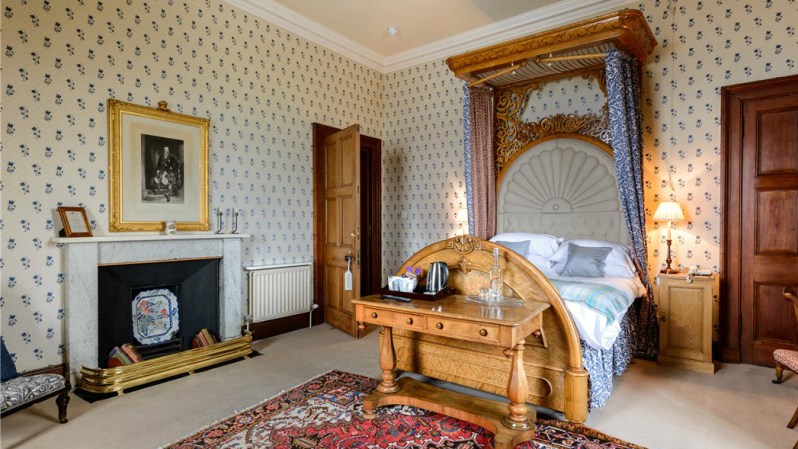 One of the castle's many bedrooms, this one in particular features a canopy bed and marble fireplace.
This bedroom has been designed with a lighter, more airy feel, but maintains its Scottishness through wool fabrics and traditional patterning.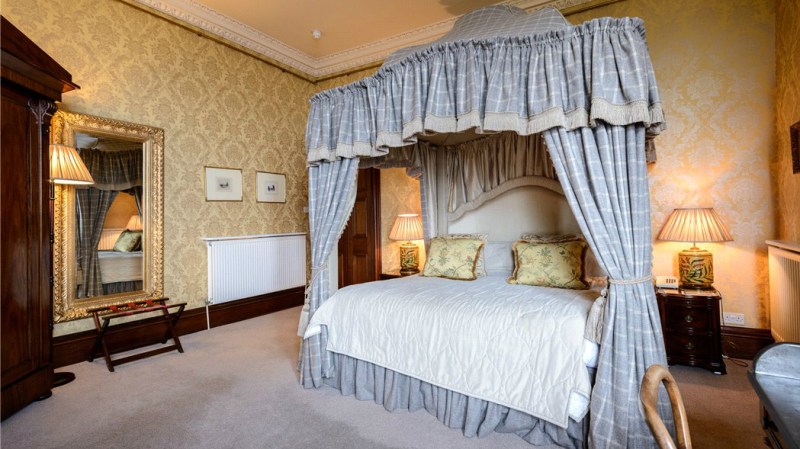 Who can say no to a giant four-poster bed?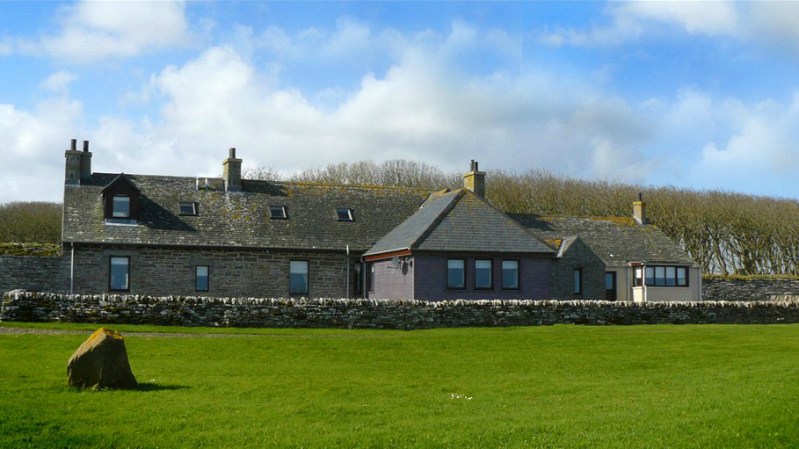 Beyond the tower itself, Ackergill also features multiple outbuildings that have been refurbished for accommodations. This old stable can now sleep 10.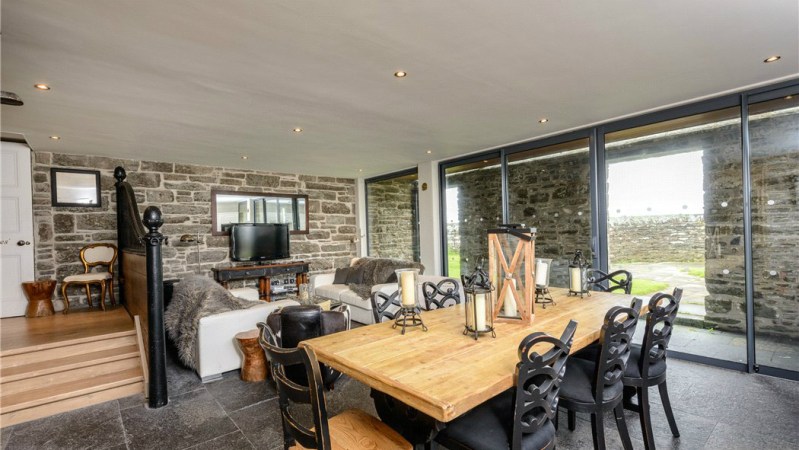 A public space in the former stables is accented with fur blankets and original horse stalls.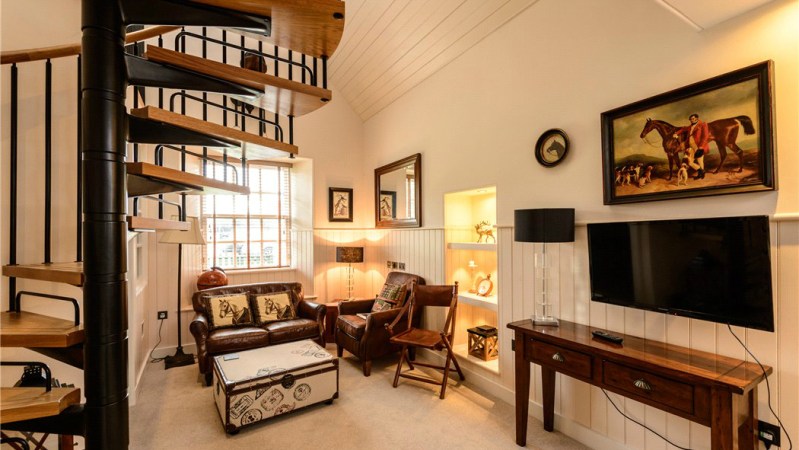 Another public space in the stable, this room is themed to riding, horses, and tack.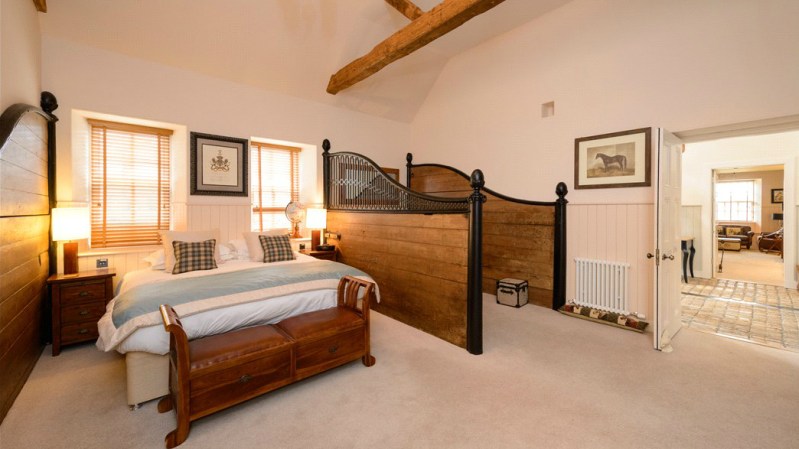 This bedroom features an original horse stall right next to the sleeping quarters.
Old saddles line the walls of the stable's hall.
It wouldn't be a proper Scottish castle without a conservatory.
The castle also sports a Scottish pub, complete with the classic hunter green, patterned wallpaper, rich dark wood floors, and comfortable leather wing-back chairs.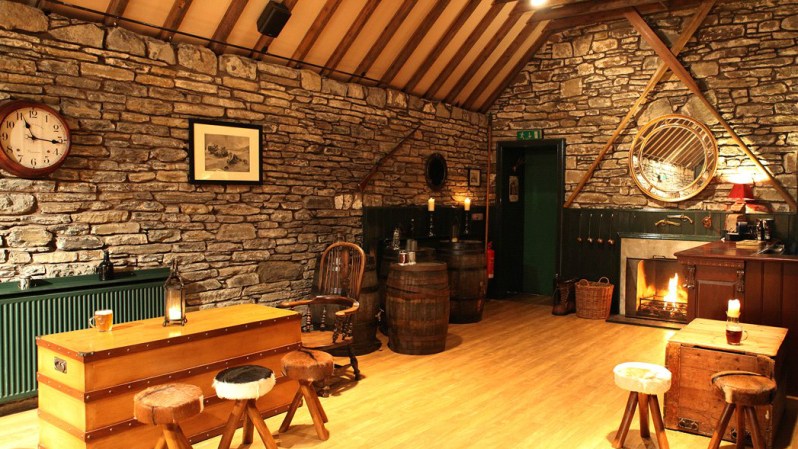 Stone walls, timber framing, and a roaring fire make this pub the perfect place to end an evening.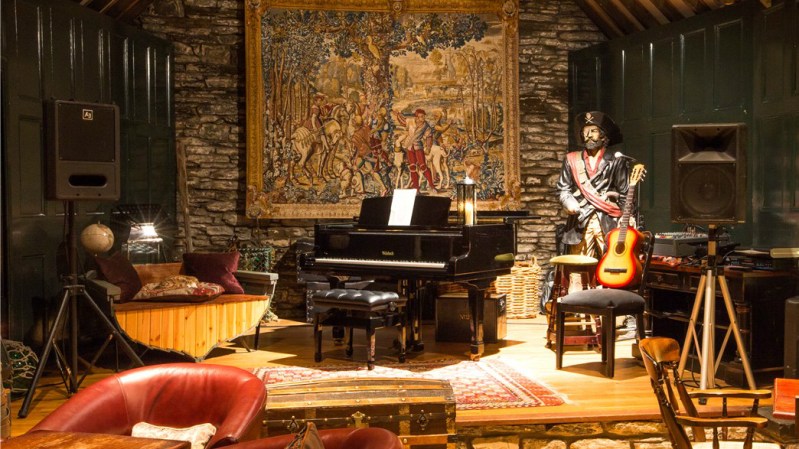 And perhaps a pirate will even play you a sea shanty.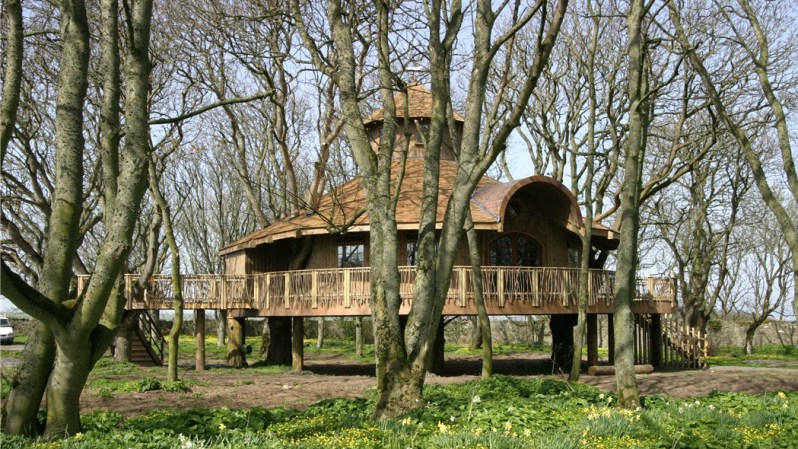 Ackergill Tower also hosts Europe's largest treehouse, which can sleep two.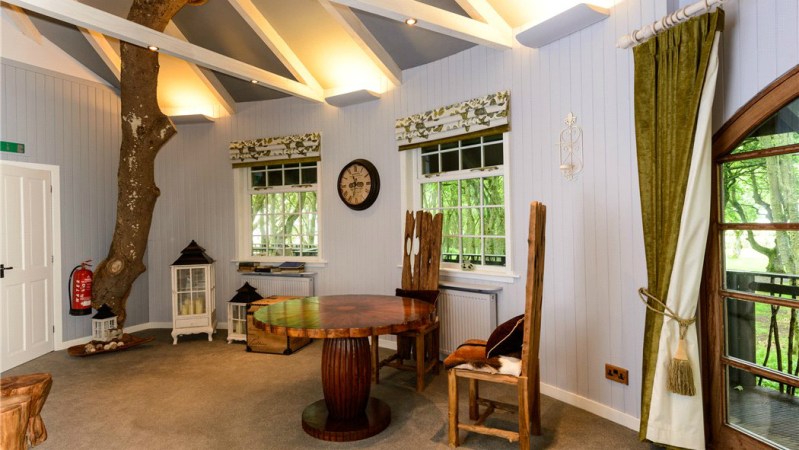 The treehouse interior has real limbs crossing through it.
But it's also got the most beautiful bathroom treehouse we've ever seen.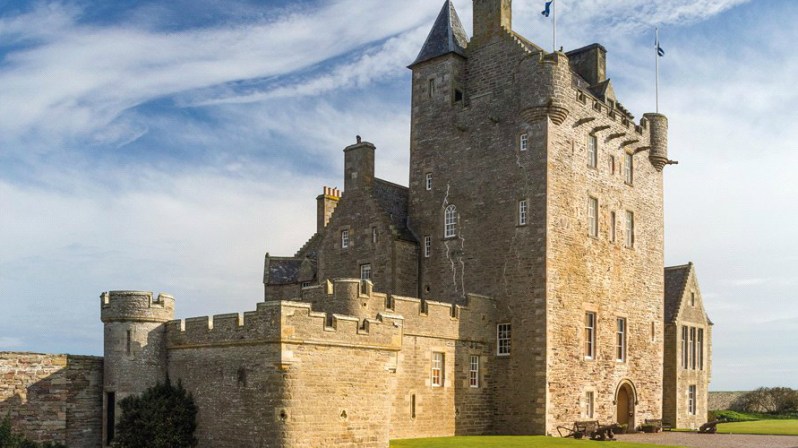 Update: Ackergill Tower was represented by Knight Frank. At the publication of this article on July 17, 2018, it was on the market for $5,031,713. It has since been scooped up.