The birds have begun to sing. The snow has begun to melt. And before you know it, we'll have escaped this god-forsaken tundra and be on to warmer pastures – and that means it's nearly time to get back on two wheels, and out on some delicious twisties. To get you fired up about the 2022 riding season, here is this month's batch of the latest and greatest custom bikes from around the world.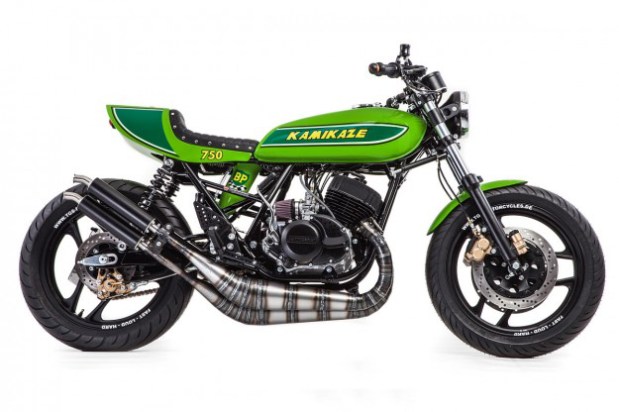 Kawasaki 750: "Kamikaze"
With a name like Kamikaze, it better be mean. And this green machine from German bike builder Tobias Guckel delivers on all fronts. Built on the frame of a Kawasaki H1, the Kamikaze packs a ballsy 748cc-two-stroke motor stolen from a Kawasaki H2. It also features Mikuni TM34 carbs, a custom exhaust from Jolly Moto, and a modern suspension to make sure you can handle even the fiercest turns without committing suicide.

Lotus C-01
There's a good reason the crazy-stylish Lotus C-01 reminds you of the Lightcycle from Tron:Legacy: The same guy, Daniel Simon, designed both. But unlike the Lightcycle, this sexy beast isn't a work of science fiction. Custom built from the rubber up, the C-01 is powered by a 1,195cc 75-degree short-stroke V-Twin that's capable of pumping out more than 180 horsepower. (Don't worry, it has the brakes to match.) The body is made from carbon fiber, and the frame is constructed from carbon fiber, titanium, and aerospace-quality steel. Unfortunately for us, only 100 of these puppies will ever be made – and they won't come cheap. If you're thinking of getting one, it might be time to consider a second mortgage.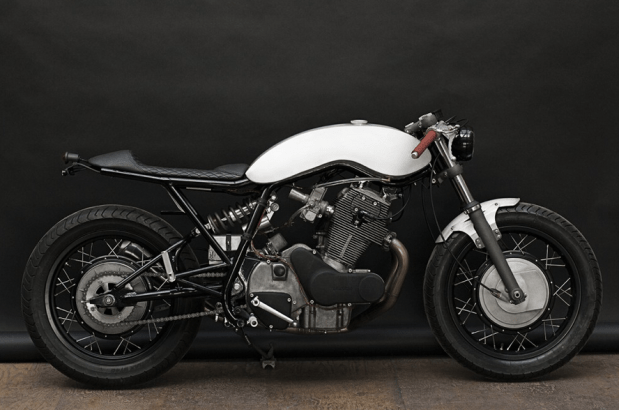 Laverda SF 750: Monkee #59
Back on planet Earth, the Copenhagen-based designers at Wrenchmonkees have given the Italian classic Laverda SF 750 a 21st-century overhaul, with a cleaned-up frame, monoshock-dampered swingarm, Motocicli Veloci clip-on handlebars, and custom aluminum tank, front fender, and more one-of-a-kind details. While this beaut' has already been picked up by another biker, we can promise Wrenchmonkees will stay on our radar for the next custom build.
Drysdale 1000 V8
What do you get when you combine the style of a Moto Guzzi, 16-vale cylinder heads from a Yamaha FZR600, and the nutty design ambitions of Australian bike builder Ian Drysdale? The Drysdale 1000 V8, that's what. Capable of generating 150 horsepower, this monster of a bike is a bit of a Frankenstein creation, with forks, brakes, and wheels from a Yamaha R1, a swingarm from a Kawasaki ZZ-R1100, and a custom-built 4-into-1 exhaust that's hidden under the seat. The bike you see here has already been sold – for a cold $100,000 – but Drysdale says he plans to create a total of five, in case you're crazy enough to want to get on this heavy metal hell-raiser.

Yamaha '79 SR500
Yes, I included a Yamaha SR500 in last month's list. But I couldn't help myself when I spotted this chromed-out custom looker from UK designers Volts Mechanix. Every pipe, nut, nook, and cranny on this Yamaha single-cylinder thumper has been gone over with a fine-tooth comb. Built for tooling around town, Volts Mechanix's SR500 is sure to look good wherever you take it. In fact, it's so pretty to look at, you might never make it on the bike.
Editors' Recommendations