Man isn't meant to stay indoors — our weekly "Trekking" column can attest to that. It's a column dedicated to the adventurer inside of all of us, the one pining to ditch the office humdrum for a quick surf session or seven-week jaunt in the Grand Tetons. One day we may highlight an ultra-light stove and the next a set of handmade canoe paddles. Life doesn't just happen inside the workplace, so get outside and live it.
Just because something is practical doesn't mean it has to be unattractive. That said, hiking and backpacking apparel frequently gets a bad rap, often sacrificing any essence of style and comfort in favor of technical fabrics that offer lightweight functionality on the trail. Most would look out of place if taken for a raucous night out on the town, but thankfully, there's an entire swath of outdoor apparel that's designed to rethink our idea of what we should wear both on and off the trail. Below are a few of our personal favorites that find function in fashion, whether talking mainstay short sleeves from Patagonia or Merino-laced wears from the grassy steppes of southern New Zealand.
Related: Campsite Cuisine: 5 portable grills that actually cook great steak
The folks at Patagonia have always prided themselves in their penchant for versatility. Conveniently constructed of lightweight polyester, the company's Sol Patrol II is the perfect example of why. The ripstop material drys quickly and thwarts the sun with 30-UPF protection, while offering a breathable mesh backing and numerous air vents for comfort in a host of demanding scenarios. The double-layer collar and zippered pocket on the right only add to its resourcefulness.
Marmot's Waldron SS is discrete yet stylish, and moreover, boats a regular fit that comes in four attractive patterns. It's made of a lightweight performance fabric designed to quickly wick moisture from your body and pack down for maximum storage, capitalizing on a comfortable blend of Supplex nylon and environmentally-friendly, recycled polyester as it does. Furthermore, it comes outfitted with durable, flat-felled seams and UPF protection that allows only 1/50 of the sun's UV rays through.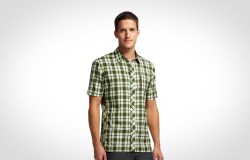 Frankly, Icebreaker is the undisputed champion of all things Merino-related. The lauded woven — which comprises nearly 100 percent of the Compass Short Sleeve — allows for the utmost breathability, while providing moisture-wicking properties and retaining your warmth when wet. Mesh venting panels beneath both arms further increase air flow, too, but it's the fact the material is designed to remain odor-free for days that truly sells it. Well, that, and the three attractive color offerings available.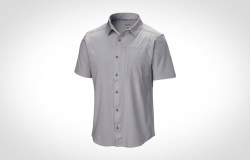 Mountain Hardwear's aptly-titled Chiller is more in line with what you'd expect Edward Abbey to wear while romping around the desert. The short-sleeve, quick drying shirt uses a technology that actually works to lower the fabric's temperature when you're sweating, while rotated seems and flip-up collar consistently work to prevent chafing and shelter you from the sun. The fabric is also wrinkle-resistant, meaning you can head from the trail to tapas without an ironing board or hesitation.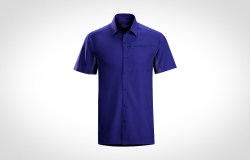 Don't let the big, bold colors and the premium price of Arc'Teryx's Adventus Comp SS deter you — it's one of the best hiking wears around. The streamlined shirt utilizes a welcome combination of Diem polyester and Phasic SL paneling to repel moisture and ensure proper ventilation, and the zippered chest pocket provides just enough space for a map or license for a post-hike round of drinks. The lamented straight hem and contemporary snaps even adds a touch of modern to an otherwise traditional build.
Editors' Recommendations