Power, or rather electricity, can be unreliable any time of the year, not just during the winter or stormy months down south — hello, hurricanes. It means the best time to buy a portable power solution for backup or for any kind of power scenario is not when you need it most but beforehand. Plan ahead, and you won't experience those huge outages. It's even more important if you're planning to live off-grid, going exploring, or living your best van life, RV life, or glamping. You'll need power. End of story.
With BLUETTI offering some great Black Friday deals, plus an exclusive discount, now's the best time to buy. The discounts are also complemented by a brand new release with the BLUETTI AC200L portable solar generator and power station hitting the market. It features a 2400-watt output, 2,048-watt-hour capacity, and a 1,200-watt solar input for speedy charging. You can boost that to 3,600 watts in PowerLifting whenever needed. More on that new station and the fantastic deals below.
For a limited time, from November 17 until November 30, The Manual readers can use the coupon code Manual100 at checkout to receive an extra $20 off. That code will stack with existing Black Friday deals.
AC300+B300 with FREE 120v home integration kit — $2,799, was $3,418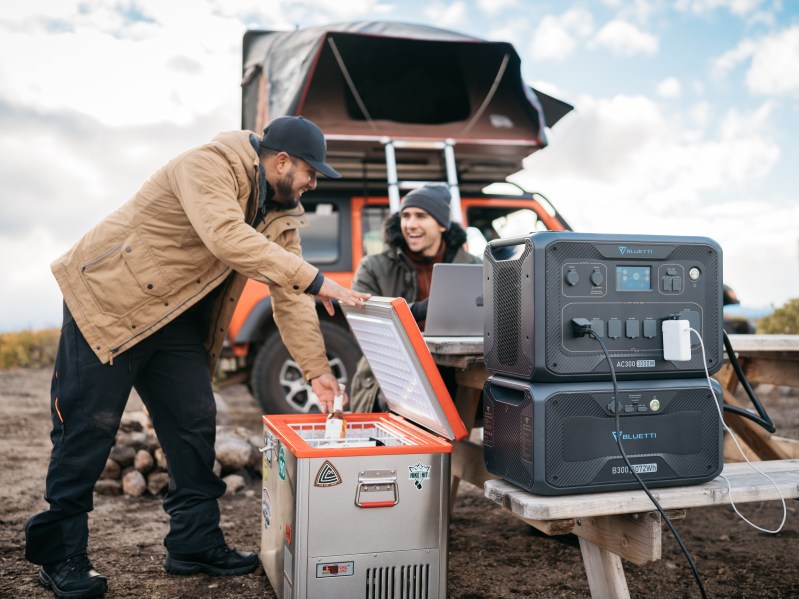 This portable power station can switch over as your main source of power in about 20 milliseconds. That's fast and ensures you'll never be left in the dark. It offers a scalable capacity through the add-on batteries thanks to the B300, which two to four are able to be connected. Starting at 3,072 watt-hours, you can expand up to 12,288 watt-hours total, enough to charge all your home essentials and appliances like refrigerators, air conditioners, and more. Plus, you can plug in solar panels to charge it via the sun's sustainable solar energy, up to a total of 2,400 watts of solar charging. This deal comes with the BLUETTI home integration kit for free — a $619 value.
AC500 + B300S with FREE PV380W solar panel — $4,799, was $5,298
Peace of mind is what this system offers. You can run virtually anything in your house. This combo gives you 5000 watts of output or a 3,072-watt-hour capacity, which can power an 800-watt refrigerator for up to three hours during an outage. The capacity is expandable, as well, up to 18,432 watt-hours, plus you get 3000 watts of solar charging capability with a suitable set of solar panels. This deal comes with the PV380 solar panel for free — a $799 value.
The New BLUETTI AC200L solar portable power station — $1,499, was $1,699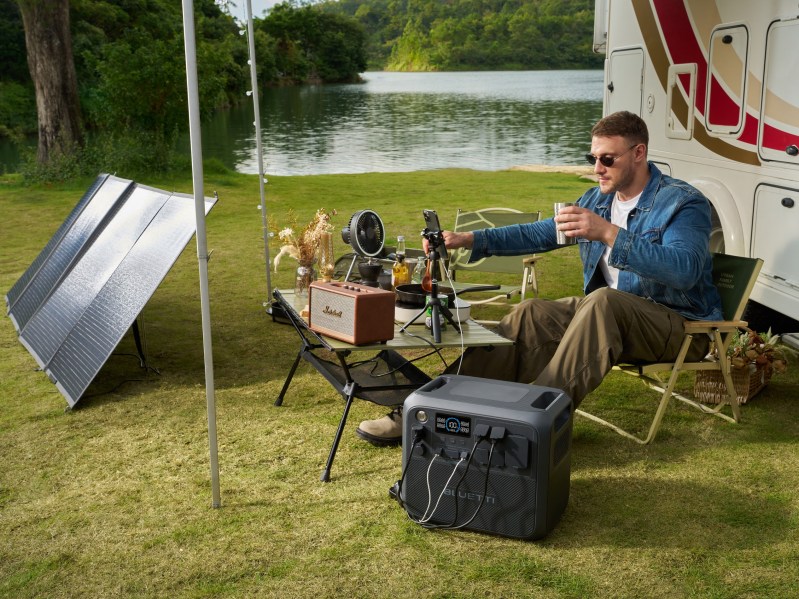 BLUETTI's newest power solution, the AC200L, can charge in 90 minutes without additional adapters. An ECO mode helps conserve battery, and UPS functionality ensures the power stays on when you're in the middle of something important, like work or a good movie. It delivers 2,400 watts of power that can be increased to 3,600 watts in PowerLifting mode. The 2,048-watt-hour capacity can be fully recharged in about two hours using just a 1,200-watt solar charger — how crazy is that? From November 17 through November 30, the AC200L power station is available for a special early-bird price of $1,499. With the exclusive promo code MANUAL20 you can save an extra $20, too.
AC200MAX solar portable power station — $1,299, was $1,599
A flagship product, the AC200MAX is excellent for just about any scenario, bug-out or bug-in. In an outage, it has all of your necessities covered, but if you're hitting the road or off-grid, you're covered there too. It has a 2,048 watt-hours capacity with 2,200 watts of output, just ideal for RV adventures, van life, and glamping. The front panel features 16 outlets to cover anything you could ever want or need. Plus, the effective 900-watt solar intake means you can charge and power it via solar panels with no interruptions, or you could expand its capacity with a B230 or B300 expansion battery. With extras, you can expand its capacity up to 8,192 watt-hours total.
AC180 solar portable power station — $649, was $999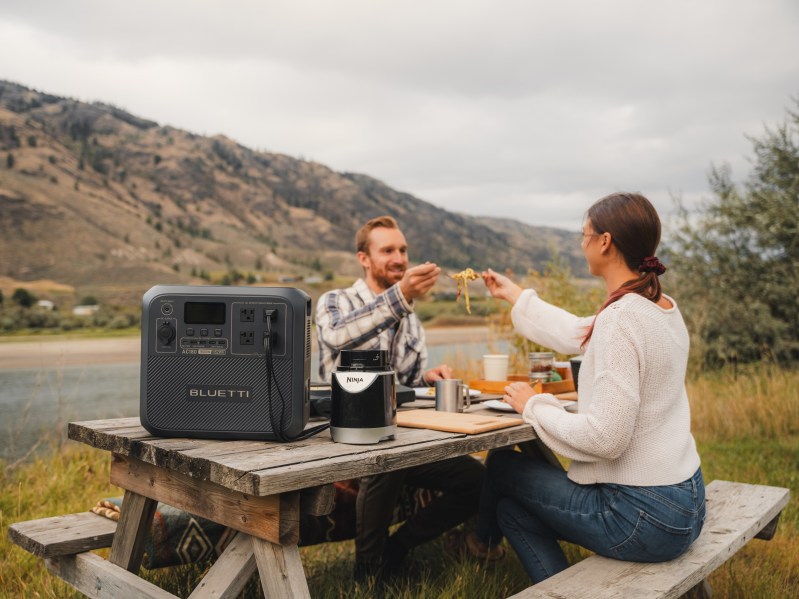 For true portability and balanced performance, this is the answer. The AC180 weighs about 37 pounds, perfect for bringing along on your great adventures. Its counterpart, the AC180P, is also just as portable. Both offer 1,000 watts of power or 2,700 watts in PowerLifting mode. You get either a 1,152-watt-hour capacity in the AC180 or a 1,440-watt-hour capacity in the AC180P, so it's your choice how much you need. Responsive UPS features offer reliable backups when an outage happens or when the grid is unavailable.
AC70 portable power station — $499, was $599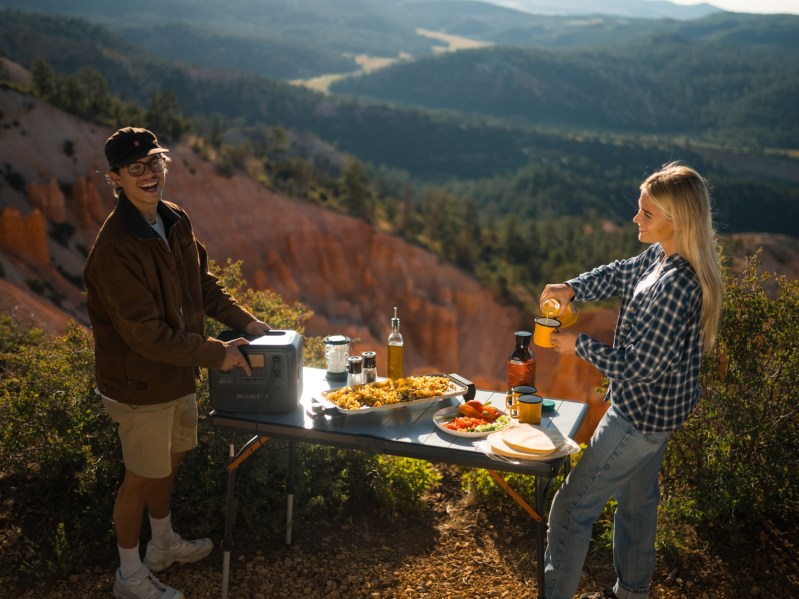 Designed for adventurers and explorers, inspired by , the AC70 is an upgraded version ready for the great outdoors and beyond. It offers 1,000 watts of continuous output, with up to 2,000 watts in PowerLifting mode. The 768-watt-hour capacity is no slouch either, especially for something of this size. You can charge a 15-watt camera up to 45 times or keep a 40-watt CPAP machine powered on for 12 hours. Need more power in a pinch? Connect panels to the 500-watt solar input for a full charge in two hours. Now, that's impressive. But not quite as impressive as this Black Friday deal.
AC2A + PV120 solar generator and panel bundle — $399, was $548
The ultimate power and portability bundle, this set will elevate your adventures to the next level. It comes with the AC2A 204.8-watt-hour capacity portable power station with a 120-watt PV120 solar panel for quick solar charging. Despite its compact size, it offers 300 watts of AC power and a 600-watt surge from its manageable battery. Six ports give you options, including a 100-watt USB-C port for fast phone, laptop, or tablet charging. It's ready to pick up and go anywhere, anytime, just like you.
Editors' Recommendations