Ever wanted to drink from a rocks glass that looks like it belongs in Mad Men and happens to have your hometown or your favorite city printed on or etched into it?
What about if that favorite city wasn't just printed, but printed in 22-Karat freaking gold? Thanks to UncommonGreen, you can do just that, mixing up Old Fashioneds until the cows come home.
For their newest line, Gold Leaf Glassware, you can select from over 20 major US Cities, including New York, Los Angeles, Chicago, Boston, and more. For those across the pond, they also have London done in the same 22K gold leaf printing. In addition to a part of the city being etched onto the glass—for New York City, Lower Manhattan is pictured, for example—the city's coordinates are also emblazoned on the side of the glass, ensuring you'll never forget where you are (from). While not recommended for finding your way home from a bar, it looks sweet in your hand or on your bar.
Each gold leaf glass costs $24 and while that may seem like a lot, you have to factor in not only will you be drinking sweet, sweet whiskey from it (or rum or tequila, we at The Manual don't discriminate), but you're also going to be showing the glass off as a piece of art. For doing double duty, $24 is a steal.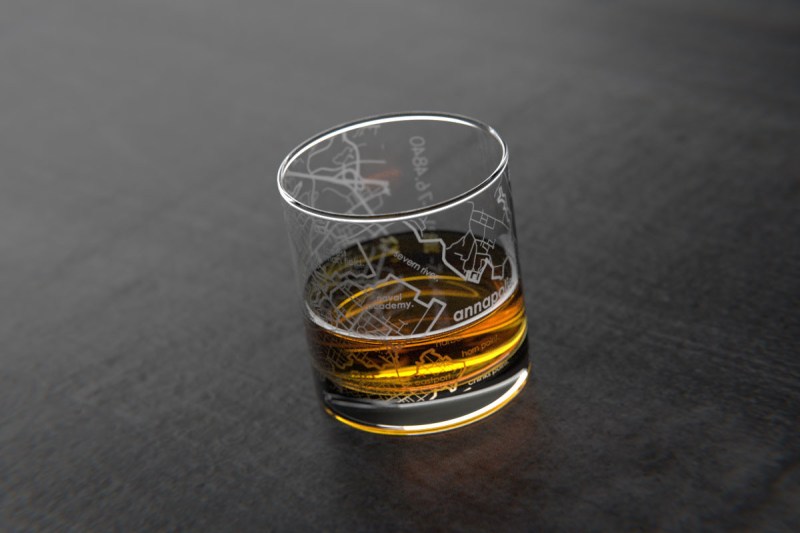 If you don't find your city on the golden list, don't worry, you can still drink from it. UncommonGreen has an entire line of Maps Barware, featuring rocks glasses, pint glasses, and a slew of other etched designs featuring thousands of cities across the country. If you still are at a loss and really want to celebrate your hometown, population 500 (here's looking at you, Saluda, North Carolina), you can do that, too, by custom ordering your glassware.
The one thing to keep in mind is if your town only has one street, you might want to think about a town you've always loved visited. Maybe one you hope to live in someday. (Then again, if you're proud of your one-street town, go for it. It's your glass. We're not going to stop you.)
Really, what we've learned from digging through the UncommonGreen's site is that you can get lost in it. It's the perfect place to find everything you might need for your bar—or the things you didn't know you needed, but realize now that you've always wanted. Slate coasters with your state on it? Boom. Pint glass with the Marine Corps Marathon route on it celebrating that one time you were active? You know they got you covered, too.