A Parisian bistro, easily the perfect setting for a drunken Fitzgerald-Hemingway verbal slap-fight, has time traveled into downtown Los Angeles. Instead of cobblestone streets and gas lamps, Church & State Bistro is surrounded by industrial buildings and vibrant graffiti murals. Housed in a 1924 brick stunner, the former Nabisco factory, it's City of Lights meets City of Angels.
String lights zigzag across the industrial ceiling, over tables flanked by the bar at one end and open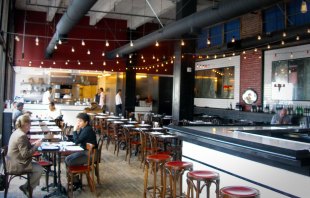 kitchen at the other. Massive windows look out onto the family-style seating on the patio. The gorgeous brick floor is the only thing that betrays it was once the National Biscuit Company's loading dock. Red and black paint, bistro chairs, moody black and white photographs, white subway tiles, and walls covered in bottles of French wine complete the atmosphere. It's crowded and loud but still somehow intimate. Perfect for dates, group dinners, or even just a solo dinner with a good book, preferably something existential.
The service is some of the best around: attentive, polite servers who still allow for a languid dinner pace. There's no rush to turn tables in here. The manager will check in, asking how everything is and what more can be done for you.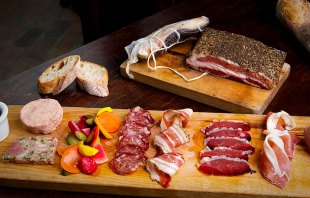 Honestly, though, the restaurant could be a cardboard box and it would still be worth going. The food is utterly delicious. You're looking at traditional French food with California's organic/ethically-raised influence: seasonal ingredients from organic farms, no antibiotics, no hormones. So, feel guilt free about tucking into that roasted marrow, served in a split-in-half bone on a copper pan. Or Margret de Canard, the duck breast that almost melts in your mouth flavored with a kind of vinegar gravy. On the seafood side, opt for the French favorite, Moules Marinières: Prince Edward Island mussels steamed and smothered in a creamy, shallot-y broth served with perfectly crispy fries to soak it up. Ask for some fresh baguette slices to slop up the rest. If charcuterie is your game, they have incredible offerings: chicken liver mousse, or go for the Grande Charcuterie: duck prosciutto, rabbit rillettes, house cured pork belly, chicken liver mousse, cheeses, and pickled vegetables to die for.
There are two absolutely cannot miss items: the escargot and the Tarte à l'Oignon. It's really not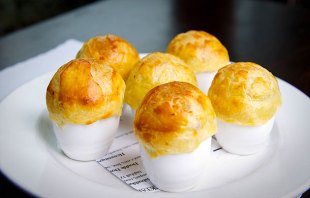 important if you haven't liked snails in the past or maybe you've never worked up the courage to try them. At Church & State, it's time. They're wild snails, served in little cups with garlic butter and covered in flaky golden puff pastry. It'll make an escargot-convert out of anyone.
It can't be proven, but their recipe for Tarte à l'Oignon is probably stolen directly from the gods: crispy tart pastry that manages to hold up an indulgent layer of melty gruyère cheese, thickly chopped pieces of applewood smoked bacon, and sweet caramelized onions. It's served on a wooden board, cut into square slices and you'll think "oh, I can't possibly finish that with all the other food coming," but you'll find that you will. And you'll be so happy you did.
The man responsible for this gastric heaven is Tony Esnault, a real live French chef who has sharpened his skills at various Michelin-starred restaurants around the world. Esnault brings his experience as a kid on a Loire Valley farm to the table through his exquisite, simple, mouth-wateringly delicious food devoid of pretension.
Bon appétit, Angelenos!