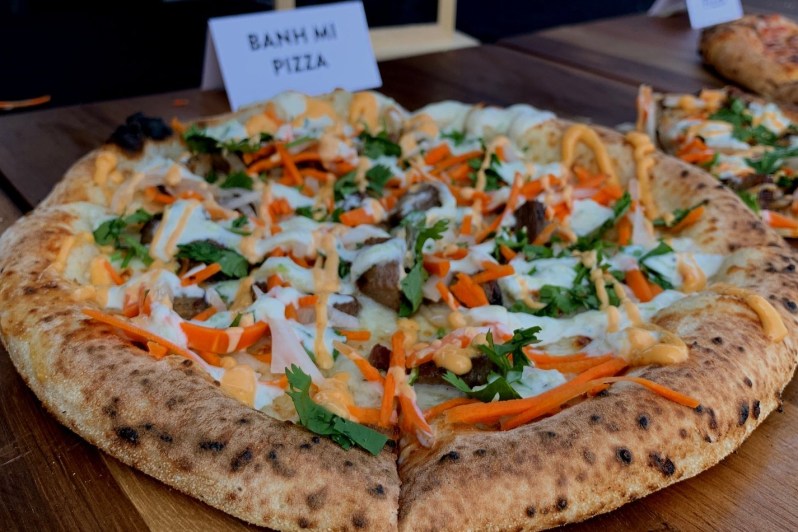 Pizza is a blank canvas — just ask the many types of pizza. There's Columbus pizza style, New Haven, Detroit, Deep Dish (and sorta made up ones in between, like the Spokane style). Sometimes, the differences can be subtle, involving things like crust height. Other times, it's a style you've never even heard of, like Roman pinsa pizza.
Now and again, a new pizza style comes along that completely alters the way we view and appreciate the dish. Enter Hapa Pizza, the Oregon-based restaurant specializing in Asian-inspired Neapolitan pizza. Founded at first as a food cart by AAPI owners and husband and wife duo Natalie and Aaron Truong, Hapa opened a brick-and-mortar spot in downtown Beaverton in March 2023.
"The impetus for starting our first popup was the encouragement of some friends at a backyard pizza party after topping a pizza with bulgogi and kimchi," Natalie Truong said. "They said it would be a great way to test out our concept and see if people would like an Asian fusion pizza."
The journey began with a spot at the Beaverton Farmers Market, a vibrant weekly gathering of purveyors in the suburbs of Portland. Natalie Truong said people kept asking if they had a restaurant, showing real interest. "Regulars would lament having to wait until Saturday mornings to get our pizzas, so we knew we wanted to expand and be able to work more than just one day a week," Truong said. "That's when we went for a drive around downtown Beaverton and happened to come across a small space that was available for lease. Peeking in through the window, we could envision what Hapa Pizza could be like if we were there, and somehow we knew it was the right spot for us."
It's a great spot that's within walking distance from fellow buzz-worthy spots like Top Burmese, Loyal Legion, Nak Won, and more. It's intimate, seating around 18 people, and the line often extends out the door. No wonder, given the quality of the pies and the eclectic ingredients. It's built atop chewy, 24-hour fermented dough baked in a gas oven. It's some of the most talked about pizza, which is saying something, given that Portland was recently named the pizza capital of the U.S. But it didn't just happen overnight.
Truong doesn't use the word community lightly. It's what built Hapa in the first place and continues to fuel what they do. "Relationships are everything," she stated. "Our regulars, friends, fellow vendors, family, community leaders, and business owner friends have all chipped in to help us get to where we are today."
Part of that success comes from a clever approach — from the trial-and-error ground of a market to a bona fide eatery. "We also benefited greatly from testing our idea at a farmers market first, where there's relatively low risk, to see what it's like to run a food business and also whether there is adequate demand for the service you're providing," Truong said. "I couldn't imagine opening up a restaurant and having to try to get the word out and build a customer base from scratch. We've been very fortunate to have the community behind us every step of the way."
The AAPI community in Beaverton is significant and contributed greatly to the city's vibrant and still-growing restaurant scene. Couple that with access to all sorts of ingredients, from pals made at the farmers market to the countless farms and growers of the surrounding Willamette Valley, and the recipe has real legs.
About that pizza. The menu is dripping with intrigue, from the pork belly kimchi pizza, made with house sauce, pickled cucumber, and toasted sesame seeds to the pho pizza, a combination of stewed brisket, pho sauce, onion, mozzarella, green onions, bean sprouts, hoisin sauce, and Sriracha aioli. To the pizza traditionalist, it's probably confusing. To the intrepid eater, it is heaven on earth. So, what would Truong say to the former crowd?
"I get it," she told us. "Those ingredients complement each other very well, so there's a reason those traditional styles have endured for so long. I would also say that as more cultures interact with each other, there are a lot of opportunities for delicious new flavors to add to the already-rich tradition of pizza-making."
Like a supergroup in music, Hapa fuses the very best of various food styles to create this fusion cuisine. "I personally love the marinated meats, stir-fried vegetables, and sauces from Asian cuisine," Truong added. "I also love the fresh-baked breads, herbs, and cheeses of Italian pizza. I think combining the best elements of both cultures doesn't take away from either; rather, fusion could enhance those cuisines and introduce people to new flavors and textures that they may find really delicious."
In many ways, the pies are the result of the Truong's upbringing. "The recipes on the menu come from our favorite foods growing up," she stated. "Since I grew up eating and making Asian food, it's not too difficult to try putting those ingredients on pizza and seeing what works well together."
Truong also credits her extended family and friends for offering ideas and helping create the always-evolving menu. And it extends beyond the pizza. "We also have Jidapa Cheyiam (we call her Mama J) who is making amazing specials each month like her Thai beef salad and marinated pork belly skewers, which are absolutely incredible," Truong said. "She's one of those Asian aunties who loves cooking all the time and is always bringing us food to try, so now she's just doing what she always does but sharing her creations with our guests."
At the moment, Hapa is adjusting to the brick-and-mortar life, fine-tuning its hospitality while turning out pie after popular pie. "We're just gearing up for a busy summer and getting some outdoor seating set up so we have a few more tables if people want to dine in, since seating space is pretty limited inside," Truong stated.
She says there are no current plans to expand as the hope is to keep that mom-and-pop vibe alive and well ("that's what makes Hapa feel like family," she said). "We just want to make great pizzas for the community, have fun with our team, and spend time with our kiddos."
Editors' Recommendations