Bakers and dessert chefs — both amateur and professional — know very well that adding the benefits of coffee to any chocolate treat will provide a welcome balance and highlight the chocolate's flavor complexities. That said, chocolate isn't the only ingredient that benefits from a coffee counterpoint. Plenty of savory dishes also thrive with the addition of coffee, including some that you might never expect. We surveyed a group of professional chefs to discover their favorite under-the-radar ways of using coffee in their cooking, and they gave us 9 recipe suggestions that we can't wait to try.
Don't be afraid to add coffee to a shellfish spice rub.
When it comes to using coffee as an ingredient in savory, meat-based dishes, some diners believe that the nutty, somewhat-bitter taste of our favorite caffeinated beverage is a natural fit for red meat, but that it doesn't really suit more subtle proteins like shellfish. However, chef, TV host, and cookbook author Stephanie Harris-Uyidi wholeheartedly disagrees, recommending coffee as a key ingredient for a rub marinade to use on shrimp. "Adding coffee to your seafood spice rub or marinade incorporates a touch of smoky, robust flavor to your meals. It has an additional level of delectable complexity that is surprising to your taste buds and blends well with chili, cinnamon, brown sugar, garlic, and pepper!" Harris-Uyidi explains. She uses this spice rub for her Oaxacan-Style Jicama Shrimp Taco recipe, which you can find here.
Using a coffee crust on fish offers both moisture and rich flavor.
Shellfish aren't the only ocean proteins conducive to a coffee rub or marinade. According to executive chef David Burke of David Burke Tavern in Brooklyn and Woodpecker by David Burke in Manhattan, "We routinely save coffee grinds and re-purpose them into dishes because they add an intriguing smokiness and aromatics. In the case of the coffee-and-coriander crust [we use on our] sea bass, it keeps [the fish] moist, and you can use it on any fish. [It functions] like a salt crust."
Coffee highlights the natural sweetness in roasted root vegetables and brings a new dimension to a light vinaigrette.
Coffee may not seem like an obvious flavor element for a refreshing spring salad, but chef Emily Ferrari of Maritana in St. Pete Beach, Florida considers it a perfect match for a salad with crisp greens and roasted root veggies. "Coffee has an amazing bitter note to it that when used in rubs or lightly sweetened goes amazingly with root vegetables. It can work almost like an acid to enhance the other sweet flavors in a dish and tone down the fatty notes that can sometimes overpower a dish and make it too rich. In this case, adding some sherry vinegar and brown sugar [to] the coffee for the dressing makes it this wonderfully rich sauce that coats the greens lightly. Then, adding a coffee rub with chili powder, salt, and brown butter to the vegetables before roasting them and adding them to the salad brings out their natural sweetness and gives a great contrast in flavor with each bite," Ferrari advises.
If you need an extra dose of savory flavor in a mushroom dish, coffee will solve your problem.
Thanks to their woodsy bouquet and appealing natural funk, mushrooms are very popular meat alternatives, and their inherent savory taste can get a major boost from the addition of coffee. "My all-time favorite [thing about cooking with coffee] is the way it complements mushrooms so very well. Incorporating brewed coffee to a mushroom dish of just about any kind is a wonderful way to bring more depth to the flavor of the mushrooms," insists executive chef Joey Molteni of Hathorne in Nashville.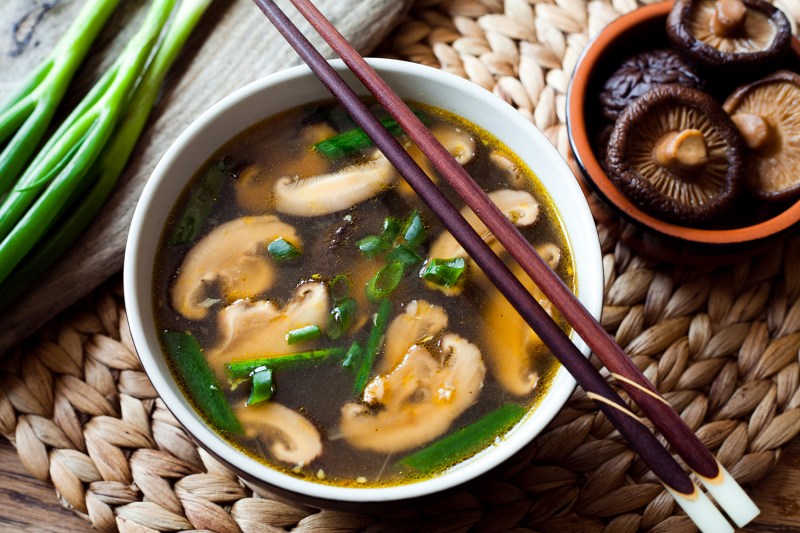 Looking to bring extra richness to a vegetarian dish? Infuse your veggie broth with coffee.
Vegetable broths often cry out for more complexity and more nuance, and both of these characteristics can be amply provided by coffee or a coffee-adjacent ingredient. For instance, chef Mario Castrellon of Maito in Panama and the forthcoming Cafe Unido in Washington, D.C. likes to use "the coffee shell (cascara) to make vegetable broth. We make a vegetable-broth reduction infused with coffee cascara that brings notes of acidity, tamarind, and fermentation that [create] flavors [similar to those] in a classic, slow-cooked, beef-bone demi-glace. We [then] pour that over cauliflower."
The use of coffee to complement red meat like beef is a longstanding tradition for a reason.
The combination of coffee and red meat (beef, in particular) isn't exactly an unusual concept, as it's become quite popular at steakhouses and BBQ joints. For chef and cookbook author Lina Saad of Ramadan Express, coffee is an integral aspect of the culinary culture in her home country of Sierra Leone, and she cherishes opportunities to combine the very-familiar flavor of coffee with dishes that extend far beyond breakfast. "Coffee [in Africa] goes back to the 15th century, [but, according to legend,] Khalid, a sheepherder in Ethiopia [in the 8th century], discovered that his sheep became energized when they ate [coffee] beans off the trees. He took a sample and presented it to the local monastery, who brewed the berries and [found that] the drink kept them alert through the night for prayers. It is very common to prepare desserts with coffee [nowadays], but not many [people] make savory food with coffee. I like to play the devil's advocate by [massaging] a coffee and chili rub into my steak and then making a burger out of it. When my 10-year-old [daughter] ate the burger, she expressed the following: 'Mum, there is a glide of bitterness that tastes like a milky cappuccino, but it's spicy.' I really loved that expression!" Saad explains.
Barbecue sauce and coffee make for an excellent partnership.
As we mentioned previously, coffee and BBQ make excellent bedfellows, and that truth absolutely extends to barbecue sauces. "Because of coffee's dark, deep bold flavors, it is a powerful player when cooking. I like to incorporate coffee into BBQ sauce because it adds a distinct depth that works well with pork ribs and the rich flavors of the coffee complement the powerful flavors of the meat," executive chef Luis Polanco of Boulud Sud in Miami says.
The Mediterranean dip known as labneh benefits from the earthy quality of coffee.
Labneh, an airy, Greek yogurt-based dip popular in Mediterranean cuisine, responds well to the addition of coffee, thanks to its gentle acidity and creamy texture. "We use a rough-grind coffee to season a labneh that goes with our hush puppies. The addition of the coffee [to] the dish brings a different layer of earthiness and a super-exciting textured feel to the thick labneh. I also love the bitter cocoa and astringent flavors coffee adds. Now, [if you really want to] rock your socks off, allow [the coffee grinds] to sit in the labneh for an extra day. That way, you'll get a completely different product as the coffee 'brews,'" executive chef John Russ of Clementine in San Antonio tells us of his own coffee-labneh dish.
Editors' Recommendations