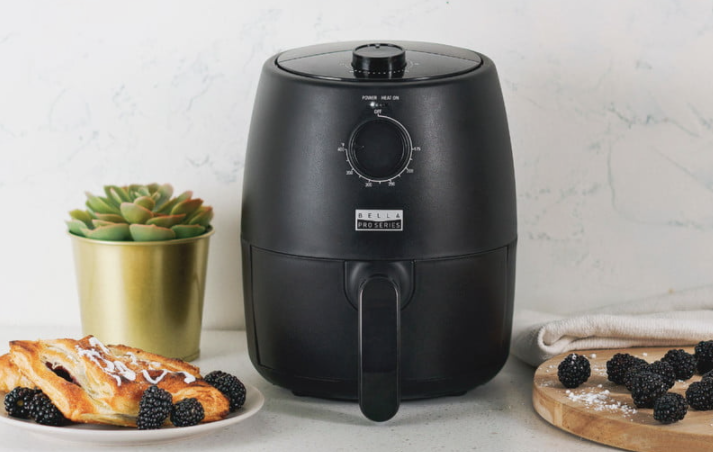 Outside of TVs, your average electronics, and similar deals, some of the most popular are — you might be surprised to know — air fryer deals. Perhaps it's because they're so convenient to use and make cooking snacks and full meals so much simpler, but also because they're healthier than your average deep fryer and still make delicious, crispy foods. If you're looking for a great deal on an airy fryer, perk up, because Best Buy is offering something incredible for one-day only. The Bella Pro Series 2-quart manual air fryer is just $18 right now, saving you $27. Hurry, the deal ends soon.
Why You Should Buy the Bella Pro Series 2-Quart Manual Air Fryer
In case you weren't aware, you can cook some amazing air fryer salmon recipes in under 20 minutes. You can also use an air fryer to reheat tamales, and prepare a ton of different foods including appetizers and desserts. But one of the things you should always look for when choosing an air fryer is a compact size, that takes up less surface area in your kitchen, while still providing ample room to cook enough food for you and your family. That's precisely one standout of the Bella Pro Series air fryer that's on sale at Best Buy for today — it can hold 2-quarts of food in the basket or up to 1.7-pounds. That's quite a bit!
It offers 1200 watts of power, with no preheating required thanks to a high-performance circular heat technology. Basically, the heat remains trapped inside the cooking area and circulates effectively to create crispy foods and snacks fast, but still evenly cooked. You can choose between multiple cooking modes like air fry, broil, roast, bake, and reheat, and none of them require oil.
The adjustable thermostat on the unit can be set anywhere from 175 degrees to 400 degrees Fahrenheit, and there's an automatic shutoff for safety with a 60-minute timer, or less. The entire system is easy to clean too thanks to a non-stick pan and crisping tray, both of which are dishwasher-safe.
Normally $45 all-in, today's Best Buy deal gets you the Bella Pro Series manual air fryer for just $18, which is $27 off. That's an incredible offer, close to, if not better, than anything we've seen during the holiday shopping sales, including Black Friday. But if you're interested, you'll have to hurry, because this deal is only good for one day only — today. When it's gone, it's gone for good.
Editors' Recommendations