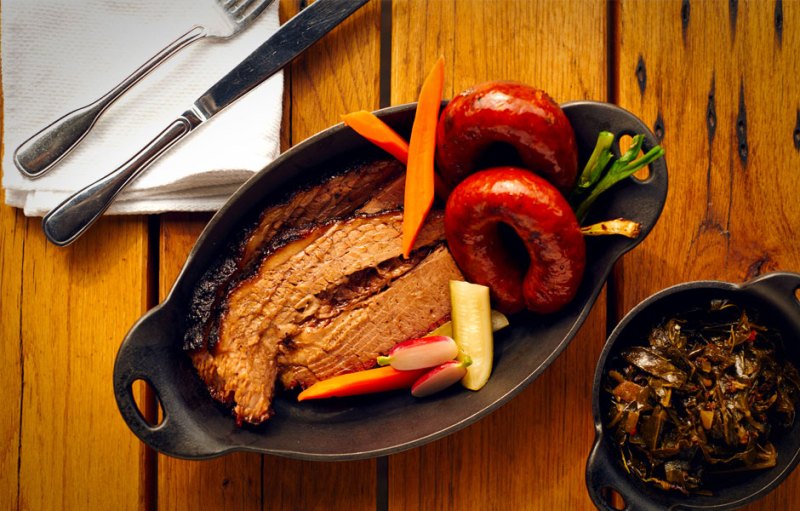 Los Angeles isn't necessarily known for its barbecue, but Barrel & Ashes might just change that. The three wildly talented men behind it, Chefs Tim Hollingsworth, Rory Herrmann, and Michael Kahikina bring their vision, experience, and passion together for a sophisticated, down-home, taste-bud-blowing, family-like meal that will keep even the most haughty of barbecue snobs coming back.
The culinary team at Barrel & Ashes have unique backgrounds, Chef Hollingsworth, for example, had no formal culinary training, whereas Chef Herrmann attended the French Culinary Institute and Chef Kahikina sharpened his skills at The Culinary Institute of America. Hollingsworth is a native Texan, Herrmann is Californian through and through, and Kahikina is from Maryland. But they found commonality when they all ended up working for the legendary Thomas Keller, where they met and found their powers combined deliciously. Their culinary accomplishments and awards are too numerous to list. The point is, these men know food.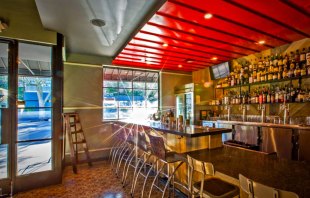 Barrel & Ashes is home cooking elevated. The recipes are inspired or informed by family recipes, especially from Chef Hollingsworth's family. Meals are served family style at largely communal tables. The restaurant itself is homage to its original 1940s self, with gorgeous floor tiles uncovered and salvaged in the process. Halved barrels form appropriate chandeliers, adding an industrial touch to an otherwise retro-homey atmosphere. They've got an impressive bar, well stocked with smoky smooth bourbons and whiskies to pair perfectly with their menu!
Yes, that's right, it's time to talk about the food. It's freaking delicious. The barbecue is smoked over California Red Oak and then cooked with White Oak, because never leave an oak out. It's inventive and California-influenced while respecting the food's heritage. The tri tip, for example, is juicy, tender and served with a dollop of fresh, lively pico de gallo, which will forever change the way you eat tri tip. Definitely over order on the pulled pork and brisket; if you manage to stop yourself from eating it well past the point that you're full (p.s. how do you manage that?), they both make the most incredible next-day meals. The sides are Southern favorites impeccably done: pork n' beans, coleslaw in Carolina vinegar (an ode to North Carolina-style bbq), and absurdly creamy mac and cheese topped with breadcrumbs.
Granted, this is a barbecue joint and the meat should take center stage, but, guys, the Hoe Cake. The Hoe Cake. Once you
stop chuckling at it's name, you'll find it's a gift from the gods (or rather the aforementioned chefs) to your mouth. Served in a little personal cast iron skillet, it's cornbread oozing maple butter and topped with green onion. You'll think, oh, we'll just order one. No, save yourself the wait time and live your best life: order at least two.
Every time you go to Barrel & Ashes, it'll feel like you're a friend's place for a barbecue. These friends just happen to be world-class chefs. And if you're a California transplant missing good barbecue, welcome home.
P.S. They also deliver!