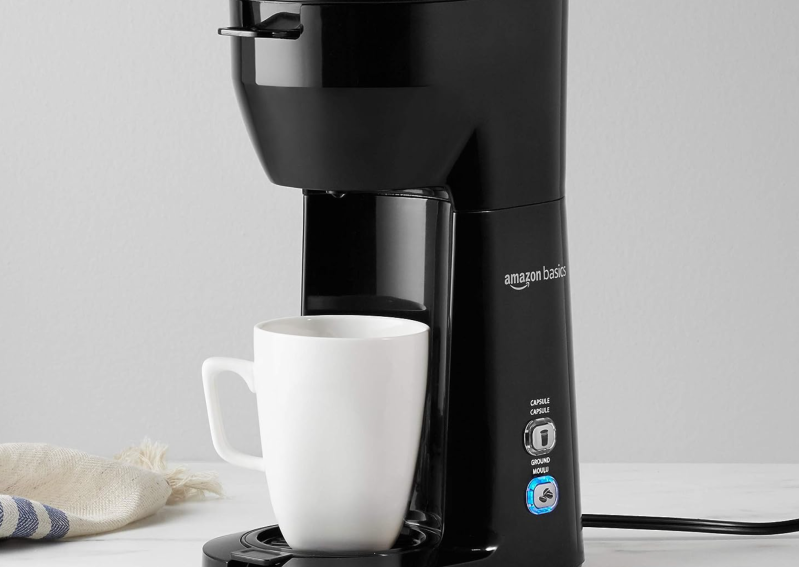 Keurig is an incredibly popular brand when it comes to coffee makers, primarily because the single-serve pods are so convenient to use. But you're also going to spend a lot more money on one than your average coffee maker — and they achieve exactly the same things. Take this Amazon Basics compact dual-brew single-serve coffee maker, for instance. Normally almost $40, it's on sale today for just $22, saving you a bunch, but also it works the same. It takes K-cup capsules and brews up to 14 ounces of whatever you put in. It's no cowboy coffee, but it will wake you up. The compact design also means it can be used in virtually any room, including an office, kitchen, break room, dorm room, and beyond. The deal won't last long, so grab it if you're interested. Below, we'll talk more about why this Amazon Basics coffee maker is such a great idea.
Why you should buy the Amazon Basics coffee maker
Let's get the more obvious point out of the way. The Amazon Basics coffee maker is cheaper, even at its normal price, but this deal makes it much more enticing, especially if you're on a budget. It's super compact, so you can place it in just about any room, and it's more convenient than a standard coffee maker. It takes disposable K-Cup pods, of which there is a huge variety, so you'll have no shortage of resources. Moreover, the water reservoir holds up to 14 ounces, is refillable, and comes with a removable drip tray for easier cleanup. Coffee pot cleanup can be quite involved without a simple machine like this.
Whenever you're ready for coffee, just make sure the water reservoir is full, load in your K-Cup of choice, and press the brew button. You'll also want to make sure your mug is in the right place — this coffee maker also supports 14-ounce travel mugs. It can also use fresh grounds if you don't have any K-Cups handy or don't want to spend the extra money. You can get some really good and flavored coffee grounds for a decent price if you skip the pod format. So, in essence, you're getting the best of both worlds here, and which type of coffee you load is entirely up to you.
It's also a great travel-friendly coffee maker if you're on the road, in an RV, or living out of a van down by the river. You could even use this thing to make Irish coffee like a pro, just need the right guide.
Overall, this is an incredible discount that saves you about $18, but here's the thing, this Amazon Basics coffee maker is already reasonably-priced. Today, it's down to just $22, which is an unpassable deal. Grab it while you can and start brewing, well, whichever way you prefer to brew your morning joe.
Editors' Recommendations