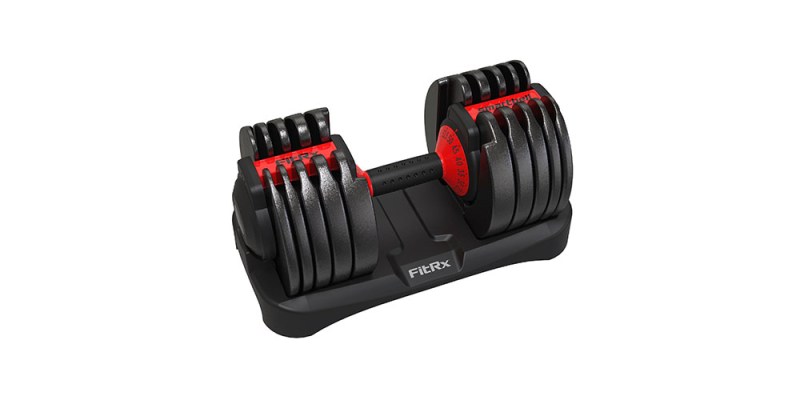 Adjustable dumbbells are great if you're limited for space at home but still want an extensive range of dumbbells for your home workouts. While Bowflex is the big name in that field, you can get adjustable dumbbells for much less. Over at Walmart today, you can buy the FitRx SmartBell Adjustable Dumbbell for just $99 instead of $199. Even at $199, this is a great price for an adjustable dumbbell so dropping the price to $99 is even more tempting. If you're interested to know more, read on while we explain all.
Why you should buy the FitRx SmartBell Adjustable Dumbbell
It's important to own one of the best dumbbells if you're keen to work out from home more often. If you're short on space though or simply don't want to find room for a growing selection of dumbbells, the FitRx SmartBell Adjustable Dumbbell is the ideal alternative. It has ten plates with 15 different weight configurations covering 2.5 pound increments starting at 5 pounds and going all the way up to 52.5 pounds. As anyone who regularly partakes in the best dumbbell exercises knows, you need a wide range with different exercises requiring different amounts of heft.
The FitRx SmartBell Adjustable Dumbbell has a one-handed weight adjustment to make it easier when switching between the best dumbbell workouts. It has an anti-slip handle and a safety lock so that the plates are kept secure during your workout. A compact design with a durable storage rack keeps it safe when not in use while it's simple to wipe down and maintain.
All you need to do to switch between a weight is grip the handle and rotate it toward your desired weight. The FitRx SmartBell Adjustable Dumbbell is still bulky which might not suit everyone, but it's impressive how quickly you can swap between the weights. It fits in most places in your home, unlike a dumbbell tower that tends to take up a lot of space.
The FitRx SmartBell Adjustable Dumbbell is usually priced at $199 but right now at Walmart, you can buy it for just $99. This is your ideal chance to buy two for the price of one to work on those bicep curls at the same time, but you can also opt for just one if that works for you. Either way, you'll be delighted with how surprisingly well the FitRx SmartBell Adjustable Dumbbell works for the price.
Editors' Recommendations