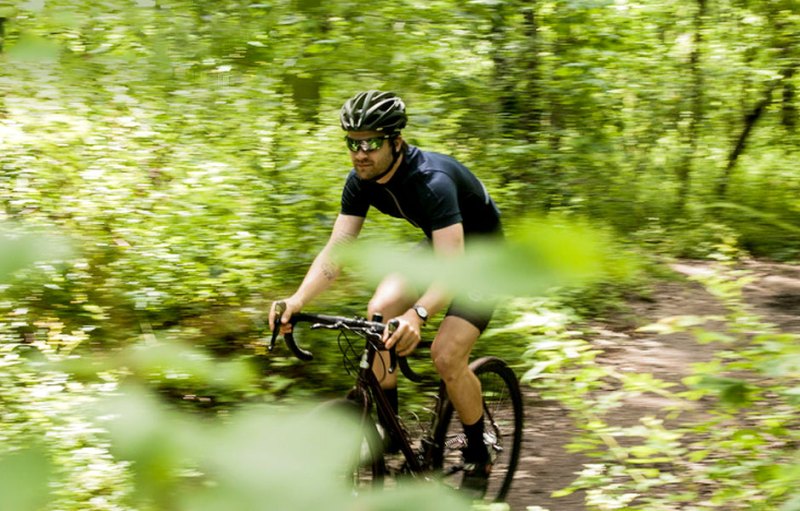 Cycling is more than just exercise to Neil Berrett, co-founder of biking apparel company Cedar Cycling. "When I was a kid, the bike gave me freedom. I could ride out into the world and explore. There was adventure and it was accessible through the bike," he says. "Now I use it to stay healthy and positive. It clears my head, keeps me feeling grounded and stable." With his passion for cycling, Berrett launched Oakland, California-based Cedar Cycling in 2012 with business partner Jeremy Smith.
Both longtime cyclists, Berrett and Smith wanted to produce  cycling jerseys ($170.00) and T-shirts ($80.00) with a base fabric of merino wool. "A majority of cycling jerseys out there are made out of synthetic fabric, like polyester, "Berrett says. "Most performance synthetic fabrics try to mimic the property of merino wool, which is enormously expensive." Merino wool is a breathable fabric that pulls moisture away from skin, ideal for cyclists who want to stay dry and comfortable during a ride. Though soft and resistant to bacteria, 100% merino isn't as durable as a synthetic fabric and can pill over time.
Working with a local fabric mill, Berrett and Smith developed a custom blend of merino wool and synthetics: 47% merino wool,  47% nylon, 4% elastane, 2% creora. The company uses base wool from Australia for its jerseys, and will soon roll out a line of jerseys with a base wool from New Zealand. The zippers on Cedar's products are made in Japan by YKK, and California-based Inside Line Equipment supplies the seat bag ($40.00) and pocket bag ($30.00).
Constructing Cedar's jerseys require multiple procedures: cover stitch, overlock, flatlock, and flat seaming.  A bartack machine attaches panels to the backs of all pockets to prevent them from sagging. "Most cyclists have seen the dude that has pockets sagging lower than his seat and it's terrible, says Berrett. The production process is complex, but worth it in the long run for Berrett:  "We're willing to go the extra mile to make sure we have the best possible jersey we can build."
For orders up to $50, Cedar Cycling offers free shipping through USPS Priority Mail. Berrett and Smith also run Standard & Strange, a retail shop in Oakland's Temescal Alley, where visitors can find Cedar Cycling products. Stand & Strange carries mostly American-made goods, including Mobilized military jackets, CUPPOW! mason jars and Rite in the Rain waterproof notebooks. 
Editors' Recommendations