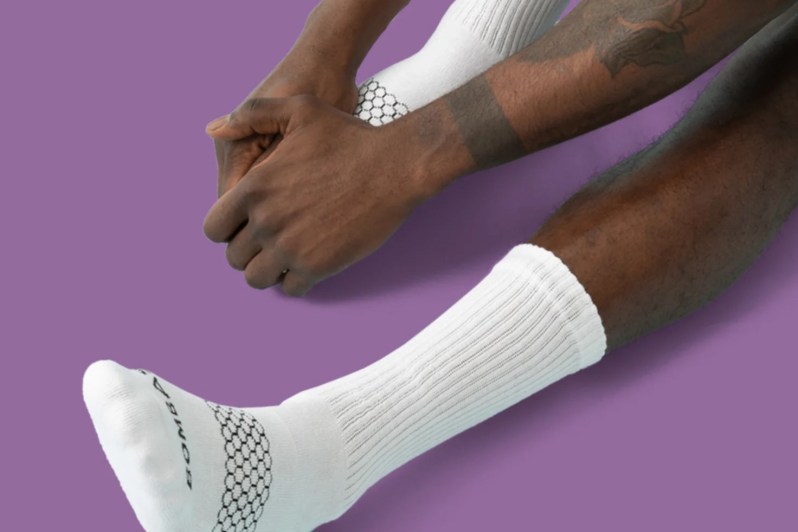 Socks get a bad rap as something of a stereotypical gift that your mom gives you every Christmas. It's like giving dad a golf-flavored tie on Father's Day. But, Bombas has somehow made giving socks cool with a philanthropic mantra: For every pair bought, the company donates a pair to homeless folks in need. That's a win-win all around, especially when you consider Bombas socks are famous for being soft, durable, and guaranteed for life. Now through December 2 is the best time of year to stock up with 20% off everything in the company's catalog with its extended Cyber Monday sale.
In its own words, Bombas socks are "made to give." While buying a pair of socks hardly seems like a way to fight homelessness, it can certainly help. It turns out socks are among the most requested item for people in need. Bombas makes it easy: For every pair you buy, the company donates a pair on your behalf. In its short history, that's meant more than 40 million items given in more than 2,500 communities. Think of it this way: For every pair you buy as a gift this Cyber Monday (or any time really), you're really buying two gifts.
The do-good aspect would be good enough, but Bombas also happens to make some of the best socks we've ever tested. Two years of R&D went into the first pair. The result includes innovative features like built-in arch support, better airflow ventilation, and strategic zone cushioning. Plus, they're made using the best materials like ultra-soft merino wool, long-staple cotton, and other natural fabrics. Whatever you're into — yoga, running, hiking, or Olympic levels of Netflixing — there's a size and fit for you. They're available in no-show, quarter, ankle, over-the-calf, and even compression socks for travelers. What's more: Bombas stands behind its products forever. That means if you decide a year from now that you don't like the fit, or if you ever lose a sock, or get a hole in one, or your dog bites through the toe, the company will send you a new pair — no questions asked.
Recently, Bombas has also gone beyond "just" socks. It now makes t-shirts for just about every occasion, in every cut from pocket crew and crew neck to V-neck and long-sleeve. The Peruvian Pima cotton shirts are buttery soft and stay cool all day long. The material also doesn't pill, so it always looks fresh. For more active pursuits, check out Bombas' line of merino wool shirts. It's the material of choice for hiking, mountain biking, working out, or just about anything else that involves moving. That's because it's soft, durable, quick-wicking, and fights odor. Plus, Bombas blends its merino wool shirts with Tencel Lyocell to make them even better.
The best part about Bombas' Cyber Monday sale is that it runs from now through December 2. Actually, no, the best part is that the 20% sitewide discount is automatically applied at checkout with promo code CHEER20.
More Cyber Monday Socks Deals
Like every Cyber Monday, right now is the best time to shop socks and footwear. You'll find deep discounts from almost every major brand and retailer. Beyond Bombas, here are a few other Cyber Monday deals work a look.
Make sure to check out our selection of the best clothing, sneaker, and outdoor holiday deals online now.
Editors' Recommendations