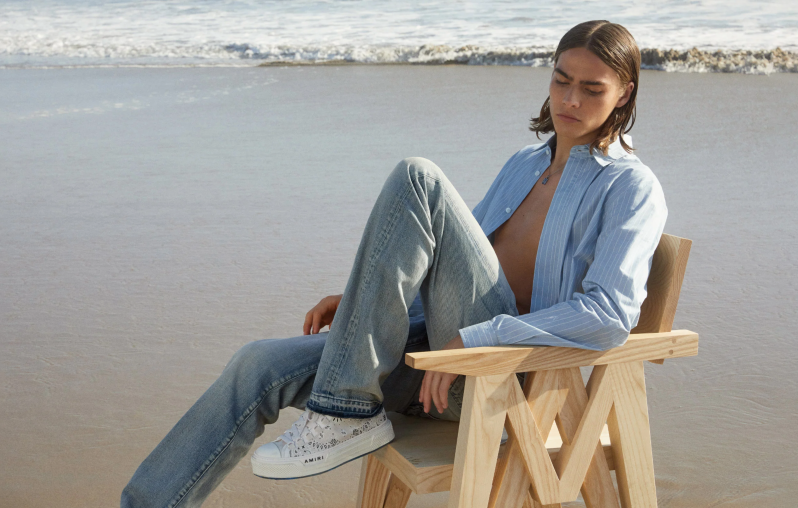 With so much of male fashion being comprised of the same bland things, year after year, it's easy to presume we already know what something will look like before we even see it. Amiri does things a bit differently, bringing truly unique looks to your closet and accessories pouch. And this fall you can go ahead and start your Black Friday shopping early by getting these unique fits. Over at Saks Fifth Avenue's Amiri collection (jump to it by tapping the button below) we're seeing tons of 'Fall Sale' deals that all amount to big savings. While the best way to shop Amiri is to scroll until you see something that catches your eye, there are some items that are worth giving a second look in a more subtle way, so be sure to check out our analysis, too.
Why you should shop Amiri deals
One of the latest styles to Amiri that've hit the deals lineup is their stacked 5-pocket jeans. If you don't know how to stack your jeans, this is a perfect way to get the look without any extra effort. In case you need a reminder, stacking is the purposeful ruffling of the bottom of skinny jeans. A scrunched up border between the jeans and the shoe, if you will. The go straight for the stacked look in an otherwise clean-cut style. Meanwhile, the ripped and tough lean more into the rocker look.
For a subtly spooky, and incredibly popular, pair of sneakers you should check out the which expertly hide bone-like stitching on the side of the shoe. It's a subtle way to whisper "death" in public without getting the disapproving stares.
If you're tired of blending in with the herd and want to be a star, the make you literally star-studded. Coated in green stars, these jeans are bold. While they won't fit every personality or style, if you wear them, then eyes are sure to be on you.
Again, you can start saving with all of these great Amiri deals and tons more over at Saks Fifth Avenue today. Likewise, there is a ton on sale and many items are quite eye-popping. You need to scroll the site yourself. Plus, we aren't sure when the Fall Sale will end, as the season is long, but individual deals are likely to rotate in and out as availability changes. Which is to say, if you see something you like or want to find something to be wowed by, be sure to go ahead and tap the button below and grab it now.
Editors' Recommendations