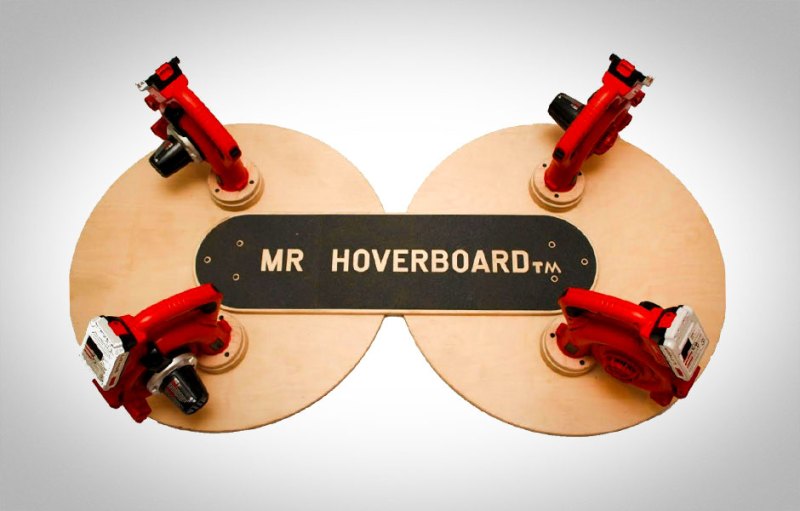 About a year ago, back before the current hoverboard zeitgeist had hit critical mass, a tinkerer by the name of Ryan Craven took the Internet by storm with a video of his own take on the idea. Instead of using fancy supercooled magnets and elaborate metal-covered skate ramps to levitate his board, Craven's crazy DIY hovercraft –dubbed Mr. Hoverboard— employed four downward-facing leaf blowers. It was absolutely ridiculous, but it ended up working so well that he decided to mass produce it. Starting this week, you can actually preorder a kit to make your very own Mr. Hoverboard yourself — although you'll have to supply the leaf blowers.
In case you missed the original video, here's a quick rundown of how Craven's hoverboard works. Once you've attached the four leaf blowers and flipped them on, the air they blast out is redirected out through a special PVC skirt attached to the underside of the board. When air escapes out of the skirts holes, it creates an air buffer between the board and the ground below — effectively allowing it to "hover" over just about any surface. To ride it around, you simply push in whatever direction you'd like to go. Because it's basically floating, the board will move in the direction of the momentum you apply to it.
Related: Hover technology may help your house float during an earthquake
The Mr. Hoverboard kit (which is currently up on CrowdSupply) includes all the wooden components, fasteners, and other materials you need to build the Hoverboard's deck. The whole thing comes in one box with seven separate pieces, including the board, two "hover discs," and four blower mounts. These pieces are attached using simple screws and a hex key included in the package, and according to Crave, the entire deck can be assembled in about 15 minutes. The four leaf blowers you'll need (specifically, Black & Decker LSW20 battery-powered blowers) are not included, but sell for about $90 apiece.
All in all, you'll need about $780 bucks to complete the Mr. Hoverboard build ($420 for the deck kit and $360 for the blowers), which definitely isn't cheap — but even at that price it's a hell of a lot cheaper than the Hendo Hoverboard, Lexus Slide, and even that one-wheeled "hoverboard" that popped up on Kickstarter recently.
This was originally a post on our brother site, Digital Trends.
Editors' Recommendations