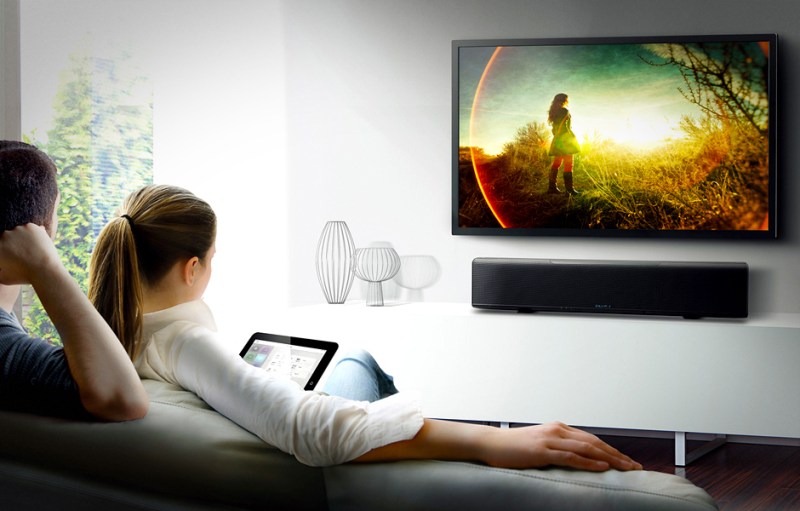 Some people don't have the space, or the patience for all the trappings of a traditional surround sound setup, but still crave capable surround sound. It is for those people that Yamaha has crafted the company's latest in a long line of so-called "sound projectors," the new Yamaha YSP-5600. Also part of Yamaha's new MusicCast multi-room audio system, this striking surround sound bar is loaded with dozens of drivers, and boasts Dolby Atmos support to offer unparalleled immersion from a unit you can mount on your wall.
Related: Make that turntable sing with Yamaha's A-S1100 integrated amp
Constructed around a 44-speaker array of Yamaha's "beam drivers," and towing a whopping $1,700 price tag, the YSP-5600 is the kind of all-in-one home theater monster that only Yamaha could dream up. The miniature drivers (each just a touch over an inch in diameter) are employed throughout Yamaha's sound projection lineup to create accurate immersion by bouncing sound off the walls of your listening room. But the YSP-5600 takes things even further than its predecessors.
To create 7.1.2 Dolby Atmos surround imaging, the bar boasts six "height channel" speakers on each side, which follow the same method as more traditional Atmos speaker designs, mimicking overhead speakers by bouncing sound off the ceiling. Yamaha's digital sound projectors have been taking aim at surfaces from the front of the room to simulate traditional surround sound for some time now, but the Atmos channels add another dimension for a whole new level of immersion.
The height channels combine with an arsenal of 32 front-loaded beam drivers. The system uses a controller app and microphone to sonically assess your home theater room, and adjust for an optimal surround sound experience. While Yamaha's sound projection tech isn't quite the same as a traditional surround sound setup it's also not really virtual either, using real sound waves that sneak up behind you, or bounce off the sidewalls for a realistic experience, though its effectiveness is at the mercy of obstructions in your room.
Along with Atmos, the YSP-5600 will be upgradeable via firmware to support DTS' flavor of overhead surround, DTS:X. And immersive surround sound is just a taste of the wide selection of bells and whistles that come loaded in this luxury-class bar.
Related: Yamaha's RX-V379 can power your home theater on the cheap
As part of the new MusicCast system, the YSP-5600 is compatible with up to 10 total speakers or receivers, all of which can be controlled via a centralized app to playback virtually any sound source in unison, or multiple sources individually. In addition, like all MusicCast components, the bar supports high-resolution audio at up to 24bit/192kHz, able to stream a wide variety of lossless audio files. The bar also supports Bluetooth, Airplay, and even 4K UHD video passthrough at 60p via the HDMI connection.
Other features include a variety of DSP settings, and Yamaha's Clear Voice dialog enhancer.
Yamaha's new behemoth of a bar is still mostly under wraps, but you can get your hands on one stateside in December.
A version of this piece was also published on our "brother site" Digital Trends.
Editors' Recommendations