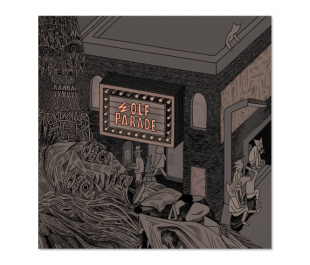 Formed in 2003 by Spencer Krug and Dan Boeckner, seminal '00s indie rock band Wolf Parade released three EPs and three full-length albums before going on indefinite hiatus in 2011. Early this year, the band's social media became active again with a reunion quickly announced. An announcement of shows in New York, Toronto, and London followed as did confirmation that the band was working on new material. Released last Friday, May 17th, EP 4 is the first studio work from the newly reformed band, and it finds the boys from BC in fine form.
Spencer Krug, in an interview with Pitchfork in February, explained that "there was a very unanimous agreement that [they] didn't want to just have…a cash grab reunion tour and quit again. It wasn't anything about that. It was about, 'Let's start being creative together again because it was fun and rewarding the first time, so let's give it another shot.'" The music on EP 4 proves Krug's point. Its four tracks pick up right where Expo 86, the last album released before Wolf Parade went on hiatus, left off. Wolf Parade's music has always been brittle, particularly on their early work in which Boeckner's guitar and Krug's keyboard frequently butts heads. But where the band's debut full-length, Apologies to the Queen Mary, was filled with nervy and claustrophobic songs, the records that followed it softened the edges some and gave the music more space to breathe even if the anxiety remained.
EP 4 continues that trend with songs focusing on disconnection and alienation. Opening track "Automatic" laments, "I sing from a nowhere room / I call out for some connection," and on the EP's final track, "Floating World," Boeckner sings, "I don't live here / I'm an occupant." Thematically, both of these tracks call back to "Modern World" from Apologies to the Queen Mary. Musically however, the later songs are not so harsh. The guitars and keys cohere in a unified whole.
Given how active the members of Wolf Parade have been with other projects, it makes sense that the band's reunion is starting off so strong. Boeckner has already released an album with his other project, Operators, this year, while Krug and Dante Decaro both have records releasing in the coming months. With all that activity, it is hard to imagine Wolf Parade would have gotten back together if the members were not, as Krug put it, "being creative together." If EP 4 is any indication of what's to come, we should hope Wolf Parade remains reunited.
Wolf Parade's EP 4 is out now via Sub Pop Records and available for purchase on Amazon, iTunes, and the band's online store.