Our obsession with living small isn't going away any time soon. Across the country, people are ditching McMansions for cozier, more affordable homes. But how small is too small? Dreaming of living in a tiny cabin but not sure you can quite cut it? Jackson Hole's Fireside Resorts has teamed up with WheelHaus to offer a one-of-a-kind opportunity. Book a stay at Fireside and you'll get to try out a Wheelhaus tiny cabin for the weekend.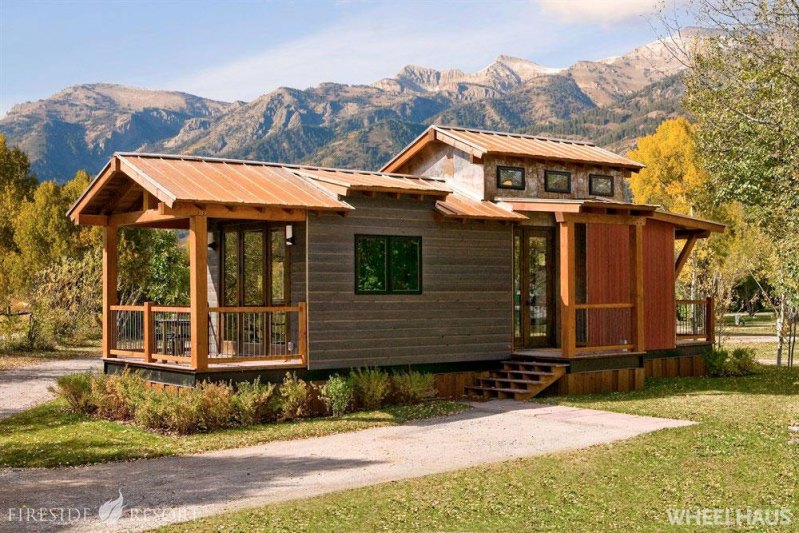 With such a big market for transportable tiny houses, many companies have cropped up in recent years promising all the modern comforts of home that we love in itty bitty living space. Some builders have been better than others at maximizing the luxury feel of these homes and making them feel more spacious than they actually are. Wheelhaus has been in the tiny house game since 2006 and in the ensuing years, the team, led by founder Jamie Mackay, has perfected the design for the various models the company offers. But selecting which model is right for you, or even knowing if you will like living small is a challenge. That's where Fireside Resort comes in.
Outfitted with 25 Wheelhaus-designed cabins, Fireside Resort combines the luxury of a hotel room and the rustic camping of a cabin in the woods to offer a unique vacation experience. With four models to choose from, you can stay in the Wheelhaus style that most appeals to you, getting the opportunity to see what it's like to cook a meal in a tiny kitchen, unwind in a loft bed, or enjoy some fresh air on a small deck.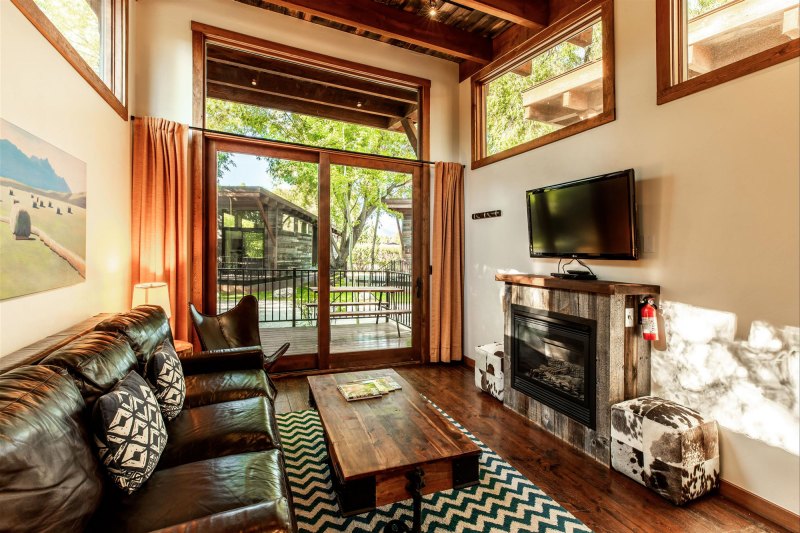 While these cabins may be small in size, they are big on luxury. Wheelhaus has built the cabins with upscale elements like a glass-enclosed shower in the bathroom, polished hardwood floors, and electric fireplaces in front of soft leather sofas. While the loft bedrooms may feel like a tight squeeze for some, most cabins have a first floor master bedroom that is bigger than any you would find in a NYC efficiency apartment.
Along with a variety of models to choose from, there are several designs offered. The Wedge and Caboose cabins have a more modern rustic design to them with wood cladding on the exterior, leather seating, and vaulted ceilings with exposed wooden support beams. The Mod Wedge and Roadhaus are outfitted with contemporary industrial styles that feel bright and open thanks to elements like large windows, bright white walls and black steel framing on the doors and windows.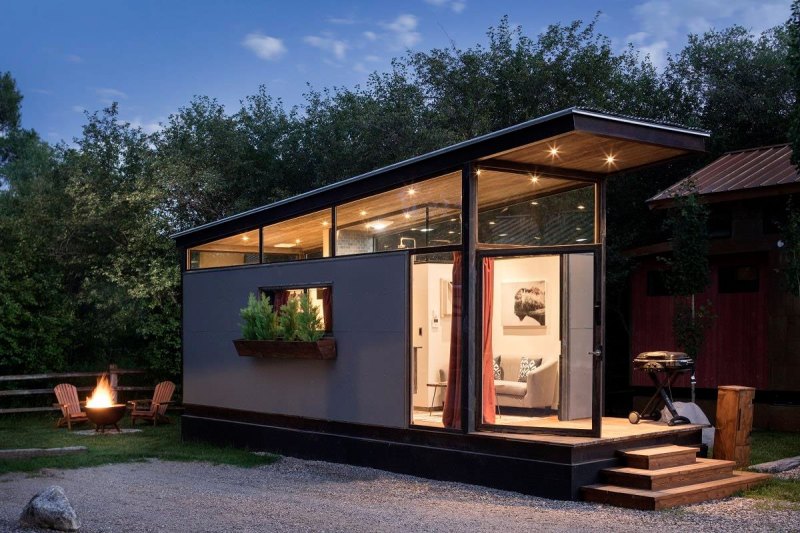 Whichever style you choose to stay in, you'll be immersed in the grandeur of Jackson Hole. The main appeal of living in a transportable tiny house is that you can park it anywhere, step out the front door and be right in the middle of nature. You get that same experience at Fireside Resort. With endless outdoor opportunities from fishing and hiking in the summer to world-class skiing in the winter, whatever time of year you hit Fireside Resort, you'll see that tiny house living is one of the best ways to achieve a stronger connection to nature. After all, with minimal space, when you own a tiny house, most of your living is done outside, and the home becomes a place to unwind after a long day of exploring.
Editors' Recommendations