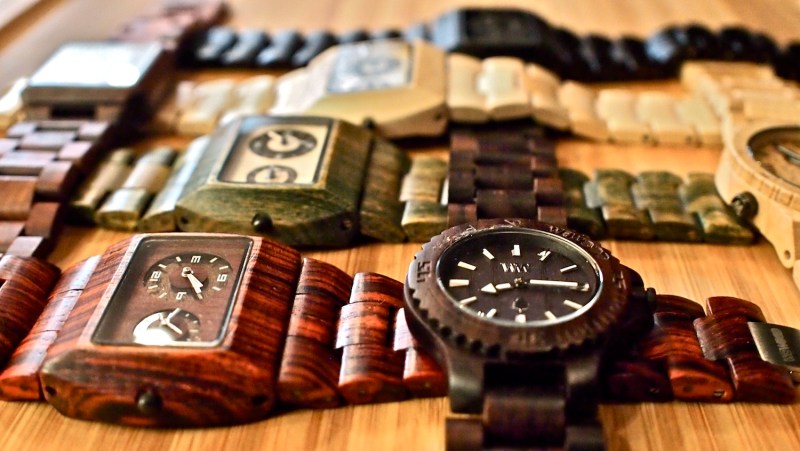 Sometimes eco-friendly accessories look a little too earthy, and while they may be good for the environment, they might not be great with your wardrobe. Enter WeWood, a company dedicated to beautifully crafted timepieces made from sustainably sourced wood, but that also replenish forests through American Forests and Trees For The Future.
Like many great things, WeWood started in Florence, Italy where the first WeWood watch was designed in 2009. Using largely scrap wood, the team at WeWood creates incredible watches with Miyota parts. In their first year, WeWood planted 7,000 trees as part of their initiative to plant a tree for every watch sold.
Related: Sunglasses Made of Discarded Fishnets
After opening their first Los Angeles store in 2010, WeWood partnered up with American Forests, the oldest conservation not-for-profit in the US, which, as its name suggests, is all about protecting and restoring America's forests. Together, American Forests and WeWood have restored many areas ravaged by wildfires that destroyed habitats of animals like elk, bears, and ocelots, and even fish. By replanting forests along riverbanks, the shade allows the water to be better oxygenated, which in turn helps fish populations. Trees are powerful things.
WeWood branched out beyond US forests when they teamed up with Trees For The Future, a group focused on planting trees globally. Trees For The Future believes trees are a path to economic strength and independence, education, stronger communities, soil improvement, and animal well being. WeWood and its partners have planted over 420,000 trees, almost half of their goal to plant a million trees by 2020. That's a lot of green. A map on their site breaks down where and how many trees they've planted.
Related: ShadeTree Glasses: American Edition
The watches are crafted from a variety of gorgeous woods: African Blackwood, Verawood, Indian Rosewood, Maple, Walnut, Tasmanian Blackwood, and Reclaimed Teak. The individual colors and grain makes each watch unique and the classic designs make them timeless. The juxtaposition of the metal hands and watch works to the natural, polished wood gives the watches a starkly sophisticated feel. You can also order a version with the corresponding wood band or a leather or canvas band if wooden links aren't your style.
Remarkably, the watches stay under the $200 price point, most in the range of $140 to $170, which is a steal considering the workmanship and life-saving new tree planted along with it.
Editors' Recommendations