It's time for the Weekend Roundup, and we're here to catch you up on all of the latest happenings in the sports world. The streak is over, sorry to those that paid for a 13 second fight, and the Heisman Trophy goes to…
Down go the Warriors: Golden State's historic winning streak has finally come to an end. Life on the road proved to be too much for the Warriors in Milwaukee on Saturday night. After a 24-0 start to the season and a 28 game winning streak that dates back to last season, the Warriors lost to the Milwaukee Bucks in convincing fashion, 108-95.  Ironic enough, it was Milwaukee that ended the NBA's longest winning streak of 33 games by the Los Angeles Lakers during the 1971-'72 season. Apparently, all winning streaks must come to an end in Milwaukee.
In front of a sellout crowd, the Bucks knew they had to put together their best performance of the season to knock the Warriors off from their pedestal. However, this game wasn't about stopping the streak for the Bucks. According to head coach Jason Kidd, it was all about beating the world champions. "For us, we didn't talk about the streak. We talked about playing the World Champs and no matter what, we have to play our best. The guys responded." Milwaukee big-man Greg Monroe certainly responded with 28 points, on 11 for 16 shooting, to go along with 11 boards. Monroe's driving reverse layup with 5:29 left in the game was the nail in the coffin and the dagger in the heart of the Warriors.
For the Warriors, it's time to move on from the streak and focus on the regular season ahead. For Warriors forward Draymond Green, the regular season has just begun. "I just told the guys that now we can have a regular season. It's been kind of a playoff feel just with the streak, all the media around, all the attention around." Instead of focusing on the streak and just winning every game, the Warriors now have the opportunity to take a long look in the mirror to fix what may be missing. NBA MVP Stephen Curry scored 28 points in the losing effort. Curry said, "I think we can re-focus on not just winning games, but how we're playing. The last week or so, with the road trip and things, we just found ways to win games but I don't think we ever played our A-plus game." After a grueling, 7 game road trip, the streak is over, but the Warriors are more than happy to be heading home.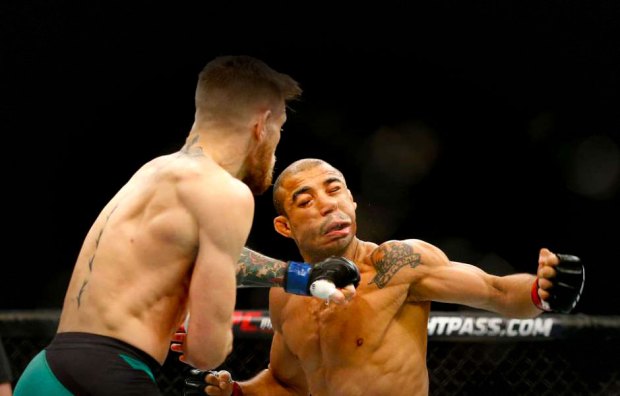 McGregor knocks out Aldo in a record 13 seconds: Months and weeks of hype, trash talk, and promos, and it was all over in just 13 seconds. The (rightfully) cocky, Irish phenom Conor McGregor struck Jose Aldo with a powerful left hand to send him to the mat and claim the featherweight title at UFC 194 on Saturday night. The bout drew a crowd of 16,516 and raked in a U.S. record gate revenue of $10.1 million. It was a big money night for the UFC, and a huge payday for McGregor.
After the fight, McGregor expressed why he was bound to beat Aldo. "He's a phenomenal champion. He deserved to go a little bit longer. I still feel, at the end of the day, precision beats power, timing beats speed. All day, it would have happened." Aldo must think otherwise because he immediately campaigned for a rematch following the bout. In the eyes of most, a rematch probably wouldn't yield different results. McGregor was the clear, cut champion no matter how you looked at it. He appeared stronger, he was obviously quicker, and he threw a left hand that no one in professional fighting can handle. The Irish phenom even expressed his confidence in his left hand in the post-match interview, "These are fundamentals. That's all it takes. These are fundamentals, especially when you have my left hand."
So, what's next on Conor McGregor's agenda? He has two different options: He could remain at featherweight and potentially face the top contender Frankie Edgar in a title match fight, or he could gain a few more pounds and move up to the lightweight division to claim that crown. UFC president Dana White sees the latter option as the more likely path for McGregor. No matter who he faces or what division he wants to fight in, McGregor will pledge to punish whoever gets in his way.
Alabama running back, Derrick Henry, takes home the Heisman: Derrick Henry stampeded his way through the SEC to a league record of 1,986 yards rushing and became the recipient of the 81st Heisman Trophy on Saturday night. It was a phenomenal junior campaign for Henry who led his Alabama Crimson Tide to a berth in the College Football Playoff. He became the first running back to win the award since Alabama alum Mark Ingram in 2009. Henry garnered 1,832 of the votes in what was an extremely tight race featuring stiff competition from Stanford running back Christian McCaffrey and Clemson quarterback Deshaun Watson. Henry carried 5 of the 6 voting regions, while McCaffrey claimed the Far West region. It wasn't a landslide by any means, but the award certainly went to one of the most incredible and humble players to ever grace college football.
Henry thanked God, his family, and every single coach that has had the honor to mold the running back into the player and person that he is today. Holding back his emotions, he gave a tremendous amount of praise to his teammates. Henry said, "Coming into Alabama from Florida, they all accepted me, they all loved me and all supported me," he said. "And this season, they've seen me as a leader, taken me as a leader. The offensive line takes pride in controlling the line of scrimmage, making sure I have success, and through this year, looking at these guys, the courage they had in me, the faith they had in me, I knew I couldn't let them down."
His arrival in Tuscaloosa wasn't easy for a talent like himself. He was thrown into a crowded depth chart that featured current NFL star T.J. Yeldon. As a freshman, he considered transferring, but after deliberation with his family, he stayed the course. Alabama head coach Nick Saban admired his hard work and determination to be the best running back. Saban said, "One day I said something to him and he said, 'Coach, all this stuff is new to me. All they did in high school was turn around and toss me the ball and I ran with it,' I really appreciate his hard work at becoming a complete player." After the year he has had and a night filled with so much joy and emotion, it's safe to say he made the right decision.
Check back with us every Monday for a recap of the weekend's biggest action in sports.
Photo Credit: Benny Sieu-USA Today
Editors' Recommendations