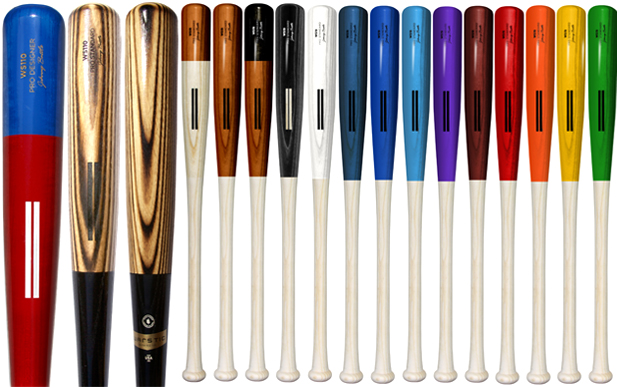 Is it truly possible to improve upon a tool as elemental as a baseball bat? Ben Jenkins, the founder of Warstic Wood Bats doesn't think so. "Baseball bats aren't rocket science," Jenkins says, "To be honest, all bat companies have been using the same models and specs for years."
So then, how does a brand manage to stand out from the rest?
"That's the trick," Jenkins explains, "it's kind of like car racing. If one car is performing remarkably better than the rest, you know something is up."
And it's that kind of level playing field among the competition that drew Jenkins into the bat making business. A former college and minor league baseball player, Jenkins founded his own design and branding firm, One Fast Buffalo, in 1999. He was looking for a new challenge, and created Warstic as a way to merge his passion for baseball with his expertise in branding and design.
"I saw that no one was raising the bar design-wise," Jenkins says, "so I thought I could do it myself."
Through his experience as a minor league player, Jenkins knows firsthand what baseball players are looking for in their bats—feel. Warstic offers bats that are made out of ash (the most flexible and traditional bat-making wood), maple (the hardest and most trendy), and birch (a more affordable alternative to maple). Being around the game for so long helped Jenkins when he formed his bat company; he was able to easily source out and locate the best wood suppliers for products that fit both professional and semi-professional level players, as well as amateur and high school and college level players. Plus, as a player he already had a working knowledge of the sounds he wanted to hear from a good piece of wood, as well as the grain count.
Currently, Warstic is not being used by any Major League Baseball players—their bats needs to be MLB approved, which involves a lot of insurance paperwork and payments. That is fine with Jenkins, since he believes that if he can't sell and make a quality baseball bat without the help of endorsements, then he really isn't doing his job. If the opportunity for player endorsement does arrive in the future, he wouldn't turn his back on the opportunity; though it would have to be the right player.
"We'd need a workingman's player. Guys that we know will always play the game right."
For now,  Jenkins is making sure that Warstic's bats are top of the line and meeting the market demands.
"People still want bats with big barrels and small handles like our WS243, which is a leftover from the 90s home run era. But players are getting smarter now. They want bats with more balance, with even handles and barrels. Bats like our WS19 or WS110."
In the next year, Jenkins is determined to grow the brand. He wants to be smart and grow the brand slowly, while expanding into other areas outside of baseball bats, such as equipment bags, training gear and other baseball apparel.
"We know we have a brand that people enjoy and want to be a part of and we want to make sure we give these people that love the game what they want."
Its Jenkins' combination of branding experience and deep appreciation for baseball that help make Warstic bats a home run.
Editors' Recommendations