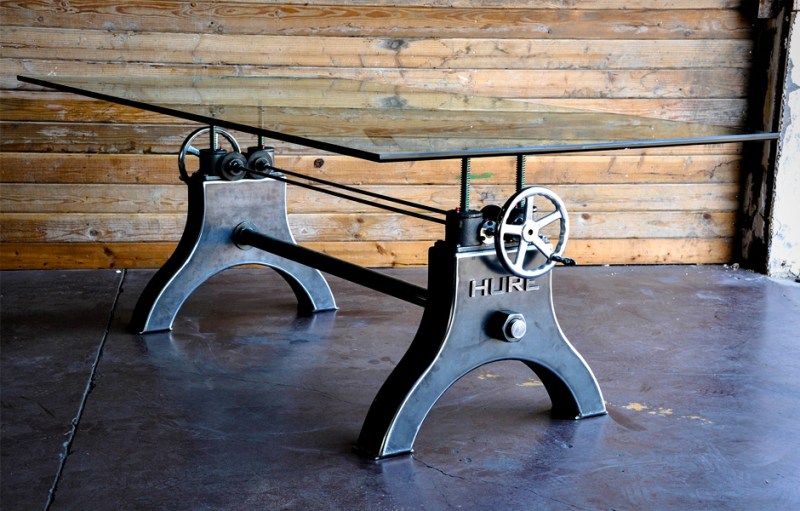 Great conversations often take place around the dining table. In this case the table IS the conversation piece. Made by Vintage Industrial, we're coveting the Hure Crank Table Base. It can go from dining to counter to bar height (30" to 42") with a twist of the crank.
Owner Greg Hankerson says some people are even using these beauties as a desk. If they get tired of working in a seated position, they can crank higher and work standing for a while.
Hankerson began his career working in his father's investment banking company. He was slated to take over the business, but he found it unfulfilling and began working in web design.
It was a hobby, however, that took over his life and shaped his future.When his wife and business partner, Sim, needed a patio table, he made one.
"It was just for fun," he says. "I had bought a domain—retro.net—and I threw it up on the site."
From there Vintage Industrials took off. It first entered the scene in 2009 offering an A-Frame table and Ellis Console. They've added a variety of desks, tables, benches, stools, chairs, filing cabinets and other items.
In 2011, they began making their heirloom quality Hure tables in their Phoenix, Arizona shop. Pricing starts at $13,995 with a steel top. They adopted the name Hure after stumbling across old machinery in Paris made by P. Hure. He stamped his name on the lathes and milling machines his company produced.
"I come up with a concept and my wife, Sim, helps me refine it to make more sense. She's kind of the secret mastermind behind everything," says Hankerson.
Vintage Industrial ships all over the country with most of its Hure tables going to commercial clients. They sell to a lot of restaurants who appreciate the quality of the tables.
They take pride in making everything in the U.S. and try to source as many American parts as possible. They're also working on becoming a green company.
"We cut down 67 trees last year and just planted 1000 trees," says Hankerson. "We recycle our steel, recycle our sawdust, and we're working with an environmental scientist to get our company certified with a negative carbon footprint."
He says at the end of the day, it's not about the profit margins but doing something they feel good about.
"We're trying to build something we love and do it on our own terms," he says.
Editors' Recommendations