Last time around on Throttle Jockey, we checked out India's classic Royal Enfield retro bikes, which are retro because, outside of some recent under-the-skin improvements, they're still essentially the same bikes that have been in production for the last 60-odd years.
That kind of longevity for a motorcycle – heck, for anything – is unusual, and I got a ton of emails saying "love those Royal Enfields, but what about Ural?"
Indeed, what about Ural!
Ural joins Royal Enfield (and Morgan, on the car side of things) as a legacy maker of retro rigs that we'd love to own – given a big enough pile of cash. So what's a Ural? As you may have suspected, Ural is a Russian-made motorcycle and essentially a copy of a BMW model from the 1930s. Let's just say its exact history is… complicated. The bike has been in production in some guise and under various names over the preceding decades, but most people in the bike biz just call them Urals.
Oh, and by the way, they include a sidecar. And don't tell me you haven't had fantasies of crossing continents with your wife/partner/kid/dog/cat riding shotgun in a tough-as-nails dozer of a bike while wearing a leather helmet and goggles, because we all have. So here's your for-real ride.
Check out the Sahara, just one of Ural's world-conquering models built around their base 40-odd horsepower 750cc air-cooled boxer twin and sidecar system. For a mere $18,000, you essentially get a turn-key machine with selectable 2-wheel drive (that's a lot for a motorcycle), appropriate sub-Saharan paintwork, lots of headlights, racks, spare tire, shovel, spacious trunk, jerry can and more. Not enough gear? Trust me, they have options.
While the Sahara looks like it came out of Indiana Jones and The Last Crusade (and for all intents and purposes, it sorta did), Ural has of late updated their bikes to the same degree as Royal Enfield: better brakes (that use discs instead of drums, although drums actually remain an option), fuel injection, LED lighting and so on.
Pony up another two grand for the upgrade package and you're pretty much ready to roll from Cape Town to the Kremlin like it was a Sunday drive. I mean, c'mon, you can get a winch for these rigs. Comparatively, a base BMW GS Adventure costs more and there's no sidecar or winch in sight. So, hey, a bargain.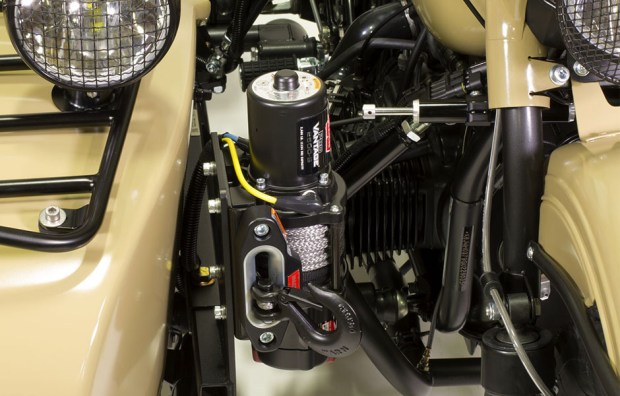 Any kidding aside, Urals are a special breed. Piloting a sidecar rig is not for the faint of heart. The usual motorcycle dynamics do not apply when riding since the bike doesn't lean when turned. You can go hard left and out-turn a sports car because yo have the sidecar for added stability. Do the same going right and you'll end up on your head with a heavy motorcycle-plus-sidecar on top of you.
If you do choose to go this route, be sure to take a LOT of time practicing your turns in an empty lot (maybe a grass field, just for the extra cushion if you get too aggressive). This really is a situation where practice and experience can literally save your life.
But in the end, if your'e looking for a bike that, really, few others are going to own, it's hard to go wrong with a stout and steady Ural. Whether it's the Sahara model or one of the many other variants (camo? Yes, of course), take pride in knowing that come hell, high water, nuclear war, alien invasion, zombie outbreak or meteor strike aftermath, you'll most likely be able to make it to the coffeeshop safe and sound, along with your dog or some other brave passenger, on your trusty go-anywhere Ural.
All photos courtesy of URAL's USA website, which you should check out to see the craziness people put these things through.