I'm still spotlighting certain bikes across certain categories, and this round it's full-on touring, or at least "vintage style touring." A new bike makes the list this week: The new Indian Springfield.
A while back, Indian generously let me take one of their two-tone Chief Vintage baggers on a long ride from L.A. to S.F., and the big bike acquitted itself as capable, reliable, comfortable, powerful and best of all, flat fun to ride.
I gave the Vintage high marks but a few things – mainly cosmetic – nagged at me a bit. I wasn't crazy about the ice cream color scheme – although, I have to admit, it garnered unsolicited praise everywhere I stopped. So maybe it was just me (likely).
The other thing that I wasn't crazy about was the prolific leather fringe hanging off the soft/hard bags and saddle, but that's definitely my peccadillo, I'm just not a fringe kind of guy. Otherwise: a great open-road bike. And frankly, the greatness was unexpected since Indian was still pretty much fresh out of the gate from new parent Polaris. That speaks well of Polaris curation of the hallowed brand, which had been kicked around between outright shysters and well-intentioned but under-funded owners since the doors closed on the original Springfield, Illinois factory in 1953.
But now, Indian/Polaris has apparently taken all my advice (or just totally read my mind, which is sort of scary) and released the $21,000 Indian Springfield, a reskinned Vintage with lovely fringe-free hard bags, gorgeous (and as-it-should-be) solid red (+$450) or black paint schemes and numerous tweaks to up the touring capabilities of the bike.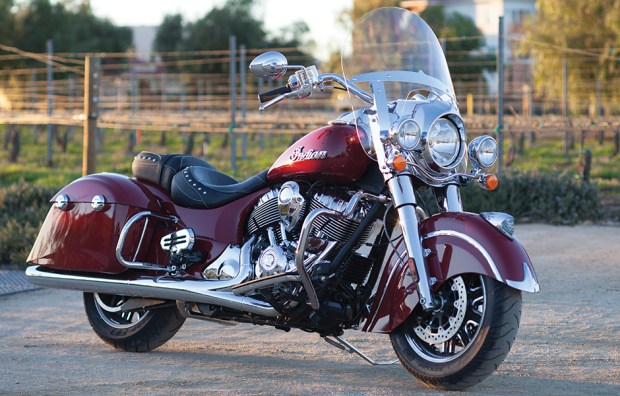 The heart of the bike remains the same: a 111-cubic inch fuel-injected Thunderstroke V-Twin powerplant with 119 foot-pounds of torque, six-speed gearbox with belt drive, and Polaris' typical high levels of engineering prowess, fit and finish.
But where the Vintage was essentially a base Chief with some stuff tacked on for touring, the Springfield has had some substantial upgrades and additions to help riders roll up the miles in comfort.
The rear section of the bike has been beefed up to accept an optional 17-gallon trunk, bringing it more in line with what serious tourers will need as they load it down with their tour mate, plus all the stuff that will get stuffed in the large – and removable – hard bags. The rear monoshock is air-adjustable for offsetting those heavy loads.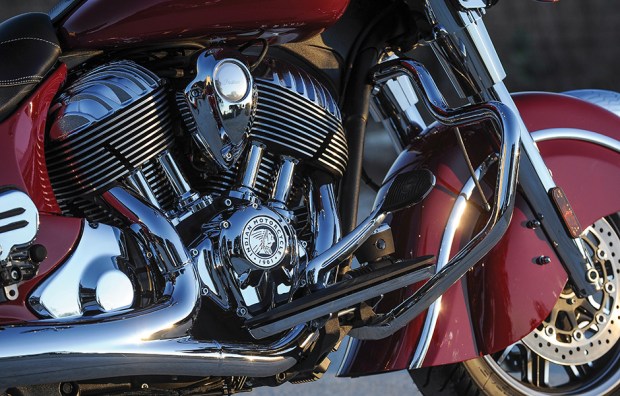 Up front, the Springfield maintains the tank-mounted instruments that show speed in big analog digits while transmitting other data on a small in-gauge LCD panel. The bagger-style front windscreen is specially designed for the Springfield, but it also is removable for when the rider wants a more simplified experience. Indian has also added some shiny case-saving roll bars front and back. Passengers get vibe-defying floorboards rather than simple pegs.
And while the bike indeed looks very vintage, it's actually packed with a long list of tech tools including cruise control, tire pressure monitoring, a keyless ignition system, and optional upgrades including heated grips and heated seats for both riders. There's even optional fringe available.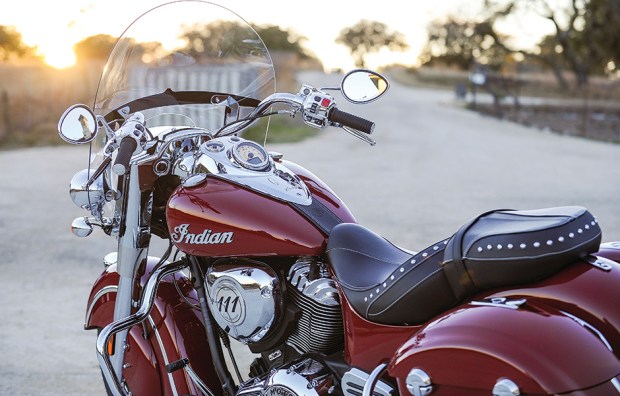 Before it's filled with just short of 6 gallons of gas and the needed 5 quarts of oil, the Springfield tips the Toledos at 818 pounds. Clearly not a lightweight bike, but if my time aboard the similar Vintage is any indication, the Springfield will likely be another easy-to-ride and enjoyable big bike from Indian, equipped with the standout style Indian is famous for and all the comforts needed to roll up big miles in comfort.
And no fringe in sight anywhere!