A few weeks back I posted a piece on the Art Of the Italian Two Wheel, a motorcycle show in New York City profiling some of the bikes collected by Stuart Parr.
Parr lives a life most of us can only imagine. He's a film and music producer, and he's got a thing for vintage motorcycles. Since his ventures tend to do pretty well, he's been able to put together quite the collection, featuring a number of rare and important bikes from a special period of Italian motorcycle craftsmanship. I was recently able to talk to Stuart by phone about the show and his bike collection, and why he loves the bikes he does.
First off, Parr said the show – which is free to attend – has been seeing some great traffic, to the tune of 500 people per day. That's a healthy number for a small show showcasing a small niche in motorcycle history.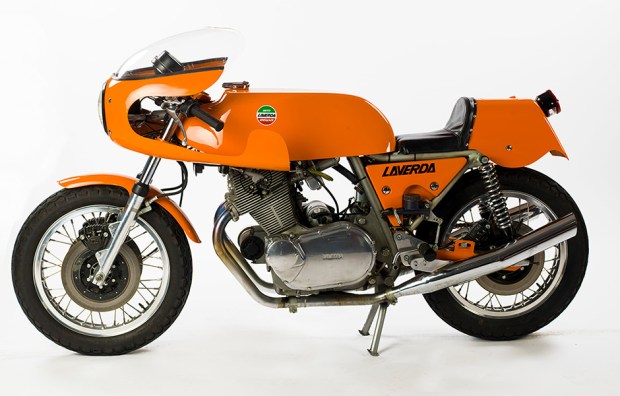 The show features bikes from Ducati, Laverda, Magni, Benelli and MV Agusta, mostly from the 1970s. Why the 1970s? Parr is fairly smitten with the era due to one primary aspect: design. Parr said these bikes – the Ducati 750GT, MV Augusta MV750 Sport, the Laverda 750 HFC – epitomize the peak of the era's performance technology blended with timeless, head-turning beauty.
These rolling sculptures are the kinds of bikes he just enjoys staring at, drinking in the details, marveling at the craftsmanship – and recognizing the innovations of the era. The combination of design, performance and beauty drew him in, he said. As the '80s dawned, he says bikes became more codified, more influenced by bean counters than the enthusiasts building them. An era had passed.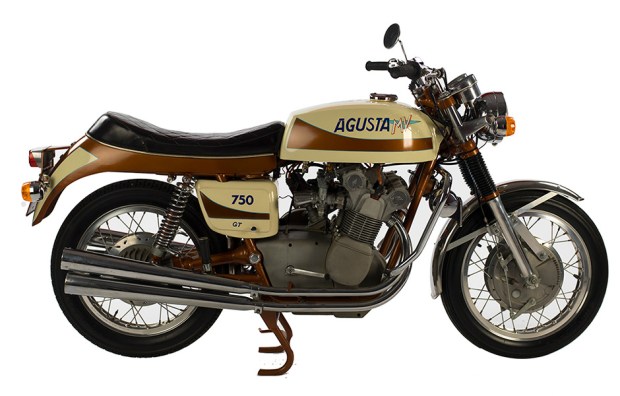 With rare exception, motorcycles made for consumers before the 1960s were a far, far cry from the specialized machines found at the race tracks. But race technology and the associated design methodology began to truly trickle down to bikes in the late 1960s and 1970s, resulting in firecrackers like the Ducati GT750 and it's 900cc sibling, among others. Parr has scooped up many of the era's icons and 26 of them are on display at the show.
One thing about "collectors" that gets my knickers in a twist (and I know many car lovers also feel the same way) is when said enthusiast parks a bunch of lovelies in their garage/display area where they sit in silent disuse. Fortunately, Parr is no such animal. "I drive them the way they were meant to be ridden," Parr says of his exercise regimen for the bigger bikes in his collection.
So what are his favorites to ride, at least currently? The MV 750 Sport and Ducati 750GT make the list of course, but Parr also has some Suzuki-powered Magni machines that up the modernity quotient a bit. And then there's his BMW R80GS, still a sharp urban weapon despite being almost 30 years old. "If it's over 36 degrees outside, I'm riding," Parr said. My kind of guy.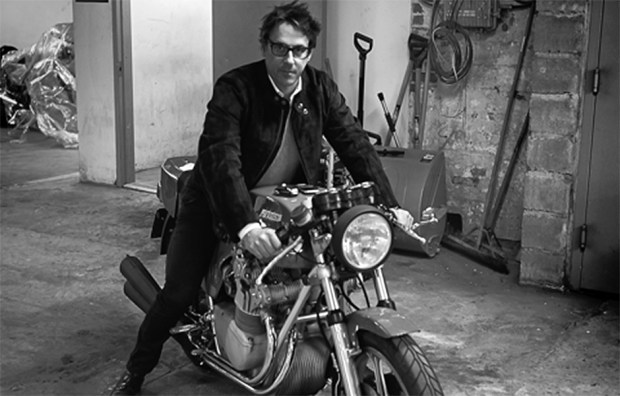 Parr says he swaps around which bikes he rides all the time, and if you're lucky enough to be a friend that rides, he'll gladly toss you the keys to whatever catches your fancy – provided you can honor the You Break It You Bought It rule. Seeing as how some of the bikes could fetch six figures, we suggest you choose wisely. "If you can pay for it, you can ride it," Parr said with a laugh.
Of course, Parr doesn't ride every bike in the collection on New York's crowded streets. Some of the smaller machines, like a jewel-like Benelli 175cc 2-stroke (below), are just not truly capable of operating safely in modern traffic. The low output and antiquated brakes on some of the smaller machines were fine for their era, but in today's traffic, they're borderline unsafe. And, some are just too valuable to impart a relaxing ride amongst cell-chatting cagers.
Indeed, braking power was the primary caveat Parr mentioned when talking about what his vintage mounts lack as opposed to modern machines. They're plenty fast all right, but getting them to stop quickly is another thing entirely. Braided lines and DOT 5 can only do so much. If it's got drum brakes, well…
Not surprisingly, Parr had some thoughts on some "modern classics" such as Triumph's Bonneville line and Ducati's recent modern classic revival. "I think Triumph is doing a pretty good job," Parr said. "Aesthetically, they've done a pretty good job." And Ducati? Not so much. Parr said in so many words that the bikes had potential, but some of Ducati's design choices left him cold. Fair enough.
So what's on Stuart Parr's motorcycle wish list? He's like to reel in clean examples of Benelli's 1970s 750 and 900cc Sei six bangers, some Bimota models and a rare Ducati 450 Desmo, among others.
We're confident that once found, he will give them a good home, and lots of exercise.