Back at the dawn of the age of internal combustion engines in the late 1800s, early gearheads worked to better understand and refine the infernal machines they created in barns, tiny shops and increasingly, in factories. They were cantankerous things; loud, hot, smelly, unreliable, unpredictable and, for the times, complicated.
At the time, many folks just shook their heads and saddled up Old Paint as usual to get where they were going: the mercantile, church, barber or the farrier waiting with some new horseshoes. Why would anyone want to mess with such a demon device as the "gasoline engine" when horses were pretty much dead-on reliable?
The reasons, of course, were already there: relative high output power in a small package, scalability, long-term performance, and a lot less poop. Once reliable, the gas engine relegated horses and trains to also-ran status, something the horses are probably thankful for to this day.
With rare exception, those early engines were one-cylinder machines, also known as singles, thumpers, and so on. Once engineers got a handle on making singles reliable and powerful, competition, curiosity, early aircraft needs and racing quickly pushed designers to develop multiple cylinder engines – a clear case of more is definitely better. Soon, the single-cylinder engine itself was relegated to also-ran status as V-Twins, P-twins, radials, triples, fours, V-fours, straight sixes, V6s, straight-8s, V8s, V10s and V12s grabbed all the glory.
Despite the incredible advances in engine technology since those oil-soaked years so long ago, the lowly single-cylinder engine perseveres to this day, often in a form not that far removed from the barking, banging contraptions of old. Engineers have added counterbalancers to smooth them out, and modern tech like fuel injection and other tricks have suppressed the typical hand-numbing vibration inherent in a device that is sending a big hunk of metal up and down several dozen times per second.
Why does the single soldier on? It has numerous advantages over other engines, especially when modern technology is liberally applied. Singles are small and light, yet provide stout horsepower and lots of torque. My friend rides a KTM dual sport and while his engine is 150cc smaller than the one in my Suzuki DR650SE, his is tuned to produce over 60 horsepower – a giant amount of power for an engine you can literally fit in a backpack. In his case, digital fuel injection and liquid cooling provide the power boost over older air-cooled and carbureted thumpers.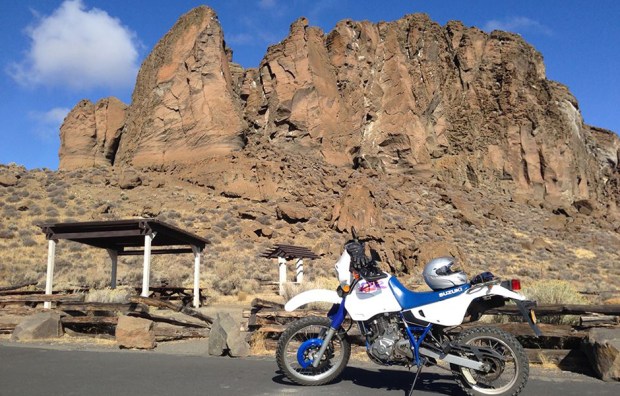 But one-lungers have other positives as well. With just one piston to deal with, they tend to be simpler to construct and repair while being highly reliable – the KISS rule in operation.
And then there's the sound. While V-Twins rumble, triples snarl and fours buzz, singles have their own aural signature that's hard to miss: the metronomic pulse of the rise and fall of that one lonely slug as it battles physics while making power. Some boom, some thuk, some scream to the heavens like the old Honda single-cylinder racebikes of the 1960s. Of course there's singles racing today as well, appropriately named the Sound of Singles.
You can still buy single-cyclinder street bikes outside of the dirtbike and dual-sport realms, but the selection is, shall we say, limited. KTM, who seem to specialize in extracting the maximum amount of fun from singles, offer their Duke hooligan machines, while Suzuki still sells a basic cruiser that hasn't changed much in 30-odd years. If you dig the classic look, Royal Enfield out of India makes a whole line of gorgeous single cylinder machines, and they've recently brought them into the modern era with a thorough engine redesign, fuel injection, brakes that actually work and other touches while retaining their classic form factor. Good stuff.
This past week, it was time again to gather with friends again in a small Oregon town for a few days without computers, cell phones (well, sort of) and other digital distractions. There was hiking to do, and some riding as well.
I saddled up my personal Old Paint, which in this day and age is my well-worn but completely reliable Suzuki DR650SE dual sport, which is powered by an air-and oil-cooled 650cc single cylinder engine that likely makes 40 horsepower on a good day. That's a far cry from my four-cylinder Honda Blackbird, which rocks about 150hp on any day and could rocket my carcass to my destination, about 300 miles distant, in about half the time the Suzuki can get me there. Except riding the Blackbird in the dirt is a very, very bad idea, and speeding tickets remain expensive.
Loaded with gear and riding essentials, the old Zook really is a mechanical pack animal, its one-chamber heart thuk-thuk-thuking down the road with no great urgency. At idle, the bike vibrates like a paint shaker, but above a trot, the DR is smooth and comfortable. A slight thrum in the bars reminds you it's a single, but I can and do ride it all day in comfort.
Smooth, simple and plenty fast, I have to admit the lowly DR, with an engine that traces its roots back to the dawn of the gas-powered era, has become my favorite bike to ride.
Photos by Bill Roberson and Wikipedia Commons.
Editors' Recommendations