One of the questions I get from readers most often is "which motorcycle is the easiest to learn on?" It's a good question, with a lot of answers, but here's one you might not be expecting.
Learning to ride a motorcycle, traditionally, is akin to learning to fly a helicopter: every limb and sense is involved in the process. Your hands have to modulate the throttle and front brake (both with the right hand) and clutch (left hand), your left foot changes the gear, and your right foot operates the back brake. You might also have to hit a turn signal in there too.
Meanwhile, you have to do this complex dance essentially without looking, as your eyes need to stay on the road ahead or peek in the mirrors while the engine provides audio cues for when to shift – or not. It's an all-hands-on-deck skill, and a lot of beginning riders struggle with it, some to the point that they give up on riding after stalling out too many times, or they just never master the gearshift ballet.
And it's no wonder, since the vast, vast majority (more than 90 percent) of cars sold now use automatic transmissions. The venerable stick-shift is getting tough to find, and the skills and understanding surrounding its use – essential in learning to ride a motorcycle – are fading away.
In 2009, no doubt seeing the ever-growing default automatic transmission trend in cars, Honda released a new version of its seminal VFR sportbike, and a compact, high-performance 6-speed dual-clutch automatic transmission ("DCT") was an option. The motorcycling world was shocked, at least for a few minutes, but the new-think gearbox worked well, and also allowed the rider different shift modes as well as a push-button manual, albeit clutchless, mode of operation.
The new VFR was not a big seller (it was not helped by its new styling, earning it the derisive moniker "Shamu" in some circles) and a high price didn't help. But it was far from the end of the line for Honda's nifty dual-clutch transmission. In fact, it was just the beginning of the story – and Honda's DCT gamble.
I've been focusing on certain bikes as the spring riding season rolls into many areas but instead of one bike, let's look at some of Honda's bikes that use the automatic DCT transmission. And as a side note, you can also get these bikes with a manual transmission, but you'll typically also lose ABS brakes as well since they are part of the DCT sensor system.
CTX700
Following the high-end VFR rollout, Honda took it's high-tech DCT toy and dropped it into about the most pedestrian, unassuming and affordable full-size motorcycle it could dream up: the CTX700. Now, you may think I'm damning the CTX with name-calling, but the truth is, I'm not: this is about the most perfect beginner bike imaginable.
The CTX series, which can be had as a bare-bones naked bike and optioned up to a light-duty tourer, is not going to win races, inspire wheelies, or peg you as a leather-clad rebel. In fact, the CTX could be described as living in that fuzzy area between motorcycle and scooter, but it definitely errs on the motorcycle side. With an engine partially sourced from the Honda Fit econocar, the CTX bikes are the Whole Enchilada of basic motorcycling: low seat height, easy to ride with the DCT option, ABS brakes (only with the DCT), phenomenal gas mileage, low maintenance, built-in storage, and with proper care, they may last nearly forever.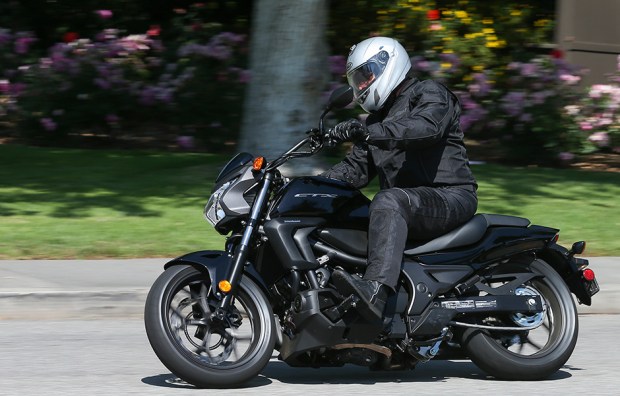 I rode the first CTX models back in 2013 and while I personally prefer something with a bit more poke, the bikes acquitted themselves extremely well and were good fun to ride.
The DCT option, though, was a revelation.
Getting an automatic to work well on a motorcycle is no mean feat. The subtleties of slow-speed clutch operation must have been torture for Honda's engineers to perfect, but perfect them they did. And riding with an automatic in city traffic? Bliss. Plus, out in the curvy stuff, dropping the tranny into manual mode allowed me to govern output from the torquey, long-stroke twin-cylinder engine as I pleased (but I should note, the onboard e-nannies will not let you stall or over-rev the engine, which are actually good things to govern).
It didn't take long to get used to the DCT, but my foot and hand still reached for the clutch and shifter out of habit, only to find nothing. At the end of the day though, I had fun riding the CTX, and that's the score column that has the most weight in my review book. Price brand new, out-the-door, ready to ride? $7,600 with the DCT and ABS. That's a great deal for a bike you really can go anywhere on.
NC700X
Want something a bit more sporty but still easy to ride – and automatic? Then the next stop is the $8,100 NC700X. This founding member of Honda's "New Concept" ("NC") line retains the base mechanicals of the CTX in terms of engine and transmission but reworks the layout of the bike for a more sporty riding position, more ground clearance and a very cool look.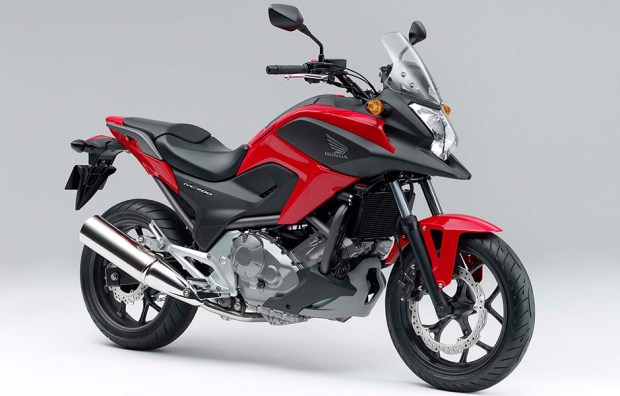 See the gas tank? It's not a gas tank. Your helmet, bag or groceries go in there, the gas is under the seat. It'll only hold a tick over three gallons, but since you're getting 60mpg or better, range isn't a problem. ABS is part of the DCT package as well, upping the safety factor. The NC700X will work well for a beginner to intermediate rider, or perhaps a rider who's been off a bike for some time and is looking for a capable, high-tech rig with the novelty of no shifting when desired. If you want a bike to "grow up on," the NC700X is probably the best call in this bunch.
VFR1200 and Africa Twin
What would happen if Honda took the performance levels of the CTX and NC bikes – and doubled it? Tripled it? Then you'd have the VFR1200F sport bike and Africa Twin dual-sport machine. That's right, both these models can be had with the DCT transmission.
The VFR with DCT is Honda's latest iteration of their V4-powered land missile, and while it's probably not the best choice for a beginning rider, you could make worse choices. Full-sized and with a fair amount of heft along with big power, the VFR is the answer for sport riders looking for a bit more comfort in their mount. You're looking at nearly 18 grand out the door, but besides the DCT box, you get pretty much every other tech trick in Honda's book along with the motive power of a VTEC V4 engine that can put you in legal trouble right quick.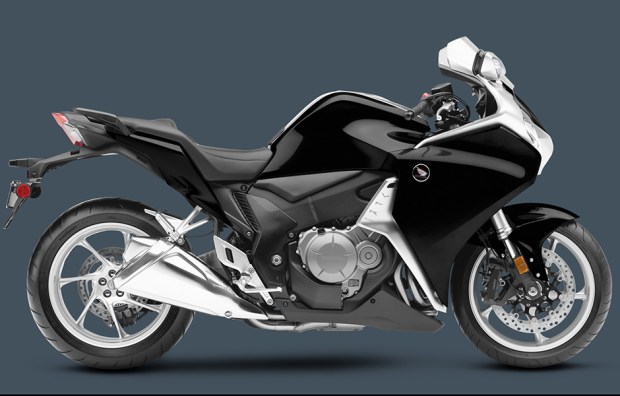 The other side of the big-bike coin is the new Africa Twin dual-sport bike (below), and it's perhaps here that Honda expresses its ultimate design prowess for their automatic gearbox. The $13,699 Africa Twin uses a 1,000cc P-Twin engine like it's CTX and NC cousins, but it's much more powerful and the DCT is also hooked up to more sensors, including leaning angle and inclination, for better performance in dirt or on the slick surfaces most Africa Twins will likely encounter in their travels. Wanna get away? Like, to Siberia? This is the bike that gets you there.
Beginning riders stymied by the shifter now have automatic options outside of the scooter universe, and as Honda grows its DCT lineup, count on other motorcycle makers to get in on the action with their own shiftless solutions.