Perhaps no other American motorcycle brand has as much of a story behind it as Indian. Founded in 1901, two years before Harley and Davidson pieced together their first machine, Indian went on to spar with H-D on the racetrack and showroom floor for five decades before bad decisions, a tricky post-war economy and other fumbles led to bankruptcy in 1953.
But that was far from "the end" for Indian. The hallowed name kicked around between numerous owners who ranged from serious but under-funded bike makers attempting to resurrect the once-proud machines, to fast-buck artists who simply pasted the Indian name on the gas tank of spindly minibikes, to outright shysters who had no intention of ever making a wheel turn on pavement, but felt they could milk the name for cash in any number of other ways.
Finally, in 2011, Polaris, famous for their snowmobiles, side-by-side sand toys, and a recent entrant into the motorcycle sphere with their Victory cruiser line, acquired the Indian brand and set about to give the marque a true revival.
In 2013, Polaris/Indian revealed three new Indian models at Sturgis. The machines were a hearty blend of classic Indian style and modern engineering, with a stout 111-cubic inch V-twin that looked like it had fallen out of a vintage ad but also packed a powerful punch that surprised riders and reviewers, including yours truly.
Now, Motorbooks has released Indian Motorcycle, America's First Motorcycle Company, a new new tome about the brand by Darwin Halmstrom that chronicles the majestic and sometimes tortured Indian Motorcycle's history, from its humble but capable first machines right on up to the release of the Indian Dark in 2016, along with all the sordid tales in between.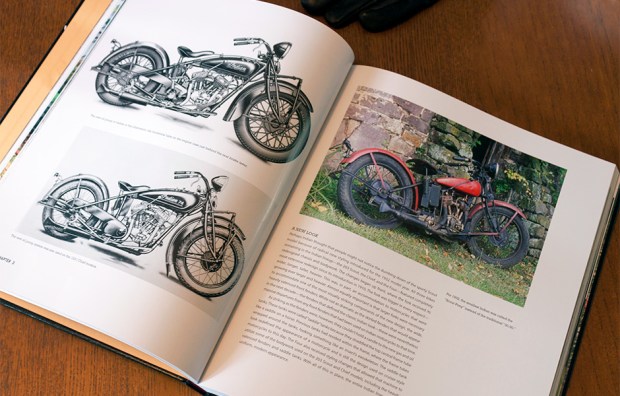 Detailed explanations of the technologies and designs both old and new accompany the numerous photos, and Polaris (aka the new Indian) apparently gave Halmstrom a lot of access into how they brought the brand back, including sketches, clay mock ups, technical drawings and more.
Most every model is accounted for in photos from Indian's archives, advertisements and the born again bikes from Polaris. The coffee table compendium features a thick black cover with an embossed Indian logo and the book feels heavy in hand, like a quality part for your trusty steed.
Indian Motorcycle, America's First Motorcycle Company has an MSRP of $50.oo, but you can find it online for considerably less. If you're into Indians, and I know a lot of Throttle Jockey readers are if my emails are any indication, you owe it to yourself to add a copy of this fine book to your collection.
Got a sweet bike, story idea or other bit of motorcycle coolness to share? Let me know: broberson@themanual.com
Editors' Recommendations