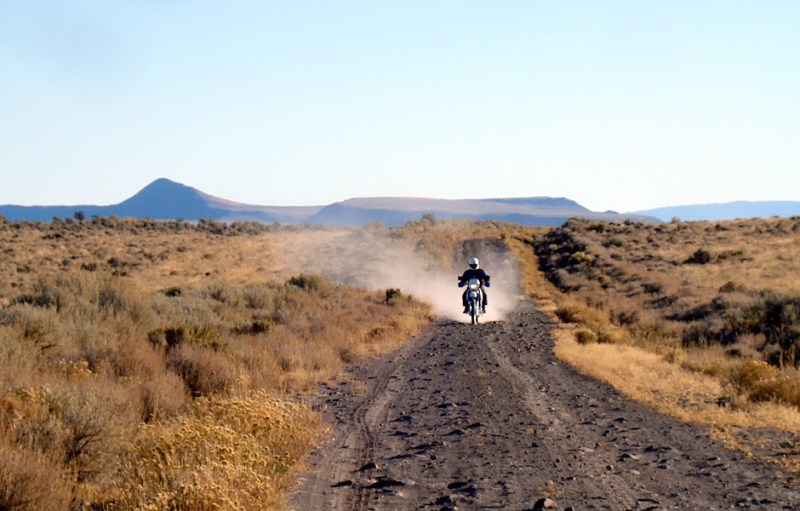 While some people are content to never leave their couch, house, city, state or country, there seems to be a strong steak of wanderlust in motorcycle riders, a primal urge to travel and explore beyond the horizon, both the one with the setting sun and another in the psyche. And motorcycles seem to be a nearly perfect tool for doing just such exploring in a timely and exciting manner. It beats walking, that's for sure.
Motorcycle riders love to swap stories. Many tales told around the campfire, in garages or over a frosty beverage or two are often about long trips, the realization of the adventures envisioned before a rider ever turned a key in a bike. Motorcycles grant a high level of freedom; freedom from the confines of a car, from social confines, and perhaps from the weight of our many modern responsibilities, if only for a brief time (for most of us). To be out in the wind, flying along on just two tires, is a special experience. But motorcycles do have limitations on where they can go – or at least they used to.
Motorcycles able to travel off the pavement, known as "dual sport" or "adventure bikes" today, likely got their start in the military 100 years ago as troops on the forward lines modified their mounts with tires that could grip better in the mud and muck. Once the established trails ended, forward progress was left up to those on foot, on horses, and eventually, on motorcycles. And maybe tanks. But if you wanted to go anywhere with a modicum of speed, the motorbike was likely the best bet.
As wars ended, riders returned to street bikes, but in the 1960s, several bike companies, especially those located in Britain, Italy and Japan, began to produce street-legal bikes with high-mount exhausts and knobbie tires that could take on (very) light dirt duty or putt around the farm. They became known as "enduro" bikes or "scramblers." Owners made their own modifications, stripping off lights and other street gear, increasing suspension, upping performance and even building specialized frames. The pure "dirt bike" was born.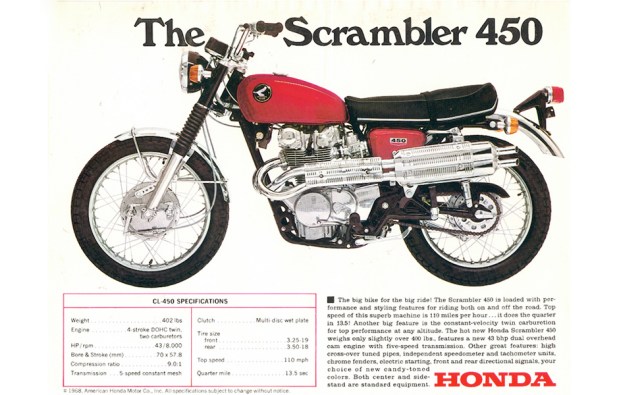 But the original idea – that a bike could be made usable off-road and remain street legal – struck a chord with with a select group of riders whose idea of "freedom" meant more than just rolling down the pavement to the next town. They aspired to take roads less traveled, to follow the tiny lines on the map – if they were on the map at all – that wandered off towards yonder mesa, canyon or mountain range.
One man, Ted Simon, pushed further than most when he rode his modified and overloaded 1974 Triumph twin around the world, hitting most every country on the globe on an epic journey. Thieves, corrupt officials, jail time and countless roadside repairs made for so many interesting stories he compiled them in a book, Jupiter's Travels, which has become a bible of sorts for those who seek to travel beyond even the barely beaten path. Along the way, Simon also made countless friends and had incredible adventures as his journey continued over the course of four years. We can only imagine all the sights he saw.
Most of us don't have the time, stamina, riding or mechanical skills of Mr. Simon, and the world today is arguably a more dangerous place to attempt such a feat. And yet, many still do. One thing is for sure: the bikes available today for such an adventure are extraordinary. We call them Adventure Bikes, or ADV bikes for short. And they have evolved into what could be the ultimate form of motorcycling freedom. Many ADV riders point to 1980 as a turning point in their sport. That's when BMW first offered the R80 G/S (Gelände/Strasse or "off-road/on-road", below), a large (800cc) displacement, heavy-duty bike designed to be fast on the road and more than capable off of it.
It was an ugly duck of a bike, all engine, gas tank and dirt bike fenders, but it sang the siren song of adventure, and today, the big BMW GS Adventure, now at 1200cc and packed with more tech than a space shuttle, is the gold standard for getting the hell outta Dodge and going wherever the GPS points, especially if it's a far corner of the globe. Just bring about $25,000 to the dealer to get it kitted up just right. Some famous guys even based a terrific video travelogue series around their adventures circling the globe on BMW GS mounts.
Along the way, other bike makers have kept pace with hardened adventure bikes, but very often, the best (and most affordable) way to go is with a different approach than the heavyweight GS. Kawasaki debuted the KLR650 in the mid-1980s, and they got it so perfect right out of the gate they didn't change a thing on the bike for over 30 years of production. When they did decide to do an update in 2008, it was mostly for style points. The core of the KLR – a bullet-proof liquid-cooled 650 single and a 6-gallon tank surrounded by the barest of street legal gear and not much else – continued on. If you want to get into ADV riding on the cheap, a used KLR is a pretty good way to go. It worked for this guy: Honda and Suzuki kept the recipe even simpler: the air-cooled Honda XR650L and Suzuki DR650 (your author's choice) both have less electronic complexity than a Bic lighter, but both bikes can be loaded up and powered down any road, paved or otherwise, with confidence and relative comfort. They are essentially big dirt bikes with lights and turn signals, and that's about it. But add some side cases, maybe an optional larger gas tank, some extra lighting gear and you can hear the siren song of distant lands singing loudly in your brain at night. I hear the riding in Patagonia is really nice this time of year. Or any time of year.
Not only are dual sport/ADV bikes the perfect way to fill your passport with stamps and your camera with photos, they also make fantastic commuter bikes. You sit up tall in traffic and the bikes, unladen, are thin, light and highly maneuverable. 650cc models typically get stellar gas mileage. You're not going to win many races (unless you opt for certain high-end models) but that's not the mission of the ADV motorcycle. Ride in the rain? No worries. Got tipped over? Pick it up and ride away. Potholes? Construction? Curbs? Can't hardly feel them as the long legs soak them up. When the apocalypse comes, you're gonna be all set to high-tail it right past the zombie hordes.
But the ADV magic really hits when you circle those three or four days on your calendar, load up the side cases with rain gear, some cans of chili, beef jerky and a flask or two, strap on your tent and stuffsack, turn off the cell phone and head for that distant dot on the map that you've always wanted to visit. With an ADV bike, the far horizon really is just a ride away.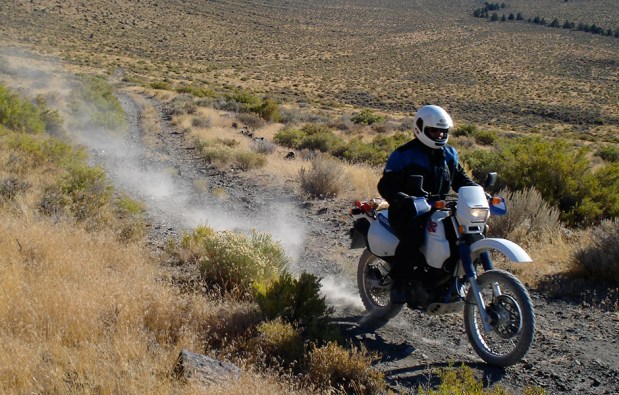 Photos by Bill Roberson and David Weatherby