Don't tell the bros down at the clubhouse, but I have a soft spot for scooters.
As I mentioned in a previous column, I got my start on motorbikes the same way many riders did: on a scooter. It was a wheezy old Honda that might top 35 miles an hour going downhill with a tailwind, but I still rode the crap out of it, including a daily 20-mile back road commute to a local community college.
I eventually upgraded to one of those funky-chicken Yamaha Riva 180 things, which was a veritable missile compared to the clapped-out Honda (which, to its credit, never gave me one mechanical problem).
Anyway, the larger Yamaha allowed freeway travel (barely), or at least "country roads travel," so I was able to ride it from college to the Oregon coast – a lot – even with a comely co-ed on the back. Good times.
I haven't had a scooter since those halcyon campus days, but when I'm surfing around on craigslist, they still catch my eye, especially the bigger varieties they have now, like the Honda Silverwing, Suzuki Burgman 650 and especially the rare sci-fi Yamaha Morphous, for which I might trade a semi-vital organ.
Another scoot high on my wish list is the oddly named Yamaha T-Max, which is more of a blend of scooter and small sportbike. Discontinued in the U.S. in 2011, it's now back in the 2015 lineup and with some worthy upgrades to boot.
Continuing the "very sporty scooter" theme, the new T-Max now sports a bigger 530cc single-cylinder fuel-injected engine, an inverted front fork, stout triple-disc brakes, big-for-a-scooter 15-inch wheels wrapped in modern rubber, and a fairly ballsy viper-from-the-future look. LED lighting and a keyless "smartkey" ignition system round out the main features. I dig it.
While many motorcycle riders may dismiss scooters as rides for wanna-be bikers who can't figure out a clutch and foot shifter, they would do well to take a second look at hot rod rigs like the T-Max. Is it going to give a GSX-R sportbike fits at the track? No, of course not. But how much fun is it to sit in creeping urban traffic on your Gixxer, wrists aching, while your temp gauge continues to bounce off the red zone, fans howling. Been there, done that.
Outside of bicycles, scooters have no equal when it comes to slicing up the urban commute. Plus, you can stash your stuff in that big space under the seat. Raining? Scooters have it all over motorcycles in terms of weather protection, and you can move your feet around to an infinite number of more-comfortable spots rather than being locked into a pair of pegs. They also tend to be great on gas and there's no engine heat to deal with on a hot day. Or any day. Then there's the twist-and-go simplicity, which beats the hell out of clutching 40 times in one block to slowly get around that stalled SUV.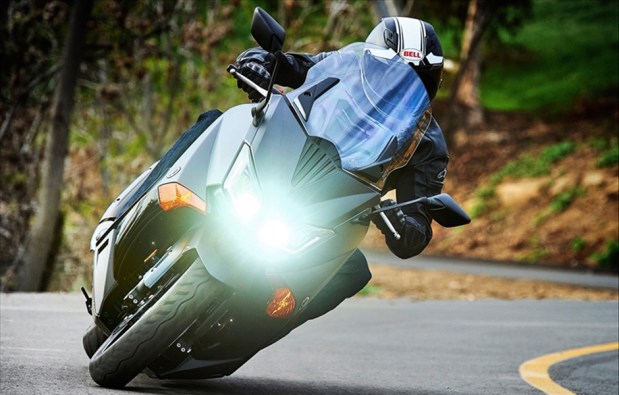 Convinced yet? One trend I'm seeing lately is people taking the new breed of big scooters on very long-range tours. During a recent trip through Canada, I saw whole packs of scooter touristas amid the usual Goldwings, Harleys and BMW GS dual sports on the road. And why not? They're comfortable, easy to ride and when you get into the 500-650cc range, they're also plenty powerful. Even tooling to the coast on my 1980s 200cc Yamaha was a breeze, so rolling down an interstate on a big modern scoot looks pretty doable – and people are clearly doing it.
Today's scooters are also on the cutting edge of motorbike technology. As noted, the T-Max utilizes fuel-injection, a keyless ignition, belt drive, and it'll charge up your phone while you ride. Piaggio (who produce Vespa scoots) even makes a line of leaning 3-wheeled scooters that must be seen to be believed.
If you think you're too much of a manly man to saddle up a modern scooter, check your ego and consider a modern scoot like the Yamaha T-Max. You may find you're missing out on one hell of a fun way to get around town or even the continent, even if you already have a motorcycle in the garage.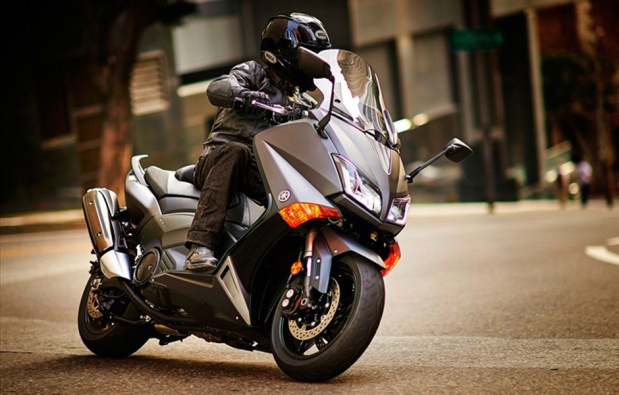 All images courtesy of Yamaha