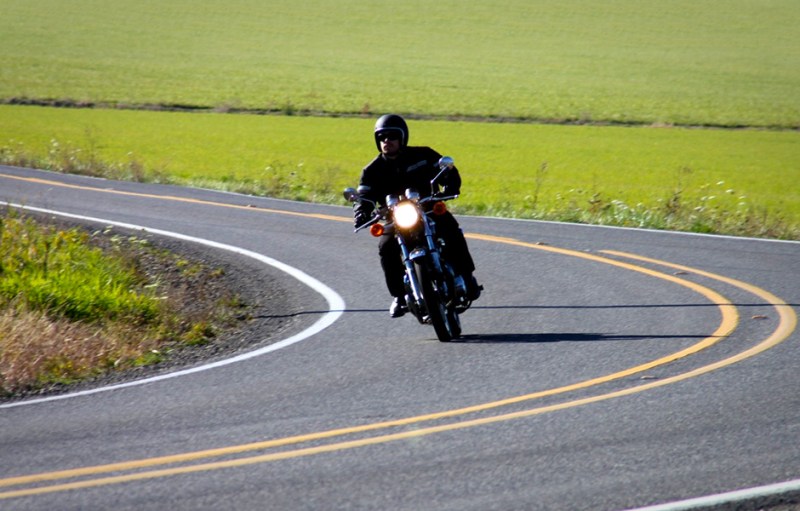 Anyone that's ridden a motorcycle for any amount of time has probably at least heard of or seen Bruce Brown's seminal 1971 motorcycling documentary, On Any Sunday. A groundbreaking film in it's own right, it also came at a critical time in the history of motorcycles.
In 1971, the deadly debacle at Altamont, where the Rolling Stones hired the Hell's Angels to work as "security," was still fresh in the national memory, a memory that at the time, framed people on motorcycles as outlaws, miscreants and drug pushers. Vietnam was raging. Biker gangs were in the headlines. Motorcycle movies at the time had titles like Born Loser and Motorpsychos. Marlon Brando's now-comical rebel in The Wild One was still the frame of reference for the non-riding public, although Honda's "You Meet the Nicest People" ad campaign was chipping away at the bad boy (and bad girl) image along with their approachable just-barely-a-motorcycle tiddler bikes.
And then came On Any Sunday. 
On Any Sunday was ostensibly about various forms of motorcycle racing (most of which takes place on Sundays, thus the title), but it was much more than that. Using dazzling photography (which still dazzles, especially in light of period equipment) and boosted by the inclusion of manly man/'60s megastar Steve McQueen, who appears only briefly but as a serious and capable rider, the movie really was about the people who rode motorcycles, rather than the bikes or events portrayed. And that pathos, those images of everyday Joes and Janes out for a fun spin or riding in a weekend race, helped crack the negativity held by the non-riding public, if only just a little bit. But it was enough.
At the same time, the motorcycle industry was undergoing a gigantic shift as Japanese bike makers, led by friendly Honda, began introducing larger, more powerful, more reliable and more innovative bikes. Within 15 years, the once-dominant British motorcycle industry would be reduced to ashes and American icon Harley-Davidson would seek government protection from the Asian onslaught, protection which saved their skin and gave them a chance – albeit a slim one – to recover, learn, and eventually thrive. But the bottom line was that a LOT more people were riding, due to a combination of the affordable and reliable Asian bikes, which didn't carry a "biker" stigma, and a more positive outlook on motorcycling, helped in no small part by the huge success of On Any Sunday.
As the years went by, riders of every stripe would still gather to watch On Any Sunday at late night showings, revivals, and eventually, on VHS and DVD. Now, over 40 years later, there's finally a sequel.
On Any Sunday: The Next Chapter is the long-awaited return of both the beloved subject matter and the family that's been its steward, this time led by Bruce's son Dana Brown, who is no slouch with a documentary camera as his Baja racing epic Dust to Glory and the iconic homage to surfing, Step Into Liquid, proved years ago.
The Browns have stuck to the same formula that made the original the icon it is: racing, the people who ride and impressive photography. Next Chapter also gets some help from modern corporate sponsorship, notably Red Bull, bike maker KTM and action headphone maker Skull Candy. You may wonder what these huge companies demanded of the filmmakers in terms of product placement and event inclusion, but I'm happy to report that for the most part, their influence seems slight and transparent, so we thank them for their support in helping get the film made.
As expected, Next Chapter visits most of today's major riding events: The Springfield Mile dirt track race, MotoGP (with a focus on rising superstar Marc Marquez – good timing that), Supercross, Arenacross, the Bonneville Salt Flats and so forth. They also spend some time with stunt rider extraordinaire Robbie Madison, who completes a truly breathtaking jump off an Olympic long jump ski ramp. Along the way we meet gritty customizer Roland Sands, check in with racer "King" Kenny Roberts, whose star was just rising when OAS was coming out, and also meet some folks who are often overlooked in motorcycling: women riders and racers. And there are plenty of good looks at modern equipment: sport bikes, dual sports, motards, desert sleds, customs and more get screen time along with some clean classics and the insane technology of top-tier racing machinery.
But Next Chapter also takes a wider view of the sport, recognizing the importance motorcycling plays in developing countries and visiting bustling metropolises like Ho Chi Minh City (which was called "Saigon" in 1971), where literal fleets of motorcycles and scooters dominate chaotic but somehow accident-free city traffic. It is a sight to behold.
And beholding the many wonderful sights in Next Chapter is great fun indeed. The photography is fantastic with liberal use of super-slow motion to capture the intricacies of on-the-edge riding (especially MotoGP) and the theater's surround sound system also gets a workout. Everything shot natively for the film was captured in now-in-vogue 4K Ultra HD, so seeing it on a big screen from a top-quality digital projector is a must. Failing that, maybe wait until the 4K Blu-ray version comes out and give yourself an excuse to upgrade your now obsolete "regular" HD TV.
Will On Any Sunday: The Next Chapter do for motorcycling today what it did for the sport 43 years ago? No, because it doesn't need to be done. Today, motorcycle riders are cool. Green. Hip. Brave. That rider on the rumbling Harley next to you is more likely a Desert Storm veteran, a dentist, or a woman, not some methed-out crackhead. The mystery and romance of riding on two wheels has diminished over time as motorcycling has moved into the mainstream. More often than not, the guy on a motorcycle in the movies is the good guy, not the wild one.
But the mysterious allure of motorcycling is still the same. It's hard to do well, but when it is done well, it's amazing. It's its own religion. And in that regard, Next Chapter is a worthy child of On Any Sunday, just as Dana Brown has proven himself a worthy heir to his father's reputation as the creator of one of – if not the greatest – motorcycle movies of all time. Because once you watch it, you just want to ride and ride and ride.
Editors' Recommendations