Spring is beginning to spring, and if you're thinking about buying a motorcycle as the weather nices up, you've probably found a whole lot to choose from. Confusion! In an attempt to help, let's spend the next few columns focusing on a few models across the motorbike spectrum that will hopefully resonate with you, whether you're a new rider or a seasoned veteran.
Today's choice is Kawasaki's iconic go-anywhere dual-sport, the KLR 650. Notice I didn't say the "2016 KLR 650," just "KLR 650." The reason for this supposed oversight is that I'm basically recommending any KLR 650 you might find in decent shape. Here's why.
The spirit of the KLR is rooted in travel and adventure. Equipped with DOT-legal knobbie tires, some simple upgrades and additional carrying capacity, riders around the world have circled the planet on their trusty KLRs. Take a few minutes to check out this guy's epic journey on his KLR 650:
And while a globe-circling adventure like that may be beyond your aspirations, this is also a bike that can cross a lot of states or nearby countries with a minimum of fuss and expense. Or, ride it to work each day, weather be damned. The KLR is pretty much equally comfortable on a paved superhighway or a rutted jeep trail, but be sure to bring riding skills with you on your journey.
The KLR 650, which veteran riders simply regard as "the K-L-R," has a well-deserved reputation as one of the most useable, tough, and enjoyable motorbikes in recent history. It's also about as simple and stout as an axe or a good hammer. It's not especially fast or even good looking. If you're looking for a bike that will help stroke your ego, you might want to stop reading right now. If you're looking for a bike that will take you places you never thought you'd go, fill your traveling life with fun and put a smile on your face time and again, then let's continue on.
Short history: Kawasaki technically (or perhaps officially) gave birth to the KLR 650 in 1987, but motorcycle historians will likely point to the KLR 600 as the real starting point in 1984. Anyway, Kawasaki pumped out the "original" KLR 650 virtually unchanged (save for incremental and pretty much invisible technical updates) for an amazing 30 years, until they made what are honestly some minor mechanical and largely aesthetic changes in 2008. And since then, that model has again remained essentially unchanged. So if you buy a slightly used 2010 model, you're essentially getting the same thing that's on the showroom floor now, with perhaps a different color scheme and some minor differences in suspension and other invisible details. Heck, if you find a 1990 model, it's still pretty close to a new KLR.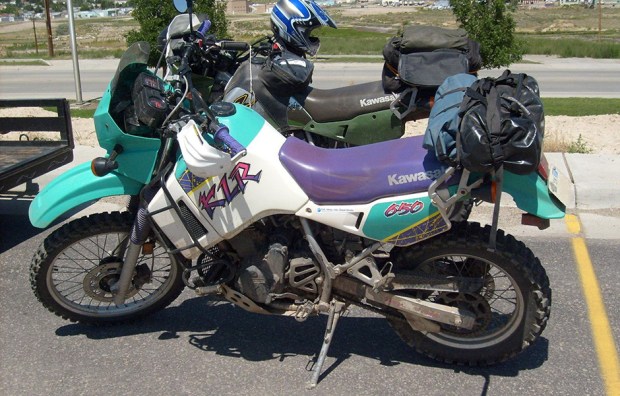 So what makes the KLR so special? To start with, pretty much nothing. And I mean that with the highest of praise. This is a simple bike in complex times. It's got one liquid-cooled 651cc cylinder, gas gets mixed with air via a now ancient-tech carburetor instead of fuel injection, a chain drives the rear wheel, all the gauges are completely analog needle-clock types, and while the bike has disc brakes, there's no ABS – not even as an option.
It's only real nod to modernity is a CDI ignition for the spark plug, something that was common on motorcycles starting in the late 1970s as the even more primitive and finicky points-and-condensor ignition was finally laid to rest. Low tech but capable means the price of admission is a bargain: just $6,599 in Kawi's traditional near-neon green or a tough-looking glossy black (my choice for sure), or $6,899 if you dig the grey digital camo paint scheme (dog will hunt!). This is a bike so tough the U.S. Marines use a modified version of it that runs on diesel.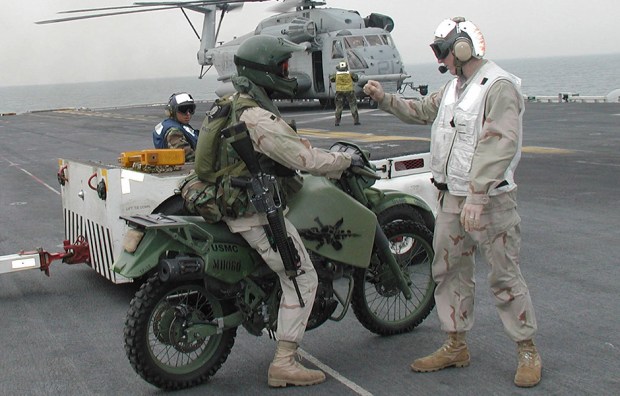 What the KLR 650 really is, is a motorcyclist's canvas. Not as some custom chrome dream machine (certainly some exist), but as a starting point for a bike worthy of an epic journey – or as an uber-capable commuter rig. Or as both. It's also fair to call the KLR a modern pack animal. Fair warning: this is a big and tall motorcycle. If you're on the short end of five foot ten or so, it may be too tall for you. However, if you still want one, talk to a dealer or bike shop about getting the KLR lowered to a more usable altitude – adjustment kits are widely available and not very expensive.
The low, low price lets you kit out (or "farkle") the KLR with anything and everything you'll need for your ultimate vision for the bike, and the KLR aftermarket is probably on the same level as Harley's. Anything you want to do, you can do. Luggage and case options are too numerous to list, and you can upgrade pretty much everything on the bike from the brakes to the seat to the suspension to the handlebars to the windscreen to the lights to engine performance to…. you name it. But when you're all said and done, you're still probably under 10 grand out the door and onto the open road, whereas 10 large is still well below the MSRP of many other dual sport bikes before you even add a GPS mount to the handlebars, let alone all the other stuff you might want.
Best of all, there are plenty of fully-kitted KLR 650s on the used market, ready for adventure at prices that are laughably low for such an E-ticket adventure bike.
It's not especially pretty, it's almost anti-tech, and you're not going to win many races against anything except cars, but if you've got that itch to travel on the cheap and end up in places often far away from tourists, traffic and civilization in general, the friendly, affordable, simple, tough and well-tested KLR 650 is your ticket to ride.
2016 Kawasaki KLR 650 photos courtesy of Kawasaki.