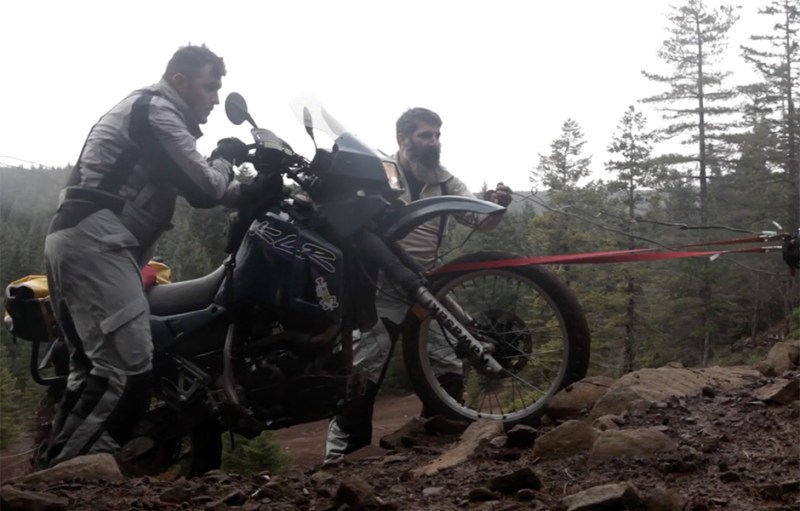 Roads criss-cross our planet, which is handy, especially if your zen thing is to roll up the miles on your motorcycle. But there are also wild places in our world as yet unspoiled by pavement, and in those areas, dual-sport motorcycles can usually get you where you want to go, since all you need is some single track or a cow trail or foot path or any byway about 4 inches wide. Just ask this guy.
But there are still places that lack even that kind of access; think of Siberia, the Atacama Desert, the vast expanses of the Sahara. Perhaps one of the most famous – and smallest – is the Darien Gap, a 90ish-mile stretch of jungle and swampland that adjoins Panama and Columbia on the land bridge that is Central America. Now, a group of guys on bikes is going to give crossing it a go in 2017. Let's wish them luck – they're going to need it. Lots of it. But they may have an advantage.
The Darien Gap, or just "the Gap" in motorcycle parlance, is the only break in the continues ribbon of roadway known as the Pan-American Highway, a 19,000-mile series of interconnecting highways that begins at Prudhoe Bay well above the Arctic Circle in Alaska and ends near the South Pole in Ushuaia, at the tip of Argentina. Yeah, road trip!! But there's just one little problem: the Gap.
Most people just go around the Gap by boat or over it in aircraft. But for adventurous motorcycle types, The Gap is the Mount Everest of dual-sport riding. Those that have crossed it usually use a combination of boats, barges, and overland routes led by local guides. Pure "overland" crossings are the most difficult option. It's basically Pandora on Earth: many of the zillions of critters (snakes, insects, bigger animals) are out to bite you, poison you, eat you.
Topography runs from impassable swamps to 6,000 foot high mountains. What humans are there range from tough indigenous tribes (your source for guides) to well-armed FARC Marxist rebels with a history of leaving no witness as to the locations of their hideouts. Oops, we thought you were a spy. Bang. There are no cities, towns, gas stations, Qwik-E-Marts or Red Boxes.
The Gap has actually been crossed before by motorcycle (an early BMW R80 G/S) and a few 4-wheel rigs, but to give you some perspective on the scope of the overland challenge, a couple in a Jeep CJ-5 crossed it in the 1980s, and it only took them 741 days. To go 125 miles. 741 days.
This latest group to take on the Gap are looking to complete a true first: a full top-to-bottom traverse of the Pan-American Highway, including an overland crossing of the Darien Gap. If they succeed, they will be the first to "complete" the entire trip solely on bikes going overland. Those that crossed before simply crossed the Gap, not the whole of the highway.
Their "advantage"? So far, all of the current participants are members of the U.S. military, so this isn't their first foray into treacherous survival situations. Seasoned photographer/videographer and U.S. Army Corporal Jake Hamby will document the effort for a feature called Where The Road Ends (preview trailer below). Reached through Facebook, Hamby said the final rider roster has not been set and planning is still in the early stages.
In order to hit The Gap at the best time to cross, the men will ride out of Prudhoe Bay, Alaska – in December. Thank goodness for heated riding wear as they expect temperatures to be well below zero for much of that leg. Temps will naturally climb as they approach the tropics. I'd love to see the packing list.
An Oregon BMW dealership is lending support, but whether that means the guys will be astride BMW G/S Adventure battle wagons or the more svelte (and lighter) G/S 800 machines remains to be seen. Or perhaps other bikes will be involved. Winch company Warn is also in on the support list, a true test if there ever was one. Numerous other companies are also in on the adventure.
I'm hoping to get a chance to talk with the team as they pass through Oregon next year, so stay tuned for updates. And wish them luck.
All images by Jake Hamby