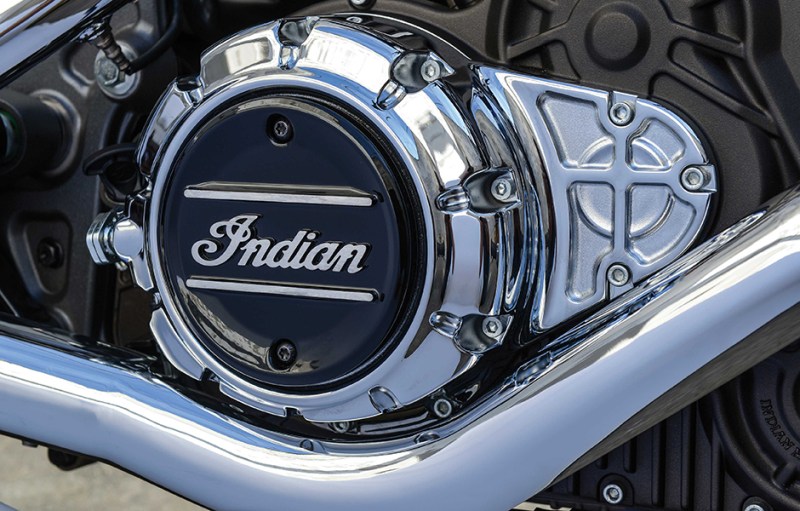 One of the oldest and most historic rivalries in motorcycling is the fierce competition between American icons Harley-Davidson and Indian, and after a decades-long hiatus, it now appears the rivalry is about to heat up, again, with the introduction of yet another new Indian model: the lighter-weight, high-performance Scout.
Wait: Harley-Davidson and who?
Some backstory: The Indian Motocycle Manufacturing Company (yep, motocycle) was founded in 1901 – two years before Harley-Davidson – and the Indian tribe and the HD boys from Milwaukie fought it out on racetracks and showrooms around the nation, with innovation and styling being the primary winners. All the while, truly manly men from their respective race teams duked it out aboard snarling bikes on suicidal board tracks and beaches, all for girls and glory – and likely not much money.
Then World War II came around and while Harley-Davidson was able to pivot back to consumer production after war's end, Indian struggled and the doors closed in 1953. The surviving bikes became instant collector items, prized for their art-deco style and solid performance. Despite their age and relative technological antiquity, many are still on the road today, some as daily riders, some as race bikes.
For the last 60-odd years, the Indian naming rights bounced around from pretenders who wanted to sell t-shirts to outright shysters to companies with their heart in the right place but not enough money in the bank. Then, Minnesota ATV maker Polaris reeled in the rights, formed an Indian sub-unit and in 2013, unveiled a clean-sheet line of three big Indian models built around a common 111-cubic inch "Thunderstroke" V-Twin engine and "Chief" model base that, so far, have received rave reviews.
But Indian of the distant past was most famous for three models in particular: the big, valance-fendered V-Twin Chief and an innovative, longitudinally-mounted inline four-cylinder bike generally referred to as the Indian Four. But they also produced a popular lighter-weight, more affordable runabout called the Scout. Polaris got the Indian party started at Sturgis last year with the Chief-based models, and now, they've added a completely new bike, a reborn Scout, which was just introduced at this year's Sturgis bikefest. And make no mistake: Harley-Davidson's more-affordable Sportster line is firmly in the Scout's crosshairs.
Indian also just introduced the Roadmaster, a full-boat touring rig based on the existing Chief platform, bringing the Indian lineup to five bikes total, but the big news is definitely the new Scout, a liquid-cooled, high-powered urban cruiser that sports a neo-retro look but is actually a very high-tech ride.
Start with the engine: the Scout radically departs from the air/oil cooled 111-cubic inch base Thunderstroke engine used in the other Indian models and uses a fully liquid-cooled, EFI DOHC 69-cubic-inch (1137cc) V-Twin. That engine is the centerpiece of the Scout; it dispenses with any frivolity such as fake cooling fins and announces its presence with a radiator and two polished metal double overhead cams covers that hover above two capital "I" letters in logo script proudly protruding from the smooth, black cylinder walls.
It looks unlike most any other engine in motorcycling today and instantly sets the bike apart form the more traditionally air-cooled Harley-Davidson 1200cc Sportster line with which it will directly compete. Indian wisely dispensed with the huge valenced fenders from the bigger bikes, giving the Scout a leaner, simpler look. Despite the less-than-handsome radiator section, the new Scout is a sharp-looking bike, especially due to that artisan-like engine.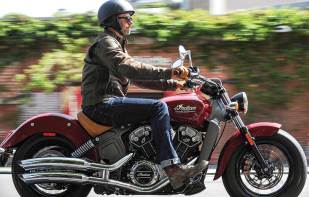 Performance figures further distance the Indian from HD's suddenly quaint Sportsters. Indian pegs power output for the Scout at 100 horsepower with 72 foot-pounds of torque along with a wet weight of just 558 pounds. Coupled with a more-modern six speed gearbox, those specs which should leave the air-cooled, 60-odd horsepower 5-speed Sportsters in the Scout's rearview mirrors in any gear. And while the Sportster continues with its classic steel tube frame design, the Scout utilizes a formed multi-piece aluminum frame that appears much closer to sport bike tech than a rethink of the original, although there are plenty of styling cues paying homage to the new bike's once-popular grand-pappy.
The tech trend continues up top in what appears to be a simple speedometer nacelle. A small LCD panel and several other indicators reside inside the gauge, including a rev counter that uses digits rather than a needle. A tach of any sort seems to run counterintuitive to the Scouts' cruiser mission, and if you're worried about banging the engine into redline you should probably be riding a different kind of bike – but it's nice to have that information anyway. Other indicators include a fuel light, ABS status, engine light, clock and some other standard reminders. Another nice feature: the analog-ish speedo can be switched from MPH to KPH and will automatically recalibrate to display the correct speed. Smart.
The Scout will ring in at a buck under $11,000 in base form, and Indian will of course have options and extras available to personalize it. The price again puts it in direct competition with the Sportster line, which, at this time, offers more variation in terms of design, style and functionality by way of their Forty-Eight, Seventy-Two and 1200T (tourer) lines, along with a slate of base models.
There's no giant aftermarket yet for the new Indian machines, but if they prove successful, there's no barrier to an expanding pool of add-ons that could eventually rival that of the enormous Harley expanded universe.
With the potent new 2015 Scout, it would appear that a real rivalry is a going to rise again between these two storied American bike makers, and none too soon.
We're hoping to get some seat time on the Scout next month, so check back for an in-depth ride review. All photos copyright Indian Motorcycle.