Harley-Davidson continues to roll out impressive motorcycles and I recently got to sample several on my home turf in Portland, Oregon. HD was smart enough to pick the lovely Pacific Northwest for an extended press ride through some local scenic spots (sorry about all the forest fire smoke), as well as some riding on what Harley's do best: trolling through city streets.
Our first ride was reserved for seat time on the Sportster and Street bike lines – except they're not really called Sportsters any more, having been reclassified as the "Forty-Eight" and Iron 883 lines. Forty-Eight? That's for 1948, the retro root Harley casts back to for styling inspiration for the current line of bikes. For the record, the Forty-Eight series bikes displace 1200cc while the Iron 883 are just that: 883cc. Your basic Forty-Eight starts at $11,199 and ticks up from there depending on what you want to add or change, although the stock bikes we rode seemed like a very complete package.
During our press introduction, where HD development team members discussed new, more supple suspension and other tweaks to the classic lightweight (for a Harley) cruisers, I was having a hard time pulling my eyes way from a sumptuous blacked-out and red-tanked Forty-Eight perched on a display box. That one, yes, I'd like to ride that one please.
Wish granted, we left See See Motorcycles, a local hub for gearheads and caffeine lovers, which are often one and the same in this town. The pockmarked and buckboard streets of Portland's industrial district were the perfect testing ground for the new springs on the Forty-Eight, which handled the potholes, pavement patches and railroad crossings with aplomb.
Not handled with aplomb: cornering. Granted, we had no setup opportunities prior to our city ride, and at six-one and 230 pounds, I'm not exactly a flyweight pilot. There was no chance to dial in more preload on the adjustable rear boingers before we hit the street. To compound the scraping, our ride leader, local bike guy Thor Drake, had chosen one of the city's twistiest ride routes, and I must have beveled a few pounds of steel off my red sled in the tight corners.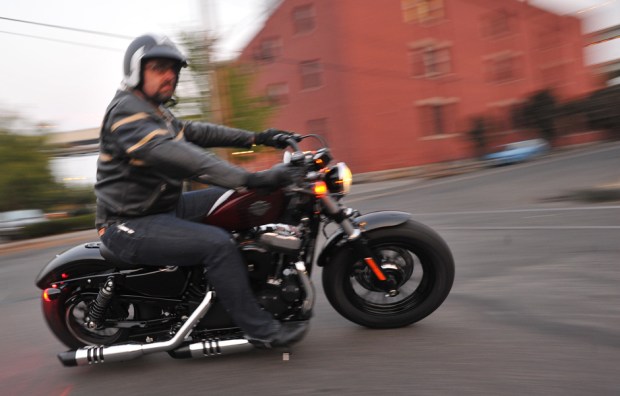 I typically ride a sportbike, so I'm used to getting the bike over, especially on this road, so my go-get-'em style needed to be dialed back to avoid leveraging the Forty-Eight off its tires. Riding style adjusted, I still touched the peg feelers down often and with authority, but otherwise the Forty-Eight was a jot to ride, even in the curves, albeit with a fair bit of mindfullness of the limits.
Sportsters – er, Forty-Eights – used to be the "low end" of Harley's price and power output spectrum, but I have no complaints abut engine power. The air-cooled 1200cc V-Twin is hot off the line and speed mounts quickly as the engine pulls from a deep well of torque. HD never talks numbers when it comes to power, but trust me when I say you will not be disappointed when you roll on the throttle in any of the five gears.
After getting confused while on a photo stop, I had to circle back to my group, which included a blast down a deserted industrial parkway. A quick glance at the speedo showed 90 plus and the Forty Eight was still pulling hard. Coming up to the turn, the two-disc setup with ABS scrubbed off the speed with no problem, and rejoining the group, I was impressed with with Forty-Eight's capability for extra-legal velocity. Ridden at legal speeds in fifth, the bike just rolls smoothly down the road untaxed and relaxed, ready to reach the far horizon. Pity we had to head back to the hotel so soon.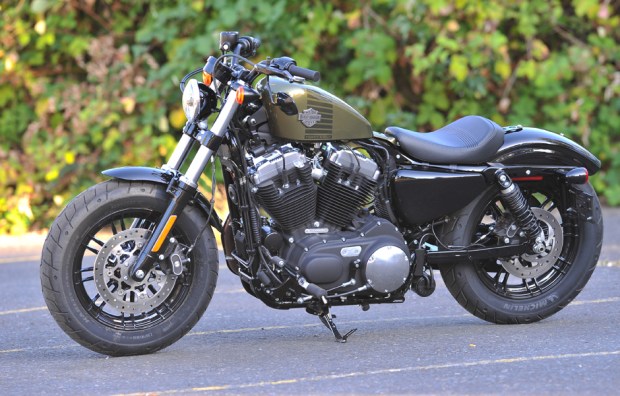 Rolling through the downtown streets of Portland, our parade of a dozen or so bikes still managed to get some attention from foodie-focused pedestrians. Sitting at a light, a young woman crossing the intersection sized me up on the Forty-Eight and nodded approval. "Nice bike," she said as she moved on to any number of downtown hotspots.
Nice indeed. Harley-Davidson continues to refine the former Sportsters from the bare-bones brawler they used to be to the slightly more civilized – but still badass – rides that provide an entertaining entry into Harley's riding culture. Call them Forty-Eights, Iron 883 or what have you, the bikes are cool, capable and fun to ride. If you're a heavyweight rider like me, just be sure to dial in some more rear spring before saddling up.
Photo by Riles and Nelson Photography