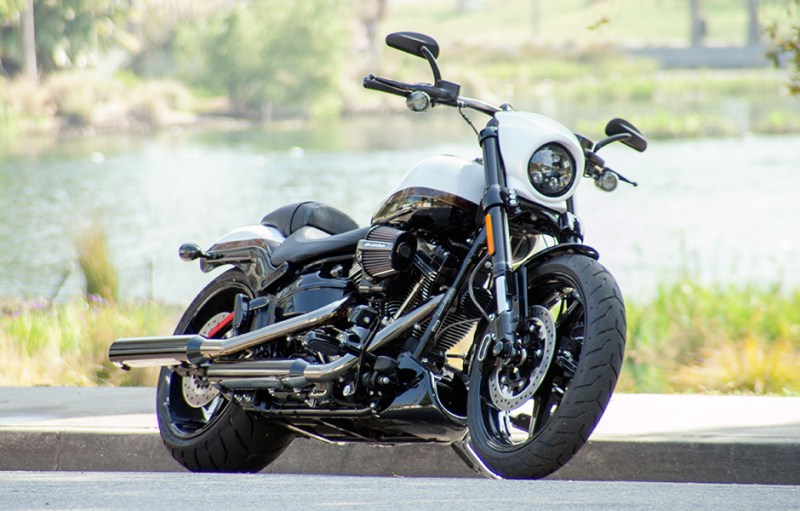 Harley-Davidson is solidly embracing the power-cruiser segment and two new bikes exemplify their efforts to combine performance with style – and ever more power from their V-Twin hearts.
One of the new entries is the 2016 CVO Pro Street Breakout, which was patiently waiting in H-D's bike-filled garage in Torrance during my recent visit to Los Angeles.
The 2016 CVO Pro Street Breakout is a luxe variation on the regular Breakout, a low-slung cruiser from the Softail family. Harley has taken the stock 103-cubic inch engine and slotted in their more muscular 110ci plant, adding some extra juice to back up the more aggressive looks.
The forks graduate to the upside-down types more common to sport bikes and there's a second disc on the front wheel for more whoa when it comes time to dial back the velocity. H-D's excellent ABS system is included. Out back, a massive 240-series tire wider than my boot transmits all the torque and horsepower to the ground.
Along with the upgraded hard parts, there's some fancy two-tone paint, a slick cowl over the LED Daymaker headlight, a lower air dam funneling additional air molecules towards the cooling fins, and numerous other upgrades courtesy of H-Ds infinite list of accessories, including "fat" grips, which I feel afford better control over the throttle and levers than the 10-speed types found on most everything else.
After walking up to the CVO and saddling up (no key required, it uses a wireless fob) I fire the big guy up and a fuel-injected chuff escapes the twin restrictive (but nice looking) stock pipes that will get ditched by every new owner, and after a minute, the engine settles into the signature lumpy idle. The CVO features a hydraulic clutch rather than a low-tech cable, but it still requires a good pull on the lever to disengage the cogs before dropping the 6-speed box into first. Once engaged, though, the CVO glides away easily and rolling on the throttle gets the quiet pipes barking as the revs and speed quickly build.
The first order of business was picking my way through the bowels of El Ay and finding some grub after a restless night on an unfamiliar bed (and too much late night TV, something I rarely get to enjoy). When did Carson retire? Wait, he's what?
I don't remember sending the lovely Jennifer at Harley my personal body measurements, but it seems like the CVO breakout was crafted just for me. I'm not a huge fan of forward controls, but everything on the CVO seemed like it was adjusted for my 33-inch inseam and the seat was both perfectly placed and near-miraculously comfortable.
I guess those things happen on bikes costing upwards of 25 large and the CVO practically glided through the L.A. traffic, eliciting no less than three compliments from total strangers and a lot of long looks while parked outside the taco truck I eventually braved for lunch (FYI: delicious, and no Montezuma's revenge).
Digesting while riding, I finally found my way to the infamous Angel's Crest Highway and decided to see how this long and low street sweeper fared on something other than city streets. With wide, flat bars and a bottomless river of torque, the CVO attacked the tight turns of the ACH, only to be beat back by the typical cruiser-bike bugaboos: a lack of cornering clearance and that immense rear footprint.
Those otherwise comfy out-front foot pegs touch down early and often, scriiiiiitching around corners until I learn my lesson and back off the pace, a pace which wasn't going to embarrass any sport bike riders anytime soon. Boo, hiss, right?
Now, I can hear the howls of Harley owners all the way up here on the 10th floor of Big Pink: "Hey jackass, what were you thinking? It isn't a sportbike!! Of course it's going to fall short on The Crest!!" My reaction: you're absolutely right. This is not a sport bike. But it has all this sport bike stuff on it (upsie forks, triple discs, big motor, flat bars, a tachometer…) and, well, I was thinking I wanted to see how that all came together.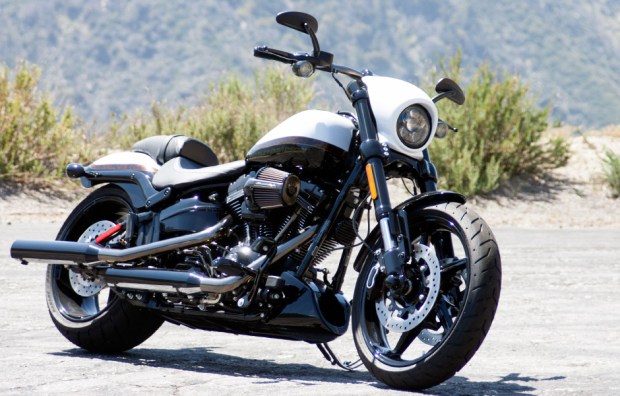 Verdict: it kinda does, actually. Hauled over, the big CVO was stable, predictable and easily rideable right into the danger/scrapeage zone, and while it takes a fair bit of effort on the bars to get 'er over and keep her over, at least it will comply without going to pieces. The fork is a good performer and the fat back tire sticks like glue, but after a couple dozen miles up the twisties and back at speed, it's clear that the canyons are not the CVO's favorite playground. But if you have to go there, it's still satisfying to ride, up to its limits at least.
So where does the CVO Breakout shine? In the city – and on the open road. Cruising around Hollywood looking for starlets who might need a lift to an audition (actual number of actual starlets given lifts: zero), the CVO is definitely in its element. The suspension soaks up every pavement irregularity outside of a monster chuckhole and the engine is tractable all day at low RPM.
While not exactly flickable, the wide, flat bar makes it easy to change directions quickly, although the few times I tried lane splitting, it seemed that tagging someone's mirror was inevitable. And when needed, the extra braking power brings the big girl to stop in a hurry.
Jumping on the freeway to meet a Russian inventor trying to build a GPS system into a helmet (and it was impressive, must say), the CVO gets up to the driver-committee-approved 85mph speed limit in seconds as a roar finally escapes the stock pipes under hard throttle, only to disappear once I set the cruise control in 6th and loaf down the interstate. Despite the small size of the little front cowl, it punches a perfect hole in the atmosphere without jostling my helmet with turbulence.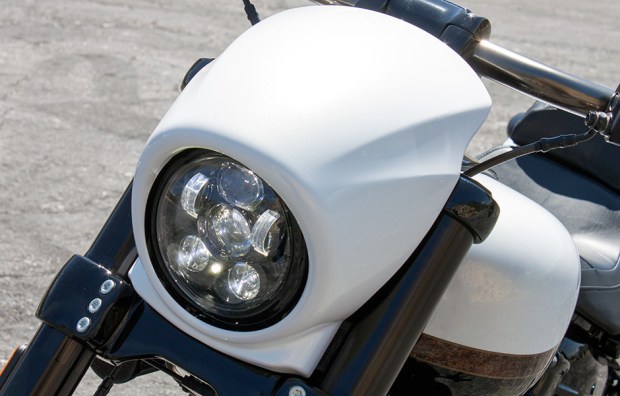 Despite the feet-forward posture, open-road riding, at least in the short term that I was able to enjoy it, is a pleasure. The suspension is about dead-nuts perfect for highway riding, and that seat… can I get one for my dual-sport? The hell with how it looks duct taped to my old Suzuki.
After checking out the concept GPS helmet, It's time to return the CVO to Harley's barn, which means another run through L.A.'s car-clogged arteries. But again, slow going is where the CVO is most effective, and it's always a joy to split up to the front of the stoplight queue, wait for the green and just surf that tidal wave of torque away from all the cagers yakking into their phones.
I dig it.
Harley-Davidson kindly supplied airfare and accommodations during this review. All photos by Bill Roberson.
Editors' Recommendations