I got the "official word" about Triumph's Bonneville line overhaul a few weeks ago, and this past Monday, Triumph rolled their big semi into the Rose City to give local riders a closer look at the reskinned classics that make up Triumph's popular retro line.
While Triumph makes fully modern speed machines, dual sport ADV rigs and cruisers that compete successfully with every other major bike maker out there, they have thankfully also paid homage to their storied past with the Bonneville bikes, a subset of parallel twin-powered, steel-tube framed machines that mix classic appeal with modern capabilities.
This latest updates fairly launches some of the models out of the "throwback" realm into a space where other bike makers (cough *Honda* cough) should seriously consider getting into the retro modern game as well (Sorry Big Red, the CB1100, while nice, barely counts).
Portland is hipster heaven (and that's not a knock), and Triumph picked an appropriately retro exhibition space, filled it with a DJ, a real-deal barber and the new Bonneville T120, T120 Dark, Street Twin, and Thruxton R models for us to throw a leg over. Sadly, no stints in the saddle were forthcoming, likely because the rain falling onto some outdoor surfaces was starting to glaze over into ice. December in Portland, folks, remember to put your wool gloves in your rainforest rubber laptop/man bag.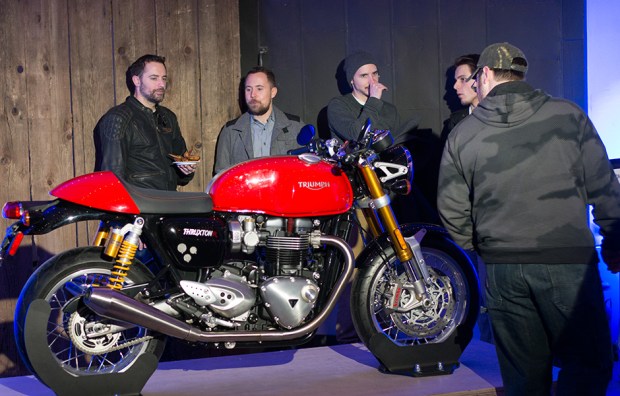 An endless supply of PBR, Bulleit whiskey and chicken wings helped dull the pain of not riding the new bikes, and some up-close inspections and stationary seat-of-the-pants impressions indicate that Triumph has likely taken retro to the next level – the performance level.
While the all-new 900CC Street Twin is the gateway drug, the T120 and Thruxton models will likely prove fully addicting. The Street Twin keeps things simple with a new 4-valve liquid-cooled 900cc mill, cast wheels and a single front disc brake, and the bike looks airy and light compared to its bigger siblings. Hard to believe the 900cc bike is essentially the "beginner" model – it wasn't long ago that the 650 Bonnies were the hot rod of choice for those with questionable intent on long-term existence. Okay, maybe it was a while ago.
But 900cc it is, and the affordable $8,700 5-speed Street Twin should make for a solid platform for every kind of street riding, from urban commuting to horizon chasing – in other words, a stand-out standard in world of over-specialized niche bikes. Naturally, Triumph offers a long list of accessories and customization bits so you can tweak it to your tastes. But even in basic form, it looks like a fun ride and under my somewhat filled-out frame, the Street Twin felt just right – not too small or undersized.
At one point, a Triumph team member fired up a Street Twin, and with what sounded like "not-for-road-use" (har har) accessory pipes installed, the engine barked forth a brief symphony of 270-degree staccato power pulses in the enclosed space. Aural grade: B+
The sound coming from the Street Twin's bigger 6-speed 1200cc siblings will likely be a grade higher – with those optional cans, of course. While no one could apparently ply the Triumph folks with enough local whiskey to get them to fire up the T120 or Thurxton R, I suspect numerous owners will nickname their bikes "Boomer."
The new liquid-cooled power plants give both the Bonnevilles and Thruxton a more dense, slightly menacing stance, and sitting astride the new $11,500 T120, it feels bigger and more substantial than the old model. Big dual-disc brakes up front help lend it a more performance-oriented personality, and it'll likely need the stopping power, as neither 1200cc bike is a paragon of weight-saving measures. These are burly, purposeful machines built for long-term residence in the garage, just like the classics that inspired them. If you want Warp 10 performance, the Triumph Daytona or Speed Triple is in the same showroom. Just don't expect it to move you in quite the same way as the Bonneville or Thruxton.
Grabbing the Thruxton R's lower but still-reasonable bars and finding the reaset pegs bespeaks a more sporting experience for sure, and while Triumph hasn't dished on power output outside of torque figures (89 pound feet), simple math for a modern EFI liquid-cooled twin making that kind of twist likely points to a horsepower figure topping 100 – maybe by a fair bit.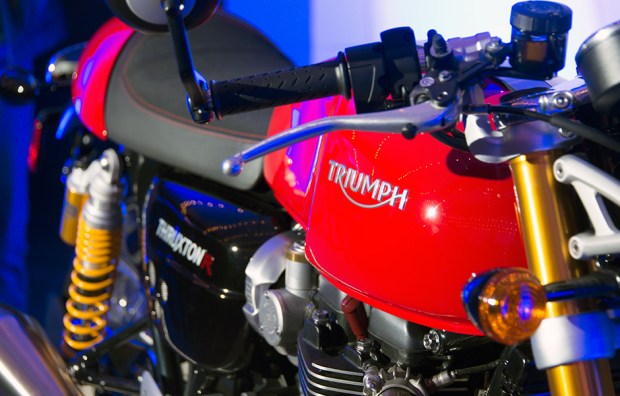 Fit and finish on all the bikes is on par with anything out there with the black and white T120 coming in for special praise, and neat touches like a metal tank strap on the Thruxton and the fakey EFI "carburetors" (with screw tops!) on every model are executed with both restraint and attention to detail – well done, Triumph.
The vintage ruse continues with the liquid cooling system. Hiding a radiator is a tough thing to do, but the previous air-cooled Bonnies and 'Tons all had oil coolers hanging out in the breeze, so rather than shroud or disguise the new heat exchangers, Triumph simply painted them black and somewhat discreetly tucked them between the frame rails with essentially no decoration at all.
It sounds like a recipe for a crude or tacked-on appearance, but the install is actually quite clean and the eye is quickly drawn to the chrome header pipes, vinty tank badges and other shiny engine bits about two seconds after you go "oh, it's liquid cooled." A single small hose out the bottom of the radiator is about the only other clue that there's some coolant swirling around the piston sleeves. I didn't even see where you fill the thing up.
Even more modern tech hides under the shiny sheet metal as well: LCD screens in the traditional round clocks, multiple ride modes, slipper clutches, ABS, even heated grips are all available depending on which model strikes your fancy.
As the night wore on, the mix of grey-haired vintage enthusiasts in attendance and their younger hipster counterparts all seemed to nod approval after swinging their legs over the new bikes and tapping their phones for countless photos.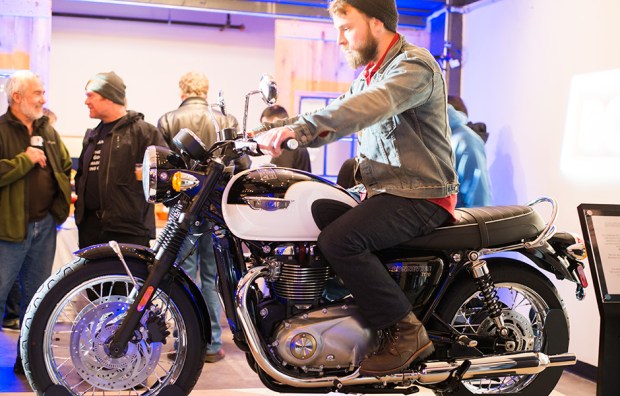 Without any real seat time so far, the real measure of the new bikes has yet to be taken. If the riding experience dovetails with the solid styling, promising power plants and upgraded…. everything else, the new Street Twin, Bonneville T120 and Thruxton should leave black marks on the floor as wide-eyed owners hoot their approval when they head out of showrooms at high speed.
Editors' Recommendations