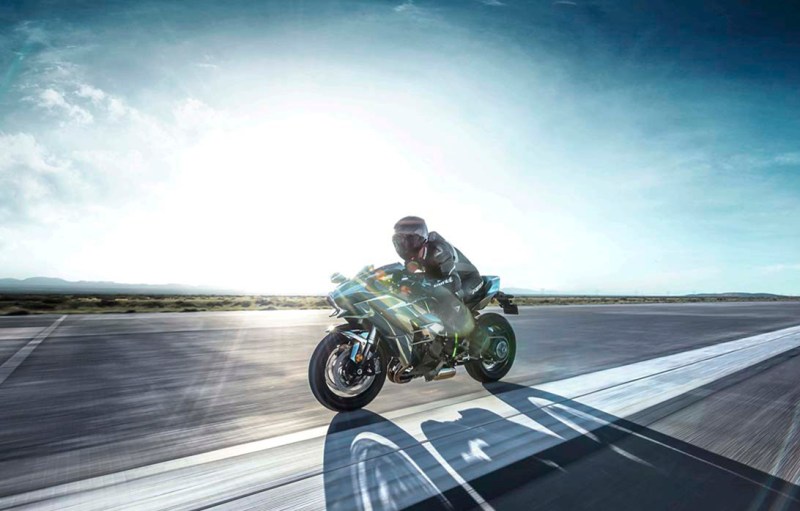 I've noticed a trend in some recent TJ columns: I've been highlighting a lot of bikes or scoots that you could call "safe and sane" machines that are practical, moderately powered, utilitarian or maybe even all three. Good, fun bikes, one and all. Go get one.
I guess spring, while not really "in the air" just yet (thanks, Snowpacalypse Jonas), is actually sort of maybe approaching, so now I'm starting to get that itch that can only be scratched with seat time, hands on bars and rising numbers on the speedometer.
That's why this week it's all about feeding that need for speed. Insane speed. Ludicrous speed. Lose your license (or worse) speed. Forget Safety First for just a moment and thrill to the kind of bikes that epitomize the power of the motorcycle and don't apologize for just being really frikkin' fast. Oh, your million-dollar-plus "supercar" goes 0-60 in 2.8 seconds? Yeah, you just came in a very distant second to my sub-$20,000 hyperbike. Sucker.
So, in no particular order, let's take a look at who's making the best go-fast moto mecha porn for the upcoming season. Let's ride.
Honda CBR1000RR-S
Sorry to say, but at this point, you've missed out on getting your hands on Honda's real (and very limited production) "MotoGP racebike for the street," the insane RC213V-S. But go ahead and thank me for saving you about $180,000 (no joke) and instead, just point your wallet to the limited-edition CBR1000RR-S. The "S" designation tacks $3,300 onto the price tag over the garden-variety CBR1000RR's MSRP of $13,999, but hey, so what. Even the "basic" bike would likely still make you wet your knickers at full boil, but you do get some fancy upgrades for the dosh, including a buttery Ohlins suspension setup, improved exhaust, upgraded engine internals, solo seat (probably for the best), better tires and myriad other bits.
It also includes a glaring Repsol Honda Racing replica paint scheme, so maybe you could talk Repsol Oil into paying your insurance premiums in exchange for being a rolling billboard for a brand about 10 people in the U.S. are familiar with. Good luck with that. If you can't handle all the Repsol fame, the down-market CBR1000R is available in basic glossy black, just don't forget your ninja outfit.
While Honda doesn't talk horsepower figures, the base CBR1000RR makes about 145hp across most tests, so count on a solid 150 at least with the S option, along with less weight – and that's on a bike that's already on a very strict diet. Velocity and acceleration should fall in line with the cream of the hyperspace-capable bike set, with 0-60 coming in much closer to two seconds than three and a top speed that quickly bangs into the voluntary 186mph (300kph) limit it seems most bike makers are still adhering to. But feel free to experiment with that.
Yamaha YZF-R1M
Like Honda, Yamaha has an up-market version of their top sportbike, the YZF-R1, which most riders just call "the R1." But add the "M" and, no, Yamaha didn't ship the bike off to BMW, but the effect is essentially the same. Prepare to part with the better part of $22,000, or about $5,000 more than the proletariat R1, which, like the base CBR, is still capable of brain-melting performance.
The R1M upgrade list includes the de-facto Ohlins suspension upgrade, but in this case all the adjustability can be done using the fancy LCD screen and some buttons. Leave the wrenches at home. Other upgrades include a very shiny hand-polished aluminum gas tank, polished swingarm, numerous carbon fiber bits to offset the added weight of the uber-Ohlins setup, different tires and a connectivity package for fine-tuning the bike for your many track day outings. You were going to take it to the track, right? Every weekend? Thought so.
Speed and performance is comparable to the top-spec Honda (and Kawasaki and Suzuki and…), the gist here being that these bikes have kind of reached a sort of velocity nirvana of 0-60 in about 2.3 seconds and a top speed firmware governed to 186mph. What's left is making these insanely powerful machines handle better, stop better, and think better. And we must say that in this case, the Yamaha R1M is a winner in the Looks Better category as well. It's hand polished, for gawd sake.
Kawasaki Ninja H2
Kawasaki's Ninja line of sportbikes have been at the tops of most cops' Most Wanted (to issue speeding tickets to) list since Tom Cruise rode an early iteration in Top Gun back in the Jurassic era. While Kawi calls their bruiser ZX-14R the "King Of All Sportbikes" (and that may be a justifiable claim), the real stallion in the stable is the ultra-limited H2. Because nothing says "overkill" like bolting a supercharger to your already insanely powerful 1000cc inline four and then adding lights and trunsignals.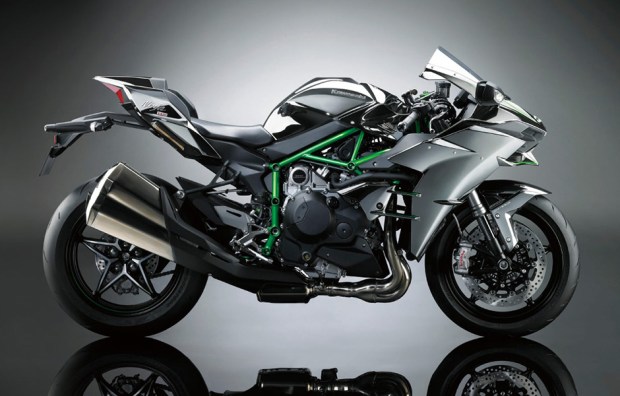 Kawasaki says the H2 makes 200hp. Seeing how the track-only $50,000 H2R made an honest 300 horsepower, and the H2 is derived from that beast, well, we're inclined to take their word for it.
Price of admission is $25,000, and act fast as they don't make many of them. It has every doodad, geegaw and go-fast trick you can shake a stick at. And it has a supercharger. Why are you still asking questions?
Suzuki Hayabusa
Back in 1997, Suzuki banged the door shut on the question of "who makes the fastest stock motorcycle" with the 1300cc Hayabusa, an oddly-shaped missile that ripped through the timing lights at 194mph, a good 20mph or so faster than the nearest competitor. Shortly thereafter, nannies in the EU got out their rulers and threatened to slap the hands (tax-wise) of anyone that made a bike go faster than 186mph (300kph). And that was the end of that, for the most part.
While Suzuki's lithe GSX-R1000 certainly competes well against all the other hyper-hardware on this list, I'm picking the long-running and nicely updated Hayabusa because it's still a monster in monster's clothing. While other bikes here can out-handle it, few can match its Millennium Falcon speed and eyeball-flattening acceleration. Plus, it looks like nothing else. If it works for you, embrace the 'Busa and know that for your $14,599, you're getting a bike that will flat crush 99.9 percent of the street-legal wheeled conveyances on the planet while also being well-suited for distance riding and commuting. No joke.
BMW S1000RR
Ah, BMW. Boring Motor Works, right? Their bikes don't exactly have a high-speed reputation. Want to ride around the world? No problem. Roll up a zillion touring models in comfort? Covered. Slay the best from Japan and Italy? You must be joking. Yeah, well guess what, BMW's asymmetrical shark, the S1000RR, ain't joking around at all.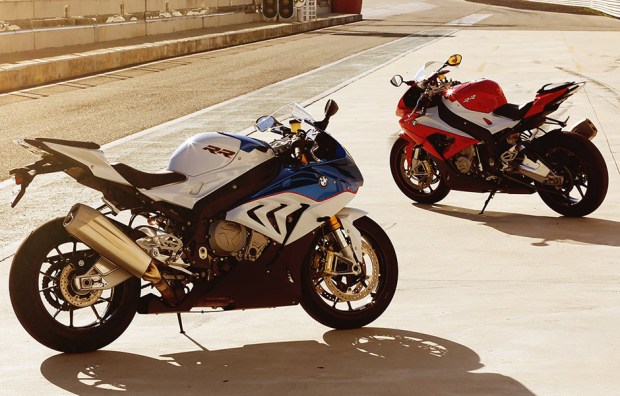 With horsepower on par with the Kawi H2 and enough computer power to run a corner of the Internet, the S1000RR is the Gentlemen's Express when you feel like giving that gentlemen next to you in traffic the finger and then disappearing into the distance like a Tron lightcycle.
The $15,000 S1000RR features a 1000cc inline-four which, while common everywhere else, is a first for the company better known for boxer twins with their fins out in the breeze, or oddly configured laydown-four "brick" engines. Does it work well? For crissakes, this is BMW. Of course it does.
Harley-Davidson V-Rod Muscle
Low and slow more your speed? Didn't think so. So what is Harley doing on this list? Trust me, the V-Rod Muscle belongs here. While not as famous (or as promoted) as H-D's chrome-clad cruisers, the V-Rod Muscle features a blatantly liquid-cooled 1247cc 60-degree V-Twin thundermaker that had some design input from some obscure outside company called Porsche.
The result: 87-foot pounds of torque mated to about 120 horsepower, all in a low-slung cruiser format that's far more comfortable than many of the balled-up riding positions of sportbikes and looks pretty bad ass to boot. Triple disc brakes and adjustable suspension up the fun factor.
The $16,500 V-Rod is available in two looks this year, and really, either one should do the job. Will it win races against some of the other top-shelf bikes here? Maybe, maybe not. One thing it isn't, though, is slow.
MV Agusta F4 RC
Congratulations on the buyout of your Internet unicorn. Let's go bike shopping. First stop: the MV Agusta showroom and the F4 RC. That will be $33,500, please. Look, it says AMG on the side, what did you expect?
In case you weren't sure, hold on tight as the 212 horsepower 1,000cc inline four spools up and rockets you in record time to that stupid 186mph limit. Bah.
Soothe your high-speed sorrows with the appreciation of Ohlins…. everything, carbon fiber…. everything, a howling Termignoni exhaust system, a full suite of race day electronics, dual fuel injection systems, magnesium stuff, titanium stuff, and the thought of a select few fastidious MV Agusta craftsmen building your bike, slowly, by hand, between many breaks for expensive coffees. What, you scored a billion dollars on the sale? OK, I'll take one too, thanks.
Ducati 1299 Panigale S
No "fast bikes list" would be complete without a Ducati, maybe several Ducatis, but for now we'll focus on their top street legal tool, the $25,000 1299 Pinagale S. There's actually one option UP from here, the $34,000 R model, but she's not street legal, so it's not likely to make an appearance at the group ride next weekend.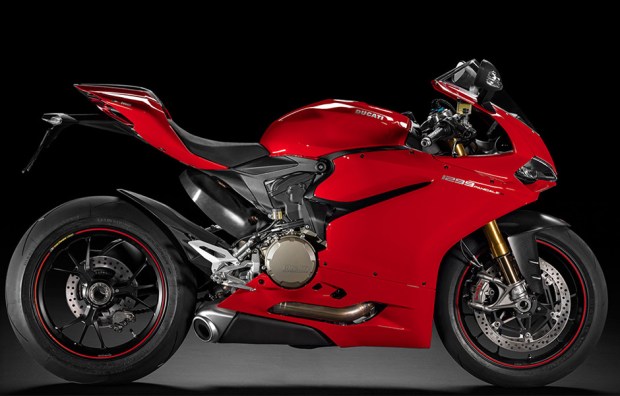 That's OK, because the Panigale S is pretty much the same bike but with all the needed DOT stuff. 202 horsepower 1299cc SuperQuadro L-Twin powerplant? Check. Insane light weight of 363 pounds? Of course. LED lighting, top shelf brakes, suspension, electronics? All included. It even comes with a battery. Free bonus: stop-n-look red paint on a gloriously gorgeous body and D-U-C-A-T-I printed on both sides of the tank. What a deal!
You'll probably want to swap out the polite stock low-exit exhaust system for something (louder/better/lighter) from Termignoni so be sure to budget a couple grand for that. Otherwise, Ducati's best red rocket will likely smoke most of the bikes on this list and look (and sound) amazing doing it. Just remember to bring a whole lot of riding skill to the party.
Confederate P51 Combat Fighter
OK, if we're going to be outrageous, we can't look past a boutique builder. While there are several to choose from, no one out there is in the same league as Confederate. While the name may have a bit of a dark cloud around it, suffice to say they were around before all the controversy. And once you see the bikes, well, it becomes a who-cares issue. Come then, and bring thine satchel holding $130,000.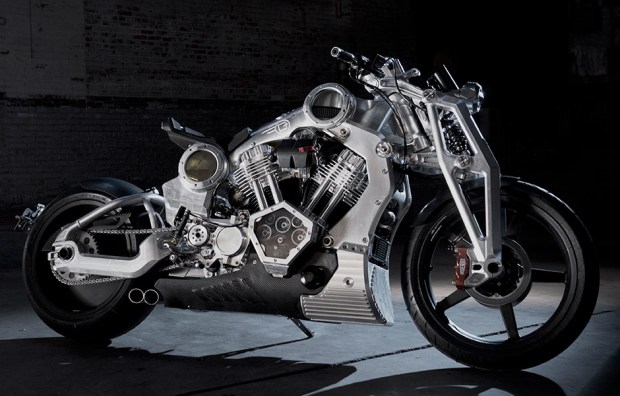 As you can tell from the photo, this is Neverland for motorcycling. The Confederate G2 P51 Combat Fighter won't be mistaken for anything other than what it is: a nearly one-off 200 horsepower V-Twin dreadnaught that will scare the bejesus out of anyone nearby and probably yourself as well.
Cut primarily from solid blocks of aluminum and other metallic metals, the plastic parts would probably only fill a teacup. If I wrote about all the clever touches and innovations, this would be a 20,000 word article. Gas and oil in the giant frame. Forks by Vulcan's best apprentice. Everything is massive. Everything is rough-hewn. Everything has a function. If you have to compensate, might as well be with this.
Hold the hell on.
All photos by the brands mentioned above.