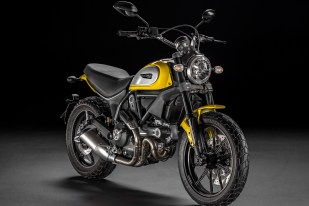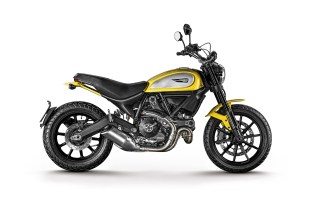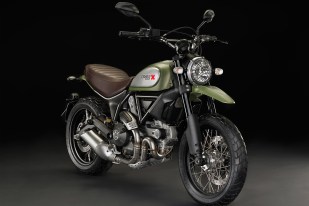 When it comes to motorcycles, most people don't equate "Ducati" with "affordable," but that may change with the new Scrambler, an $8,495 retro-inspired citybike.
Just revealed at the 2014 Intermot show in Germany, the new Scrambler, which features aggressively notched tires on large wheels, 6 speeds and an air/oil-cooled 75 horsepower 803cc engine, is targeted at urban commandos ready to take on the crumbling infrastructure of modern metropolises.
Inspired by lightweight Ducati Scramblers of the 1960s and 1970s, the new Scrambler features LCD instruments, ABS brakes, LED lighting and cool touches like aluminum gas tank panels that harken back to its forebearers. Four color options will be available and more options, such as a pleated leather seat that looks fantastic, can pop the price up to a tick under 10 grand.
And while the original bikes were built with actual dirt action in mind, the new Scrambler looks more suited to efficiently threading clogged urban landscapes filled with potholes and construction zones, even though Ducati's promo/lifestyle video (below) for the Scrambler has it engaging in some off-road shenanigans as well.
The Scrambler is part of an emerging trend we're seeing in the motorcycle industry: good-sized, affordable bikes that appear simple but are actually fairly filled with tech, including ABS brakes, fuel injection and stout performance. The Scrambler will compete with several other new bikes hovering in the $10,000 range, including the new Indian Scout, the perennial Harley-Davidson Sportster, the new Yamaha FZ-09 and SR400, Honda's slate of CTX bikes and the CBR500R, among others.
All of those bikes have several things in common: approachable but ample power, a more simplistic design ethos and low price tags. They're great for beginners – or for veteran riders who may have parked their bikes to raise families and serve careers.
Will the Scrambler take on the $20,000 Multistrada in the off-road department? Not likely, but clearly that's not the goal, either. The Scrambler looks like a fully-formed fun machine that should entice scooter grads and young professionals who've been considering a motorcycle but had perhaps written Ducati off due to the price of entry.
Now, anyone who can set aside a couple hundred bucks a month should be able to park the prestigious Italian moniker in the garage – or on the curb outside their first apartment.
The Scrambler should start getting showroom floors dirty in January.
The Land of Joy from Scrambler Ducati on Vimeo.